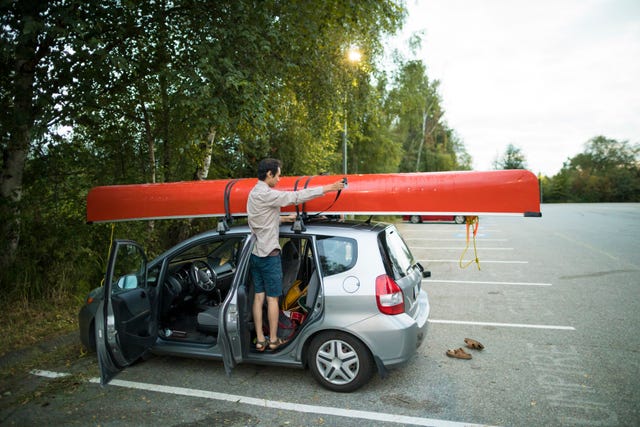 Christopher Kimmel / Alpine Edge PhotographyGetty Images
Roof rack install is a lot simpler than you may think — and whether you're snowboarding, kayaking, surfing, or just bringing a lot of stuff with you on your adventures, a solid set of roof racks should be somewhere on your shopping list.
People are gradually realizing their usefulness in their daily lives, and they are now considered an essential part of any automobile.
Roof racks maximize your vehicle's carrying ability by increasing its luggage-hauling capacity. A durable roof rack works as an asset to the car and adds a useful function to it. Nowadays, roof racks come in many designs, structures, and shapes. But, unsurprisingly, there are many different types of roof racks on the market. So, you need to understand the basics before choosing the most suitable roof rack for your needs.
In this article, we'll take a look at a well-researched list of the highest-rated roof racks hand-picked by our experts and go into detail about how to install the roof rack onto your vehicle; it's not as hard as you may think.
Types of Roof Racks
CargoLoc 2-Piece 52″ Aluminum Roof Top Cross Bar Set – Fits Maximum 46″ Span Across Existing Raised Side Rails with Gap – Features Keyed Locking Mechanism, Silver
The CargoLoc roof rack is designed to be used on raised roof rails commonly found on station wagons and SUVs. It simply clips onto the rail with the help of an ingenious locking system. This product comes with some features that you might not expect, given its lower mid-range price point. The most popular thing about it is the robust all-aluminum construction, which has a load capacity of 150 pounds. Additionally, it has a low-profile design and rounded edges.
Key Features:
Simple design.
Easy fit with adjustable clamps.
Keyed lock.
Most Affordable
Highland 2006200 Black Heavy-Duty Bar Carrier
If you need an inexpensive and simple roof rack solution for quick trips, look no further than this reasonably priced product from Highland. Although they're rated for a load capacity of approximately 400 pounds, we'd recommend them for lighter items such as snowboards, skis, kayaks, or ladders. You might want to add some extra straps for added security, but if your local hill or usual paddling spot is just a few miles away, this option does the job just fine.
Key Features:
Affordable.
Includes all hardware.
Easy to store and assemble.
Designed to provide additional carrying capacity.
Constructed from high-quality heavy-gauge steel.
Fits most commercial vans with a width of 37 inches to 62 inches.
Premium Option
Thule 958220 WingBar Edge Complete All-in-One Racks
An excellent addition to your car is the Thule 958220 Roof Rack System, a timeless rack that never goes out of style. This complete kit consists of all the mounting hardware you need to install it on your roof. No permanent modification or drilling is required to get this kit in place.
Key Features:
Wind diffuser decreases air resistance.
Universal fit.
Load capacity of up to 75 kg.
Excellent customer reviews.
Great for vehicles with raised roof rails.
High quality.
Car owners love their low profile and ease of installation.
No width overhang.
Sleek and Sturdy
Rhino Rack Aero Bar 4WD SUV Roof Racks | Gutter Mount Base Rack for Jeep Wrangler JK/JL, JT Gladiator; 4 Door Hard Top 2011 – 2020 (2 Set) in Black; Easy Use & Fitment, Large (SG59)
Rhino-Rack is a well-known manufacturer of slim-platform car roof racks. With non-corrosive aluminum construction, these racks don't fade or rust. Rhino-Rack makes long-lasting roof racks and provides many accessories to load up your rack and carry various gear. Moreover, Rhino-Rack's designs incorporate front-to-back slats.
Rhino-Rack roof racks can be installed differently, depending on your car type. You can secure them by way of crossbars, or directly to the vehicle's roof, OE side rails, or your car's gutter mounts. This roof rack is an excellent option for dirt-loving adventurers.
Key Features
Built-in hardware to deter theft.
Complete system with two crossbars and four legs.
Includes everything needed for easy installation.
Made with durable and lightweight structural grade anodized aluminum.
Internal H-shape provides exceptional bar strength.
Powder-coated black finish.
How to Install a Roof Rack
The guidelines in this piece are general and not meant to replace instructions for your specific vehicle. Please consult your owner's manual or repair guide before attempting repairs.
Depending on the model selected and manufacturer, installation for each kit differs slightly. Generally, installing your new roof rack is easy.
Clean the Roof of Your Car
Installing a rack on a dirty roof will make it harder to clean in the future and might also prevent the attachment points of the rack from lying flush.
Loosen the Screws
Standard roof racks include two crossbars and four-foot mounts, which attach to the car's gutters or side rails. Undo the hand screws on the exterior of all foot mounts just enough to spread them open.
Fix the Crossbars
Separate the foot mount openings wide enough to fit the crossbars and insert the crossbars between the four mounts. You should now have two crossbars with foot mounts loosely attached to both ends.
Determine the correct width between mounts for your car by measuring from the inside edge of the foot mounts. Once the crossbar distance between mounts is the correct length, tighten the adjustments into place.
Fix the Pads and Caps
Attach pads to mounts and caps to crossbars. Pads prevent the roof rack from scratching your roof, and caps seal the ends of the crossbars to prevent water from settling inside.
Position the Rack
Open your vehicle's doors and center the rack on the roof, correctly positioning the front rack away from the top of the windshield by observing the manufacturer's safety guidelines included with the product.
Fasten the Rack
Lock the front foot mounts in place with the included metal clips that hook onto the underside rim of your car doors and tighten them in place. Your crossbars and foot mounts are now locked in place and ready to use!
This content is created and maintained by a third party, and imported onto this page to help users provide their email addresses. You may be able to find more information about this and similar content at piano.io