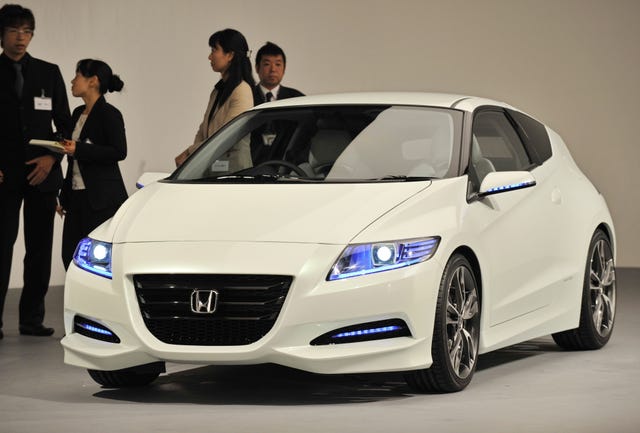 KAZUHIRO NOGIGetty Images
One of the coolest things about cars is they're basically blank canvasses. Through the amazing world of mods, you get to decide which aspects of your vehicle you want to focus your effort and money on.
The CR-Z is a sport compact hybrid made by Honda. It gives you the excitement and sleek style of a sports car with a hybrid vehicle's efficiency and environmental benefits. Plus, you can outfit it with countless aftermarket selections of CR-Z accessories.
The following is a rundown of inexpensive mods for your Honda CR-Z to increase its efficiency, performance, and looks.
Exhaust System: Tanabe T80155 a Medalion Concept G Cat back 2010 Honda CR-Z
Upgrading your exhaust system is an excellent vehicle improvement if you want to get more power from your engine. The standard exhaust system on your automobile is a big bottleneck, with many mufflers, catalytic converters, and twisting pipes restricting airflow from the vehicle and creating back pressure.
Performance exhausts like the Tanabe T80155 a Medalion Concept G Cat Back have a common objective: to let the engine breathe comfortably. The lack of back pressure from a simple and more direct exhaust system means more fresh air can flow into the engine as the exhaust air escapes faster. More air translates to more power; more power translates to more speed.
Key features of this exhaust system include:
50 millimeter pipe diameter.
90 millimeter tip diameter.
Axle-back.
Special dual-wall angle-cut tip.
Highest grade SUS304 construction.
Drivers appreciate Tanabe exhaust systems for their unique exhaust notes.
Stereo System: Universal Car Radio Stereo with 7 inch Touch Screen Android 10 System, Supports GPS Navigation Steering Wheel Control USB Bluetooth WiFi Connection RDS EQ FM Radio
Undoubtedly, a great car stereo system is a must-have for any journey, especially long road trips. Whether you like driving with friends and family or alone, having your favorite tracks along makes things even more enjoyable.
Almost all modern cars come with a stock audio system. While these work well, they're normally basic units that don't offer much in terms of features. If you want to improve your in-car infotainment experience, go for a feature-rich aftermarket head unit from Ossuret. This media receiver has features like a subwoofer and Bluetooth connectivity and comes with advanced features such as satellite radio support, turn-by-turn navigation, and more.
The stereo's key features include:
Universal Android system compatible with most vehicles.
Bluetooth functionality that supports Bluetooth Phone, Bluetooth Music, Calling Records, phonebook download/phonebook search, and hands-free calls.
Mirror Link function compatible with both iPhones and Android smartphones.
GPS Navigation to make your travels clearer and easier.
You can connect this car radio to the Internet through Wi-Fi or a 4G network.
Coilovers: BC Racing 2010-2016 Honda CR-Z BR Series Coilovers (A-42-BR)
Coilovers are relatively easy to install and can transform your vehicle mechanically and cosmetically. BC Racing Coilovers help adjust your Honda CR-Z damping and height, which enables you to reduce the center of gravity and strengthen the chassis for better control and cornering. Not only does your car look sportier, but it also transforms into a true performance machine, transferring your mods into tangible wheel horsepower.
Key features of this coilover include:
The BR Series model is ideal for street driving.
Easily accessible adjustment knobs for finely tuned compression and rebound.
Monotube design.
Ride height can lower 60 to 100 millimeters from OE ride height.
Window Tints: Rtint Window Tint Kit Fits 2017-2021 Honda Cr-V – Windshield Strip – 5%
Maybe the most common car customization of recent times, window tinting adds to the look of your ride. It also helps reduce heat inside the vehicle, adds privacy, blocks UV light, and increases security. Rtint Window Tint Kit is fairly easy to fit, and the vinyl material is reasonably priced. This affordable Honda CR-Z mod will make your ride look awesome.
Its key features include:
Five-year warranty backed film.
Designed for manual installation.
Installation video online.
While the kit doesn't include installation tools, the manufacturer recommends them for professional installation results.
Air Intake: AEM 21-790C Cold Air Intake System
The better your vehicle breathes, the better it runs. A cold air intake not only frees up the airflow to your engine but also feeds it cooler air, which engines love. An air filter by itself is limited, so help it out by exchanging the restrictive factory intake system with a performance cold air intake system. The engine compartment gets hot as you drive, so a cold air intake pulls denser, cooler outside air into the engine.
Aftermarket intakes like the AEM 21-790C Cold Air Intake System often straighten unnecessary bends and increase the tube diameter. The outcome is a higher velocity of denser air circulating your engine. This system's key features include:
Low restriction aluminum tubing.
Dyno-tested and tuned to increase engine sound and acceleration.
Easy to install.
Increased horsepower.
Air filter serves up to 100,000 miles before it needs cleaning.
Floor Mats: Motor Trend 923-BK Black FlexTough Contour Liners-Deep-Dish Heavy-Duty Rubber Floor Mats for Car SUV Truck & Van-All Weather Protection, Universal Trim to Fit
Depending on where you live, you might need something to protect your CR-Z's factory carpet. These Motor Trend 923-BK Black FlexTough Contour Liners-Deep-Dish Heavy-Duty Rubber Floor Mats are an excellent solution. They boast a unique form fit design, meaning each liner matches the detailed contours of your ride. Every liner also has a raised ridge that runs along the doorjamb, shielding your interior from messes. The mats' key features include:
Built to last through rain, mud, snow, and more.
Ergonomic grooves on top give your foot traction and comfort.
Trimmable to fit your car's floor contours with just a pair of scissors.
Tested for extreme conditions to ensure they don't deform, split, or crack.
This content is created and maintained by a third party, and imported onto this page to help users provide their email addresses. You may be able to find more information about this and similar content at piano.io