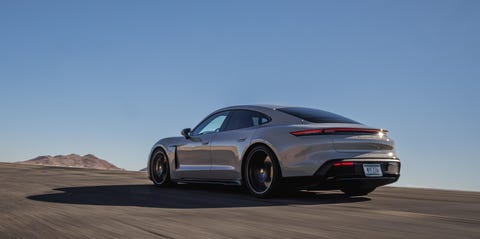 Porsche
The new-for-2022 Porsche Taycan GTS brings 590 horsepower as well as a Turbo-matching 626 pound-feet of torque—without the controversy of a Turbo badge.
1 of 25
The GTS is the latest addition to the Taycan lineup, slotting between the 4S and the Turbo.
2 of 25
The Taycan GTS features dual motors, all-wheel drive, and 590 horses—80 fewer than the Turbo. But torque output is the same at 626 pound-feet.
3 of 25
An adaptive air suspension, Porsche Active Suspension Management, Torque Vectoring Plus, and Power Steering Plus are all standard and have been tuned specifically for the GTS.
4 of 25
The GTS proved tenacious and predictable during our time at Willow Springs raceway.
5 of 25
Porsche's Track Precision app allows you to relive your heroics, as it integrates vehicle data with video from a GoPro or smartphone.
6 of 25
The GTS exterior features extensive blackout design elements and standard 20-inch or optional 21-inch wheels.
7 of 25
Inside, the GTS cabin makes extensive use of black Race-Tex (microsuede) with red contrast stitching.
8 of 25
EPA range estimates are not yet available but are expected to surpass the 227-mile range of the Taycan 4S.
9 of 25
Pricing for the 2022 Taycan GTS starts at $132,750, but the car we drove stickered for $180,070.
10 of 25
Deliveries of the Taycan GTS are set to begin in early 2022, but dealers are accepting orders now.
Advertisement – Continue Reading Below
This content is created and maintained by a third party, and imported onto this page to help users provide their email addresses. You may be able to find more information about this and similar content at piano.io