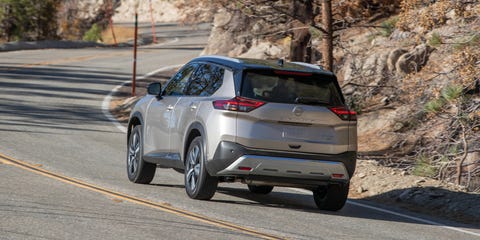 Nissan
Unlike many other compact crossovers, the 2022 Nissan Rogue doesn't offer more than one powertrain or a hybrid option. However, its new turbocharged 1.5-liter three-cylinder engine features innovative variable-compression-ratio tech that helps make it quicker and get better fuel-economy figures than before.
1 of 30
The 2022 Nissan Rogue is now powered by a variable-compression-ratio turbocharged 1.5-liter inline three that makes 201 horsepower and 225 pound-feet of torque.
2 of 30
Previously, the Rogue had a naturally aspirated 2.5-liter four-cylinder that made 181 horses and 181 pound-feet of torque, delivering an unremarkable 8.2-second 60-mph time.
3 of 30
While the original engine was also paired with a continuously variable automatic transmission (CVT), Nissan gives the VC-Turbo a redesigned CVT that's said to improve acceleration and fuel economy and reduce NVH levels.
4 of 30
Not only is the Rogue's new VC-Turbo engine more powerful, but it helps make the compact SUV quicker while also promising improved fuel-economy figures, as long as you stay out of the boost enough.
5 of 30
The Rogue's VC-Turbo powertrain is rated at up to 33 mpg combined, according to the EPA. That's an impressive 3 mpg better than the most fuel-efficient version of the 2.5-liter Rogue (30 mpg combined).
6 of 30
While we like that the 2022 Rogue feels peppier than its predecessor, the engine's variable compression combined with the continuously variable transmission can take a moment to get all its oars rowing in the same direction.
7 of 30
As part of last year's redesign, the Rogue's handsome exterior is matched by an attractive interior that's available with quilted leather seats, a head-up display, three-zone climate control, and more.
8 of 30
The Rogue comes standard with Apple CarPlay and Android Auto, and the larger 9.0-inch touchscreen on the Platinum trim level lets phones wirelessly connect to CarPlay.
9 of 30
The 9.0-inch touchscreen infotainment system on our Platinum test car was marred by some low-res graphics, and its built-in navigation went haywire.
10 of 30
The 2022 Rogue is expected to reach dealerships in January with prices ranging between $27,875 to $39,155 before options.
11 of 30
2022 Nissan Rogue Platinum AWD
12 of 30
2022 Nissan Rogue Platinum AWD
13 of 30
2022 Nissan Rogue Platinum AWD
14 of 30
2022 Nissan Rogue Platinum AWD
15 of 30
2022 Nissan Rogue Platinum AWD
16 of 30
2022 Nissan Rogue Platinum AWD
17 of 30
2022 Nissan Rogue Platinum AWD
18 of 30
2022 Nissan Rogue Platinum AWD
19 of 30
2022 Nissan Rogue Platinum AWD
20 of 30
2022 Nissan Rogue Platinum AWD
21 of 30
2022 Nissan Rogue Platinum AWD
22 of 30
2022 Nissan Rogue Platinum AWD
23 of 30
2022 Nissan Rogue Platinum AWD
24 of 30
2022 Nissan Rogue Platinum AWD
25 of 30
2022 Nissan Rogue Platinum AWD
26 of 30
2022 Nissan Rogue Platinum AWD
27 of 30
2022 Nissan Rogue Platinum AWD
28 of 30
2022 Nissan Rogue Platinum AWD
29 of 30
2022 Nissan Rogue Platinum AWD
30 of 30
2022 Nissan Rogue Platinum AWD
Advertisement – Continue Reading Below
This content is created and maintained by a third party, and imported onto this page to help users provide their email addresses. You may be able to find more information about this and similar content at piano.io