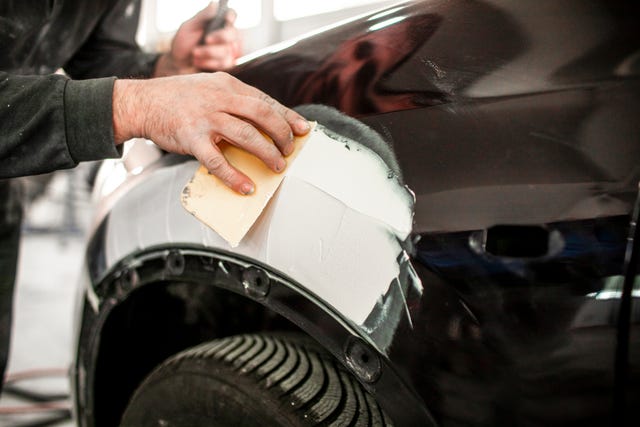 EXTREME-PHOTOGRAPHERGetty Images
If you need to remove paint from your vehicle, then you need a good car paint stripper. Car paint stripper can remove damaged paint from your vehicle's body, allowing you to start over with a fresh paint job. We've collected a list of top car paint stripper products based on Amazon reviews.
What Is Car Paint Stripper?
Car paint stripper is a product that allows you to remove paint from your vehicle's exterior. It can be used to remove paint from a part of your vehicle where the paint is damaged or to remove all of the paint when restoring your vehicle.
Car paint stripper offers the following benefits:
Corrects mistakes: Car paint stripper can be used to correct paint mistakes. It is effective in getting rid of paint that is cracked or peeled.
Removing old paint when restoring: You can also use a car paint stripper to remove paint on a vehicle that you are restoring or repainting your car.
Removes varnish: Some paint strippers can also be used to remove other paint products from your vehicle, like varnish.
Allows you to change the color of your vehicle: If you decide to change the color of your vehicle, you may first need to remove the old paint. You will need a good paint stripper to remove it properly.
Car paint stripper is a must if you are working on a car that requires paint removal. It is also a necessary product if you plan to change the color of your vehicle.
Types of Car Paint Stripper
There are a couple types of car paint strippers to consider:
High-Speed Car Paint Stripper
If you have a big job to complete, like removing the paint from a whole vehicle, then you might want a high-speed product. The Sunnyside Corporation 65664 Hi-Speed Ready-Strip Citrus Paint & Varnish Remover is capable of removing up to three layers of oil or water-based paint products. It also is a no-drip product, which makes it easy to remove paint without making a mess.
Multi-Purpose Car Paint Stripper
You might be surprised that you can use the same products to strip paint on your deck as you can on your vehicle. The Paint Stripper Super Remover New Generation removes all types of paints from wood, metal, and concrete. It does a good job at removing multiple layers of paint with one use. It also works in 15 minutes or less.
How to Choose Car Paint Stripper
Choosing the right car paint stripper is important. You want a product that effectively gets rids of the paint without damaging the rest of your vehicle. Consider the type of vehicle and the part of the vehicle that you need to remove paint from. There are products to remove paint from aluminum, metal, or even plastic materials.
You also want to consider the type of paint that you need to remove. Most types of car paint are either metallic or flat. Metallic paint usually has small flakes in it. This means that you may need a stronger paint stripper. It also means that you want to avoid abrasive materials, as scrubbing too hard over the metallic paint can cause damage to the rest of the vehicle.
How to Replace/Install Car Paint Stripper
Disclaimer: The guidelines in this story are general and not meant to replace instructions for your specific vehicle. Please consult your owner's manual or repair guide before attempting repairs
You can remove car paint with the following steps:
Prepare the Vehicle
Before applying the car paint stripper, you want to prepare the vehicle. Cover any parts of the vehicle that you don't plan to apply product to, including the windshield or mirrors. Be sure to also protect your wheels or doors with painter's tape.
Sand Down the Vehicle
Sand down the part of the vehicle that you need to strip. This is also a good way to remove any dents. Avoid sanding down fiberglass or plastic materials. You can also use a mechanical sander to speed up the process.
Apply Paint Stripper
Once you have completed preparing your vehicle, you are ready to apply the paint stripper. The type of car paint stripper will determine how you do this step. Some cans, for example, come with a spray top. This means you can simply spray it on the area where you want to remove paint. Others come in a can, similar to paint. For these, you apply the product in an even coat until it fully covers the area.
Let the Paint Stripper Work
Most car paint strippers require you to wait at least a few minutes. Avoid touching or messing with it during this time. This includes adding more product to the paint. If you do end up needing another coat, it is best to fully complete the process and before reworking the steps.
Remove the Paint Stripper
Once the timer is up, remove the paint stripper. You can use a paint scraper to remove the paint stripper and the paint. Then use a rag or wet sponge to wipe off any excess product. You might rinse off the rest of the vehicle with a hose to get a better idea of whether you missed any areas.
If necessary, you can also repeat this process. Continue repeating until you have fully stripped the paint.
This content is created and maintained by a third party, and imported onto this page to help users provide their email addresses. You may be able to find more information about this and similar content at piano.io