► The best electric cars with long ranges
► Long-range EVs from Jaguar, Tesla, Kia
► Drive for miles with long-distance cars
Range has become one of the most important factors considered by drivers when buying an electric car. The ability to cover long distances without stopping to charge is crucial to making EVs viable, especially given that public charging infrastructure still has a long way to go before it can match the convenience offered by fuel stations.
Whether or not drivers really need a car that can cover more than 300 miles on a full battery is a different matter: after all, plenty of electric-car owners rarely venture that far from their own postcode, so they can get away with small-range EVs that only need charging at home.
Still, most of us want the ability to travel long distances – whether it be for visiting family, or going on holiday – even if those big trips don't happen very often. And fortunately the latest generation of electric cars offer enough range to satisfy that demand.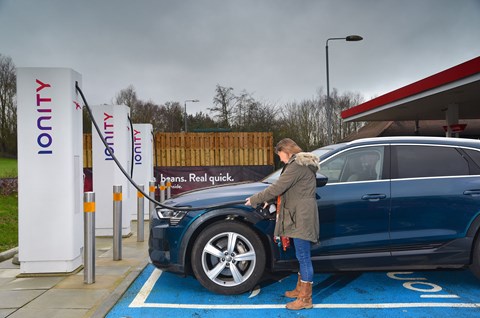 Every car in our top 10 can cover more than 300 miles in one go according to the official WLTP testing method used in Europe, and with charge times falling rapidly electric driving has never looked more appealing.
The longest range electric cars you can buy in 2021
As well as being able to cover great distances on a single charge, all of the cars featured in this article are now on sale in the UK. We've not included any models that are yet to appear on order books, although there are a few soon-to-be-launched cars that will muscle their way into the top 10 in the very near future.
The Tesla Model S had topped the list of long-range EVs ever since its launch in 2012, but in 2021 it finally lost its crown to the Mercedes EQS. With a 107.8kWh battery, the luxury limo is capable of 453 miles of range on paper, comfortably beating the Model S's still impressive 405 miles. To date, these are the only two EVs on sale to have broken the 400-mile barrier.
Other manufacturers to have electric cars in this top 10 include Ford, BMW, Volkswagen, Polestar and Skoda. You can read all about these models further down this page…
Mercedes EQS 450+
453-mile range (WLTP)
£99,995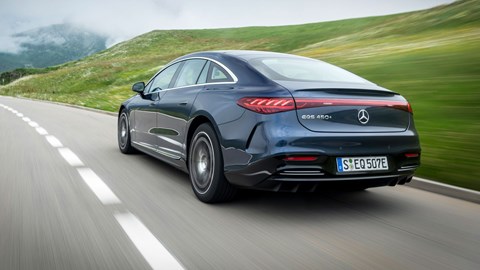 The Mercedes EQS is the electric equivalent of the S-Class, and as a luxury limousine its target audience wouldn't be impressed if they had to spend half an hour at some dingy service station waiting for the cells to replenish. Luckily the EQS has a very long wheelbase, and Mercedes has filled that massive space under the floor with a whopping 107.8kWh battery.
That's larger than anything else on sale today and the result is 453 miles of range, provided that you (or your chauffeur) treat the throttle with care. Do the opposite and you'll coax some very useful performance out of the single, rear-mounted motor, with 0-62mph taking 6.2secs. More than enough shove to sweep past any dawdling riff-raff on the motorway.
The EQS is very good to drive and the interior is predictably exquisite, but the almost six-figure starting price (top-of-the-range Exclusive Luxury models cost £113,995) means this isn't a car for the masses. Keep an eye out for the EQE saloon in 2022: that won't need quite the same financial power to acquire and it's set to achieve 410 miles of range.
Mercedes-Benz EVs: every model in detail
Tesla Model S
405-mile range (WLTP)
£95,980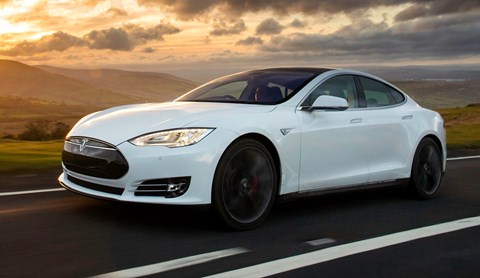 The Tesla Model S was the undisputed EV range king for almost a decade, and the latest version is the most advanced ever with 405 miles of range. There is a caveat though: the UK website quotes US specs of an updated model that won't arrive here until the end of 2022 at the earliest.
The good news is that the WLTP range estimates used here tend to be even longer than those produced on the stricter EPA test cycle, so that 405-mile figure could end up being even higher.
Tesla also offers the Model S Plaid, which is currently listed in the US and UK with an estimated range of 396 miles. Again, when that car arrives here at the end of 2022 it could receive a higher EPA figure. The Model S Plaid+, which was said by Tesla to have a range of over 520 miles, has since been removed from the company website, with boss Elon Musk saying the regular Model S Plaid ('regular' being a relative term) is good enough.
View Tesla Model S lease deals
Tesla Model S Long Range review
BMW iX xDrive 50 Sport
£93,905
380-mile range (WLTP)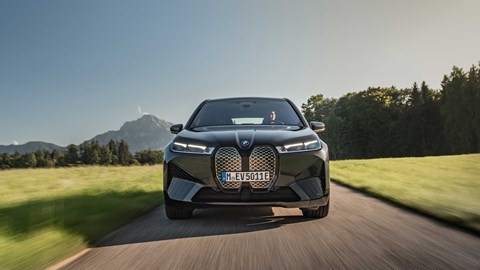 BMW's design language has been, er, controversial over the last few years, and nowhere is that more evident than on the new iX SUV. The combination of slim headlights and stout grille makes it look part ninja, part beaver, and it's hard to imagine that the same company conceived the i8 just a few years previously…
Aesthetics aside, the iX is intended to be BMW's flagship electric vehicle for the next few years. To that end it's fitted with a luxury interior, bags of clever technology and a powertrain to do it all justice: the front and rear motors combine for 516bhp in the xDrive50 model, resulting in 0-62mph in just 4.6secs en route to a top speed of 124mph.
Meanwhile the 106.3kWh is one of the biggest ever installed in an EV, and that means the iX is capable of driving 380 miles in between charges. When you do stop, 195kW charging ability means you can add 93 miles of range in 10 minutes at a suitable fast rapid charger.
Ford Mustang Mach-E Extended Range
379-mile range (WLTP)
£42,530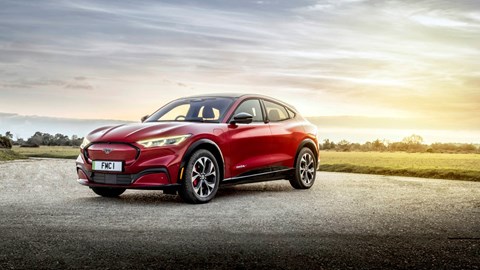 It might have a contentious name, but the Ford Mustang Mach-E puts up a worthy fight among the best electric cars. The single-motor version of the Mach-E with the larger 91kWh battery option produces the most range, with up to 379 miles using the WLTP test cycle.
The Mach-E is priced from £42,530 in the UK but for that you get a quoted range of 273 miles from a 70kWh battery. Upgrade to the 91kWh battery while retaining the single-motor, rear-wheel-drive configuration, and £47,580 gets you that impressive headline range. Ford also offers an all-wheel-drive Mach-E, priced from £50,850 and with a range of 248 miles (or 335 miles with the larger battery), while the flagship Mach-E GT starts at £66,280 and has a range of 310 miles.
BMW i4
365-mile range (WLTP)
£51,905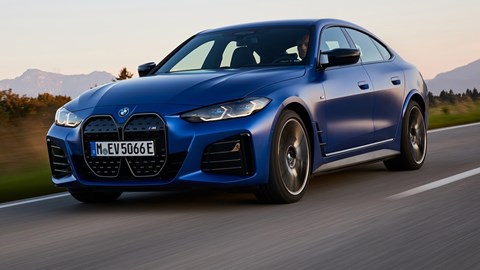 The BMW i4 is an electric four-door gran coupe that has a similar footprint to the 3 Series. Two versions were made available when it was launched in the summer of 2021; an entry-level eDrive40 model and a performance-focused M50.
The former boasts the longest range of the pair, capable of 365 miles thanks to an 81kWh battery. Its sole electric motor is mounted on the rear axle and produces 335bhp, giving it a 0-62mph figure of 5.7 seconds and a top speed of 118mph. Prices start from just shy of £52,000.
That all looks pretty decent on paper, but the M50 puts it in the shade. Costing from £63,905, a second motor at the front boosts power to a mighty 537bhp and drops the 0-62mph sprint to a supercar-rivalling 3.9 seconds. True, it's not as sprightly as an M3 or M4 thanks to the extra 300kg added by the powertrain, but having driven the i4 in its most frightening trim it's impossible to imagine it not being a hit with customers.
Tesla Model 3 Long Range
360-mile range (WLTP)
£49,990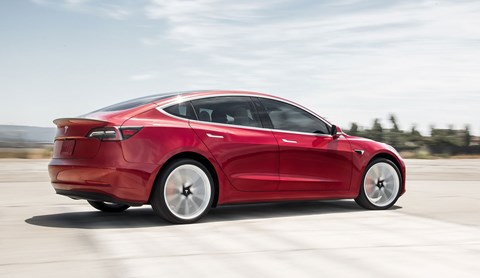 Back to Tesla now and the best-selling Model 3. Available in three specifications, the Model 3 starts at £42,990 and has a WLTP range of 278 miles, with 0-60mph taking 5.3 seconds.
Next is the Long Range, which starts at £49,990, has a range of 360 miles and a 0-60mph time of 4.2 seconds. Lastly, the Model 3 Performance is priced from £59,990, has a range of 352 miles, and boasts a 0-60mph time of just 3.1 seconds – or 0.1s quicker than a McLaren F1.
The three variants of Model 3 have top speeds of 140mph, 145mph and 162mph respectively, with the same five colour and two interior options available across the range.
View Tesla Model 3 lease deals
Tesla Model X
348-mile range (WLTP)
£102,980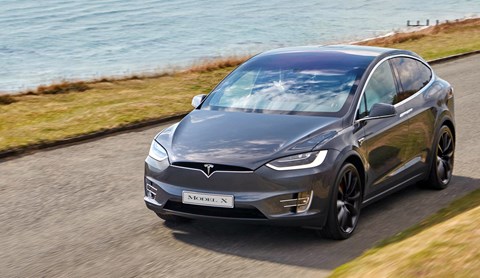 The last entry from Tesla is the Model X, which also recently underwent a major upgrade and won't be available in the UK until the end of 2022. Like the Model S, the range figures Tesla states are estimates, with the £98,980 Long Range clocking up 360 miles, a 0-60mph time of 3.8 seconds, and a top speed of 155mph.
Above this sits the Model X Plaid, which costs from £110,980, has a 340 miles…


Read More:The longest range electric cars of 2021