Some links may be affiliate links. We may get paid if you buy something or take an action after clicking one of these.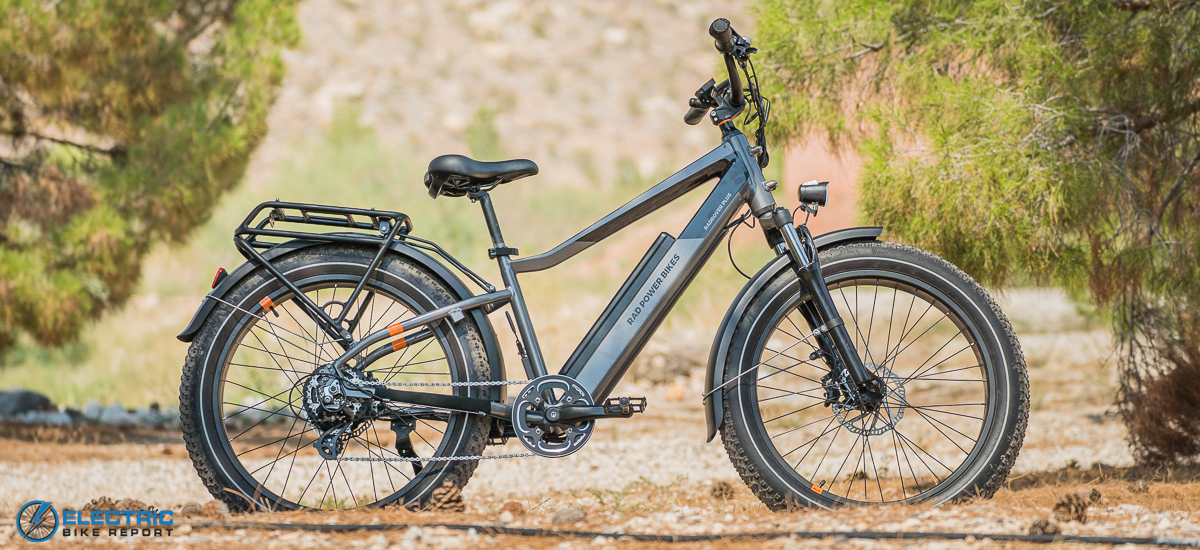 This week brings news that there may be hope for those who want an ultra-light, ultra-compact electric bike … as long as you're willing to look a little ridiculous while riding it.
The 30% e-bike tax credit looks to be back on after another round through congress. We've also got some very new and very cool eMTBs from Trek, news that Rad Power Bikes may or may not have a Scrooge McDuck-style swimming pool of cash and a patent on a cardboard box that bike industry wonks are reading like a Ouija board
In this week's news::
The (allegedly) world's smallest rideable e-bike

The proposed e-bike federal tax credit is back to 30%

Trek releases new Rail eMTBs

With another $150 mil investment, Rad Power becomes "most funded electric bike company in the world"

Camelbak & Lifestraw team up for filtration bottles and packs

Trek files patent for apparent D2C bike box
Someone built (allegedly) the world's smallest electric bike
Move over Ribble, Brompton, GoCycle and other aficionados of light, small and portable electric bikes; there's a new king in town.
The Moosshiqk3 — a 145mm tall, 2.5kg electric bike with a 130mm wheelbase — is now making the claim as the world's smallest (and likely lightest) electric bike. The micro e-bike, built by a designer called Santhosh, is a little less than the height of a pencil and rolls on what looks to be a set of rollerblade wheels.
Believe it or not, this micro e-bike is actually rideable. Santhosh sent us a video of himself riding the e-bike and he says it's been weight tested up to 64 kgs (about 141 lbs). Technically, the Moosshiqk3 appears to be a micro electric motorcycle since it uses footpegs instead of pedals, but either way his video is worth a watch. At the very least, it's utterly hilarious.
E-Bike Tax Credit is restored to 30%
After making another round through Congress, the proposed federal e-bike tax credit has bounced back to a full 30% up from 15% that it had been cut down to.
President Biden's "Build Back Better" plan has restored the proposed credit to its former glory of 30%. The credit caps out at a $1,500 maximum incentive and can be used for e-bikes priced up to $8,000. The credit takes tax status into account meaning the credit would begin phasing out for taxpayers earning over $75,000, $112,500 for heads of household and $150,000 for married couples who file jointly.
As the current U.S. administration makes a push for green initiatives in electric vehicles, solar power, and more, it is good to see electric bikes included in those plans. Electric bikes often start around a thousand dollars, so making it easier on consumer's wallets will help continue the e-bike adoption trend.
Trek drops updated 2022 Rail eMTBs
Rad Power logs (another) $150M in funding, bringing the total to over $300M this year
Rad Power Bikes on Thursday announced they'd raised an additional $154 million in funding that'll be used in part to invest in expanding North American and European e-bike production.
The $154 million announced this week is on top of $150 million they'd already raised in 2021, bringing their funding total this year to over $300 million. That's a lotta Benjamins.
Rad says this most recent round of investment makes them the "most funded electric bike company in the world." The new funding will be used to expand the company's logistics capabilities, open new distribution centers and expand its mobile service program and in-person retails stores.
"We believe in practical and utilitarian ebikes for the masses, which has led us to creating entirely new categories of e-bikes, and drives our accessible pricing, inclusive product design, and industry-pioneering direct-to-consumer sales and service," wrote Mike Radenbaugh, Rad's CEO, in a press release. "This record-breaking investment from some of the world's most respected late-stage investors accelerates our efforts to redefine transportation and mobility, offering car-replacement solutions to people from all walks of life that are energy efficient, enjoyable and accessible."
Camelbak & Lifestraw team up for filtration bottles and packs
Trek files patent for apparent D2C bike box
Bicycle Retailer and Industry News earlier this month published a story detailing the efforts of several major bike manufacturers filing patents on bike boxes designed to be shipped directly to consumers, one of which is industry giant Trek Bikes.
Why does this matter? Because it signals that Trek, a major player in the bicycle world, may soon start shipping e-bikes and bicycles directly to consumers' doors. The affordable e-bike market has already fully bought into the D2C business model but traditional bike companies, including Trek, have been reluctant to follow suit. Does the Trek patent mean we'll soon see boxes of Trek bikes landing on doorsteps? Time will tell.
Related
Reader Interactions