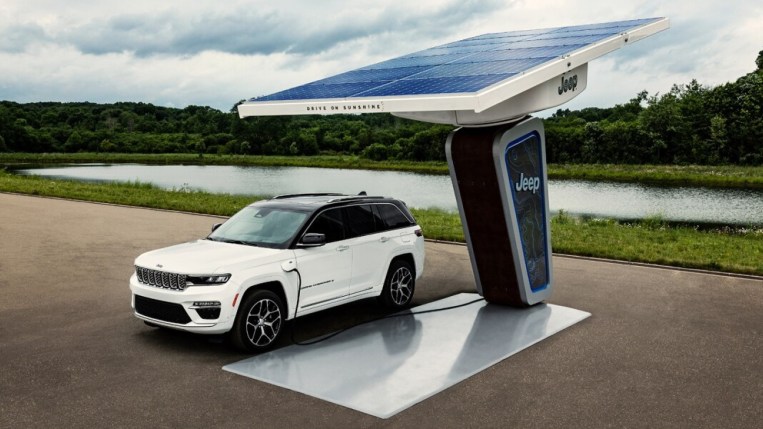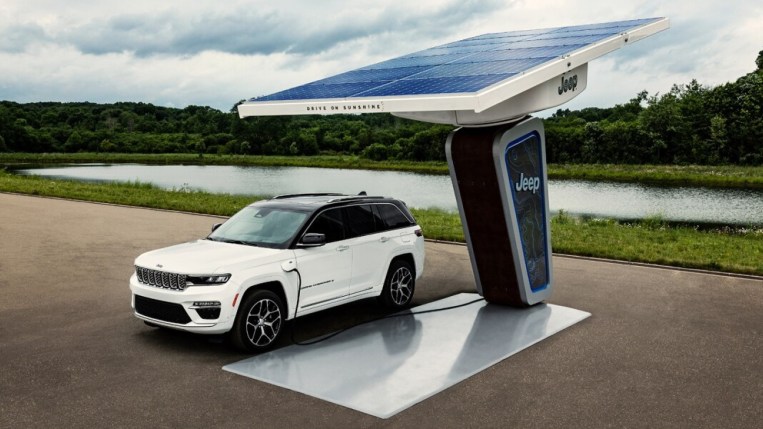 Jeep plans to sell at least one electrified model in every segment of the SUV market in just four years. The iconic off-road brand announced an aggressive push into electric vehicles (EVs) this week. It kicks off with an electrified version of the popular Grand Cherokee 2-row midsize SUV.
"Electrified" is a term automakers use to refer to both all-electric and plug-in hybrid (PHEV) vehicles. It isn't yet clear which of Jeep's planned vehicles will be pure EVs and which will be PHEVs.
New Electrified Grand Cherokee
The Grand Cherokee gets a complete redesign for the 2022 model year. Jeep had previously revealed its longer, 3-row Grand Cherokee L sibling. But this week's announcement is the first glimpse we've had of the standard-wheelbase, 2-row version.
Jeep released a single photograph showing the next Grand Cherokee plugged into a charging station, but not much else information. Jeep has identified it as the 2022 Grand Cherokee 4xe, a plug-in hybrid. More details will be announced at the New York Auto Show taking place next month.
Jeep already sells the Wrangler 4xe PHEV, which can drive for 22 miles on electric power alone before its gasoline engine kicks in.
A Low-Emissions Vehicle in Every Market Segment
Under the slogan "Zero Emission Freedom," Jeep executives promised at least one electrified vehicle in every market segment the brand competes in today.
The company already sells plug-in hybrid versions of its smaller Renegade and Compass SUVs overseas. Company executives this week promised electrified versions of its Wagoneer and Grand Wagoneer large SUVs as well.
The company also teased an all-electric version of its iconic Wrangler, which wore badges bearing the name Freedom. It features front seats that lay completely flat and the ability to pair with a follow-me drone to document your off-road adventures.


Read More: Jeep Announces Plug-in Hybrid Grand Cherokee, 1 EV in Every Category