The Tucson has continued to impress with its easy driving style, great visibility and comfort for all the family.
We were initially confused by the three driving modes on offer. Electric is obviously self-explanatory, but what about Hybrid and Automatic – what's the difference?
Hyundai describes Hybrid as the electric motor working in tandem with the 1.6-litre petrol engine to deliver improved fuel economy and lower emissions. However, when we use it, the 13.8kWh battery never seems to be employed; we've actually seen it gain charge during long journeys.
We'd suggest this mode is essentially petrol-only, with electric used for the first few metres of driving from standstill (i.e. like a traditional hybrid). It conserves the electric range for a time when it may be needed more, such as when entering a city centre.
Automatic, therefore, offers the efficient combination of electric and petrol.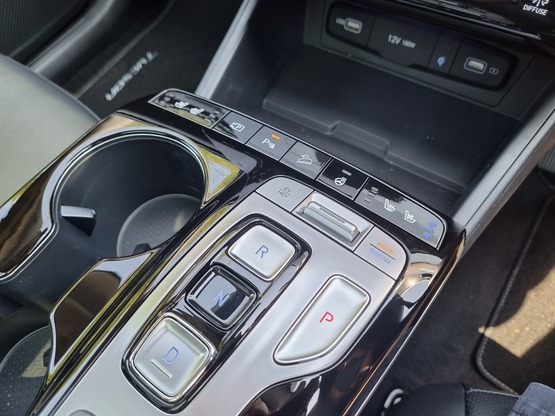 We tested this theory on a drive to Leeds. Hybrid mode on the way up returned 39mpg; Automatic on the way home boosted efficiency to 46mpg. It's worth noting that the battery depletes to just under quarter – the car retains a residual charge for starting and low speed reversing.
Shorter journeys, of course, can be undertaken in full electric mode thanks to the Tucson's generous maximum range of 38 miles for ultimate emissions-zapping driving.
The sight no one wants greeted me on August Bank Holiday Monday morning: a flat tyre.
A quick call to Bauer HQ to get the fleet breakdown number (managed by the AA) resulted in a local recovery operator arriving within 20 minutes to take the Tucson and me to the nearest Kwik Fit centre on Maskew Avenue in Peterborough.
Kwik Fit got the approval to repair from our leasing provider, did all the paperwork and started the job. It turned out a small screw had lodged in the rear nearside tyre but hadn't done too much damage which meant the tyre could be repaired.
It took just 30 minutes to complete – an excellent service by all concerned.
---
Hyundai Tucson Plug-In Hybrid joins our fleet
Hyundai has been producing decent looking cars for several years now and the latest Tucson mid-size SUV improves upon its predecessor's design by introducing striking angular lines and serrations, contemporary black grille and swopping roofline to give a real presence on the road.
Some have suggested the looks are a little jarring, but we like it, as do most of the people we've encountered so far. My only gripe is the wheel arches which are flat rather than curved.
We're testing the plug-in hybrid version in range-topping Ultimate trim which offers 35 miles of EV-only range from the 13.8kWh battery, mated to a 1.6-litre petrol engine and four-wheel drive with combined power output of 265PS.
CO2 emissions are 31%, putting the car in the 11% benefit-in-kind tax bracket and costing a 20% taxpayer £77 a month. Not bad for a car with a price tag of almost £42,000.
There are a number of immediate likes worth highlighting in this first test. First, the Tucson has the charging port at the rear so you can reverse onto drive/into bays – much the safer option than going in frontways.
It also charges at 7.2kW rather than the 3kW of my previous test PHEV. This means empty to full takes around two hours, almost half the time of the BMW 530e.
Another big tick is the seat coolers, standard on the Ultimate, which proved ideal in the recent heatwaves.
The Tucson Ultimate is packed with safety equipment as standard, including blind spot collision warning and assist, forward collision avoidance at junctions, front and rear parking sensors, rear cross traffic warning and avoidance, and highway drive assist to keep the vehicle centred in the lane – although Hyundai's definition of centred appears to differ a little from mine.
Full driving views to come in future test reports but, so far, the experience is a positive one.


Read More:Hyundai Tucson Plug-In Hybrid long-term test | driving modes explained