Ford's Mustang Mach-E electric SUV will reportedly get a boost in useable battery capacity and driving range for the 2022 model year in international markets.
According to a post on the Mach-E forum, the electric pony car will see an increase in usable battery capacity for both the Standard Range and Extended Range variants.
The Standard Range will increase from 60kWh to 70kWh, while the Extended Range is up from 88kWh to 91kWh.
Read more about the Ford Mustang Mach E
Calculations on the forum show that will increase the driving range of the Standard Range all-wheel drive from 340km to 349km, while the rear-wheel drive increases from 370km to 381km.
Extended Range AWD goes from 435km to 449km and rear drive from 483km to 499km. The California Route 1 variant gets a boost from 491km to 507km.
For comparison, the forthcoming Tesla Model Y SUV has a driving range of 480km for the Performance and 505km for the Long Range AWD, and Hyundai's Ioniq 5 can drive for 430km (AWD) or 451km (2WD) before requiring a charge.
Other additions to the 2022 Mustang Mach-E include standard heated front seats and steering wheel for the California Route 1 and a new Ice White appearance package with white flourishes inside and out.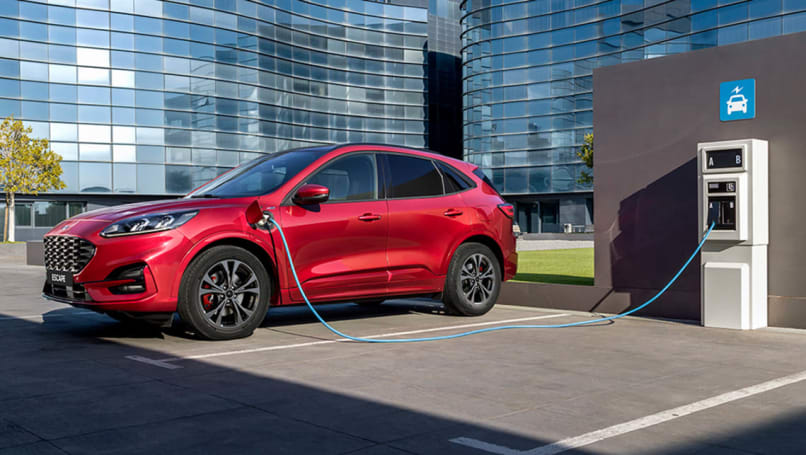 The Escape PHEV is expected to be the first electrified Ford to go on sale in Australia.
The report comes ahead of an expected announcement from Ford Australia finally detailing its electrification strategy.
Ford is the last top-five brand in Australia to confirm the launch of a full battery electric vehicle. Market leader Toyota has announced it will launch its first BEV, the bZ4X, late next year, while Mazda, Hyundai and Kia already have EVs in their respective model line-ups.
While it's unclear what Ford Australia's electrification strategy will look like, a glance at the Blue Oval's international portfolio and future plans gives us an idea.
We know the first cab off the rank will be the Escape plug-in hybrid which is now expected in the first quarter of next year. The PHEV was due in late 2020 but was delayed due to a battery issue and production constraints at the factory in Spain.
Given the Mustang Mach-E is built in right-hand drive for markets like the UK, there's a good chance it will make it Down Under – eventually. It would be Ford's first full EV in Australia and give the brand an appealing rival to the likes of the Model Y, Ioniq and Nissan's Ariya which is also expected to get the green light.
Given Australia's increasing appetite for large US-market pick-up trucks, the all-electric F150 Lightning could be converted to right-hand drive by an outfit like Walkinshaw Automotive Group, which already converts the Chevrolet Silverado and RAM 1500.
Ford's deal with Volkswagen will see it produce EVs based on VW's MEB electric car platform. The first electric model spawned from that partnership is likely to be a Puma-sized SUV to be launched in 2023.
According to an Autocar report, Ford of Europe president Stuart Rowley has hinted that there could be more than one Ford model spun off the MEB platform.
As part of the Ford-VW partnership, Ford will build and engineer next-gen versions of the Ranger/Amarok, and Transit/Transporter for both brands, while VW will develop and produce the next Caddy/Transit Connect. Electrified versions of each of these models is anticipated, including a plug-in hybrid version of the Ranger.
An electric version of the current generation Transit was revealed late last year, with Ford Australia ruling out a local launch at the time.


Read More:Ford Australia nearing electric car announcement as 2022 Mustang Mach-E gets updated