Hyundai makes three versions of the Ioniq, but for a limited time, you may be able to lease them for the exact same price. Whether it's the Ioniq Hybrid, Ioniq PHEV, or Ioniq Electric, Hyundai's advertised lease deal in multiple parts of the country is now just $189 for 36 months with $1,999 due at signing for each version.
According to Hyundai's latest dealer leasing bulletin, this is made possible by a lot of clever math. For example, the Ioniq EV may be over $9,800 more expensive than the hybrid but features an $11,000 lease incentive. The rebate also manages to help offset the EV's lower lease residual value and its higher money factor.
If an EV doesn't fit your lifestyle, the plug-in hybrid could be a good compromise. It has a $4,543 lease incentive (vs. $3,500 for the hybrid) and has a higher residual value (58% vs. 56). It also has a small advantage in lease rate (0.00094 vs. 0.00095). Although each Ioniq has the same deal, the hybrid may be the worst value.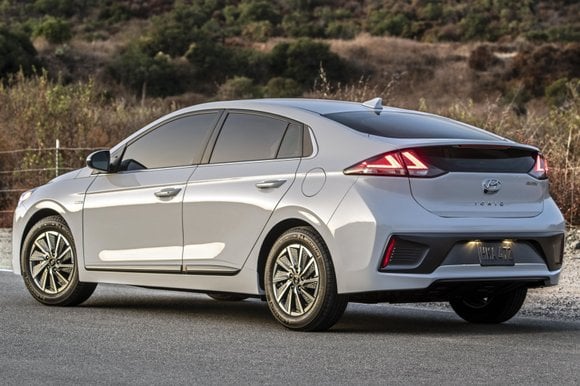 That's because state & local plug-in rebates aren't reflected in Hyundai's prices. Here in California, the Ioniq Electric is eligible for a $1,500 Clean Vehicle Rebate plus a $1,500 Clean Fuel Reward. The Ioniq Plug-In offers a $1,000 Clean Vehicle Rebate and $908 Clean Fuel Reward. The Ioniq Hybrid doesn't qualify for either.
Hyundai appears to be clearing the way for its next generation of EVs. For example, the 2022 Ioniq 5 will offer striking concept-car-like looks in a new SUV format. Perhaps most importantly, early figures from Hyundai put the vehicle's estimated electric range at up to 298 miles based on European testing standards.
If you're looking to score a deal, now may be the time to lease an Ioniq. The downside is that the prices appear to be limited to California and ZEV states like Oregon, New York, and others. It's also worth noting that the Ioniq EV isn't sold outside those areas, and plug-in rebates vary greatly from state to state.
Current Hyundai offers end on August 2.
(function(d, s, id) {
var js, fjs = d.getElementsByTagName(s)[0];
if (d.getElementById(id)) return;
js = d.createElement(s); js.id = id;
js.src = "https://connect.facebook.net/en_US/sdk.js#xfbml=1&version=v2.11";
fjs.parentNode.insertBefore(js, fjs);
}(document, 'script', 'facebook-jssdk'));



Read More: Every Hyundai Ioniq Now Has The Same Lease Deal