Some links may be affiliate links. We may get paid if you buy something or take an action after clicking one of these.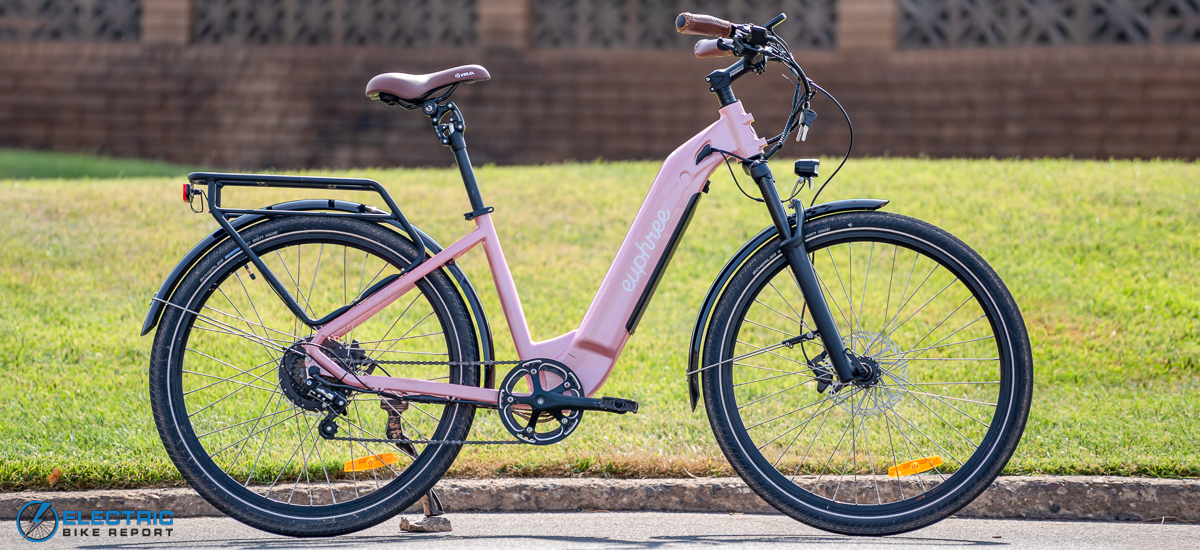 Euphree City Robin Review: Overview
After reviewing the Euphree City Robin I discovered that it's a refreshingly lightweight, comfortable e-bike that can be used for a quick trip to the market, your daily commute, or a light trail ride. The City Robin strikes the right balance between sprightly commuter and leisurely rec bike.
It's not a heavy, lumbering cruiser, nor is it an unruly, lurching e-bike that wants to be a motorcycle. Designed for riders from 5'3" to 6'2", the Euphree City Robin offers distinct features that cater to those who want something manageable, agile, and peppy.
Euphree currently offers one bike model, with a choice of two performance options. The Performance package offers more power in lower modes, so you can quickly zip up to speed with only light pedaling. The Gradual Power package is mellower, with gentler power settings that comfortably support your cadence and ease you up to speed.
Both calibrations provide excellent handling and have roughly the same top speed. The Electric Bike Report team was able to test both program options on two City Robin bikes, a pink one with the Performance package, and a one white with Gradual Power. Both packages provide swift power and tractable handling. In all modes of riding, the City Robin feels capable but patient, with the good manners to allow you to be in charge.
Bike Category: Commuter/Leisure Bike for around-town riding
Bike Class:Ships as a class II e-bike(Throttle + 20mph max)
Euphree City Robin Video Review

Pro's
Lightweight 55lb aluminum frame
Great for petite riders
The sprightly Bafang motor is quick & responsive
Low 16" stepover height makes it easy to step down at intersections, stop signs, and lights
Handles tight corners comfortably
Shorter wheelbase makes it navigable even on narrow streets
Front and rear rack are standard
Integrated lights and fenders are standard
Quality components

Con's
Doesn't have anywhere to place a water bottle
Gears are superfluous on a bike with this much power, unless you plan to ride long distances in manual mode
Brakes are soft and could use an upgrade
ELECTRICAL SPECS & FEATURES
Battery: 48V, 14 Ah 672Wh Samsung 35E lithium-ion cells
Display: Backlit LCD with charge indicator, speedometer, odometer, trip odometer, pedal-assist
Motor: 500W Bafang Brushless Rear Hub
Lights: Front & rear powerful long-lasting LED lights
Pedal Assist: 5 Modes of PAS
Range: Up to 50 miles with low assist; 30 miles with high assist
Throttle: Thumb throttle
Weight & Dimensions
Maximum rider weight: 285lb
Maximum load on rear rack: 55lb
Components & Accessories
Brakes: Gemma 180mm hydraulic disc brake
Fenders: Front and Rear, Included standard
Fork: RST Suspension fork with lockout
Frame: 6061 Aluminum alloy
Gearing: 7 gears
Grips: Stitched leather, ergonomic
Saddle: Velo gel saddle
Handlebar: Gentle rise
Kickstand: Heavy-duty alloy with wide plastic foot
Pedals: Wellgo 9/16 black pedals with reflectors
Tires: 27.5 x 2.0 Schwalbe Big Ben
Euphree City Robin Review: Performance
Acceleration / Speed
The City Robin features a capable 500W Bafang rear hub motor that provides plenty of power on the get-up and hits top speed easily. Pedal-assist is immediately responsive so I didn't have to rely on the throttle nearly as much with the City Robin compared with other cruiser ebikes.
You can adjust the settings on the City Robin from Class II to Class III and even Class I if you want to disengage the throttle. All City Robin bikes arrive in Class II with a top speed of 20mph. To switch to Class III, simply hold down both arrow keys on the control panel, toggle through to PO7, and then increase the max speed to 45kph (28mph). I appreciate how easy it is to switch from Class II to Class III. Out of the road, you can quickly set the top speed at Class II when you're zipping through town — and then adjust it up to Class III to add a little speed when you hit an open road. This makes it so you don't have to worry about pedaling faster or slower to moderate the max speed, the bike will do it for you.
Class II and Class III settings allow the motor to engage quickly with plenty of power both at the start, and in lower modes. Sometimes ebikes can lumber a bit at slow speeds when the weight of the bike is a limiting factor. The Bafang motor provides just enough kick to make the City Robin quick off the line.
A few high-end components add a lot of value here as well. The Suntour seat post increases rider comfort significantly. The little bumps and jostles inherent to city riding are absorbed by the seat post. A quick-release seat stem is also handy. You can easily lift or lower your seat at any time – or adjust it for different riders. The full suspension front fork with both lockout and preload further enhances comfort on the bike. I was able to sit down with Daniel Basaldua at Euphree bikes who explained the City Robin was initially designed for his sister who lives in Boston where cobblestone streets line the city. His goal was to create a bike that is manageable, comfortable, and powerful. In my opinion, the Euphree City Robin hits all three.
Range Test
The range test is designed to review the actual distance an ebike can go on a single battery charge. We find that often the distance covered in a single charge is slightly different than what manufacturers claim. Range tests are conducted in the terrain designed for the bike. Since the City Robin is a commuter/recreational bike, we rode around town, in and out of traffic, and through suburban areas.
The City Robin has an integrated 48v, 14Ah Samsung lithium battery tucked in the downtube. To assess range, we tested the City Robin in Class II settings (20mph max speed). Class II drops the maximum speed to 20mph but still allows the rider to pedal with full force. This is the setting we assume most riders will use if they plan to maximize their range. For this test, the rider keeps the bike in Mode 1 PAS throughout the ride. On this maximum range test, the pink City Robin went 45.32 miles with an average speed of 12.9mph. The white City Robin went 50.96 miles with an average speed of 12.3mph.
To determine maximum range using maximum PAS, our rider Christina set both bikes to Class III with a top speed of 28mph. Christina used level 5 PAS throughout the ride to tax the battery as much as possible. She was able to ride the pink City Robin (Performance acceleration) 29.96 miles with an average speed of 20.4mph. On the white City Robin (Gradual acceleration), Christina's total range was 30.12 miles, with an average speed of 20.8mph.
You can see how adjusting the class settings and PAS levels influence battery range on the City Robin. A max distance of 50.96 miles is quite impressive. The Bafang hub motor heartily augments rider power, and the battery lasted upward of 2 hours using Mode 1 assist. Also, Christina reflects the demographic this bike is designed for. She is petite but athletic and found the City Robin easy to handle and comfortable on that long ride.
Circuit test
The circuit test is a 1-mile loop with no stops that allows us to evaluate how each bike performs in different levels of assist. The first loop is conducted with the motor turned off, to simulate riding manually in the event the battery dies or you want to extend your range. The next loops are performed in progressive assist levels. We record our max speed and average speed in each loop to determine how the PAS levels function.
Euphree offers two software settings on the City Robin, a Performance acceleration package and a Gradual acceleration option. You can select either program when you first order your bike. This is a service Euphree provides to new buyers so you can decide how you want the PAS levels to engage while you are riding. Once the bike has been calibrated with either the Performance or Gradual acceleration and shipped to you, it can't be adjusted later.
Euphree sent us two bikes: a pink one with the Performance Acceleration program; and a white one with the Gradual Acceleration program. The Performance program is the current default and Euphree's more popular option. In this program, the bike has a higher max speed at lower PAS levels, but it takes longer for the bike to get to speed. For example, you can go faster in mode 2 (notice the 19.8mph average in Class III), but it takes a few pedal rotations to achieve that speed. The City Robin has a torque sensor, so the speed responds to how hard you pedal. This makes it so you can stay in lower modes without having to toggle between them to find that desired top speed.
The Gradual acceleration program is designed with lower max speeds in each PAS level, but the motor immediately engages to get to that speed much quicker. The white City Robin bike had this programming. You'll notice there is quite a difference in speed between the two bikes at lower levels of assist. The white bike provides a more gradual increase in speed at each level, whereas the pink bike quickly jumps to 19.8mph in PAS mode 2. Both bikes have the same top speed.
I performed the circuit tests while Christina did the range test on both bikes. She preferred the gradual, controlled feeling on the white bike and found the pink bike to have a bit of a lag between pedaling and motor engagement. I preferred the speed in the pink bike and didn't mind that I had to pedal a bit harder to get to the speed I wanted.
Personal preference will dictate the preferred setting for each rider. Either program option is available in both frame colors.
Hill Test
At EBR, we ride each bike up a steep hill called Hell Hole that is .33 miles long (162ft), with an 8.5% grade. We perform two hill tests on each bike. The first test measures throttle power only. The rider doesn't pedal and we see how well the throttle powers the bike and rider up the incline. The second time we use the highest PAS level and pedal normally. If gears are available, the rider may adjust gearing as needed on the hill. The point of both tests is to measure how each bike handles a steep grade.
The City Robin was able to get to the top of Hell Hole in 1 minute, 26 seconds using throttle only. Average speed was 14.2mph. The slowest speed was around 13mph and it hit upwards of 18mph on flatter sections.
On the PAS hill test, I used level 5 PAS and adjusted the gears once or twice as the incline got steeper. It took 1 minute, 15 seconds to complete the segment with an average speed of 16.3mph. The slowest speed was just over 14mph and it hit 20mph as I cleared the steeper incline.
This is pretty impressive power for a cruiser bike on an 8.5% grade. The City Robin is not underpowered and the 55lb frame helps as well since the bike doesn't weigh itself down. We anticipate even loaded with gear and/or a heavier rider, the City Robin should be able to handle inclines as needed.
Handling
Handling is one of my favorite aspects of the City Robin. The combination of motor power, dialed-in geometry, and a lighter frame make the City Robin easy to handle – especially for petite riders. This bike is navigable when riding around town and handles equally well in more open, suburban areas. You can ride the City Robin along the sidewalk, on a bike path, or with traffic.
On an ebike, I want to feel like I am riding the bike, not like the bike is riding me. Ebike cruisers are comfortable, but typically large, which can sometimes feel like driving a bus. The City Robin is scaled down so it functions like a comfortable e-cruiser, but handles like a regular bike. My only caveat is sometimes the motor jumps to speed so quickly that pedaling feels superfluous. This creates the "lag" Christina noticed as well. There were occasions when the motor feels like it gets ahead of the pedals, creating a hollow feeling in the pedal stroke. However, aside from this, the City Robin handles well and doesn't feel sluggish nor impatient.
Ride Comfort / Geometry
As I mentioned above, Euphree designed the City Robin for riders who want power, comfort, and functionality rolled into one ebike. The geometry is well-designed for riders from 5' 3"' to 6' 2". Some high-end ebike cruisers have a long wheelbase, are heavy, and ride like a Cadillac, so while they are luxurious, they can be hard for a petite rider to handle. The City Robin has a 17" frame with a 16" reach and 46" wheelbase. The 27.5" tires lift you enough to see but are the right height for an easy step-down at intersections or lights. A 16" step-over height is convenient as well. I appreciate the gently swept-back handlebars that are angled up slightly for wrist and arm comfort. The handlebars make steering easy and the light frame and shorter wheelbase enable compact turns and stops.
Euphree City Robin Review: Electric Components
Motor
The City Robin has a Bafang 500w brushless rear hub motor. Here again, Euphree has gone with a known, name-brand option which is reassuring. Bafang consistently makes reliable, serviceable motors, so you know what you're getting. Euphree will adjust the programming based on rider preference for either the medium or fast acceleration program, but the motor is the same for all the models. If you opt for the program that offers higher speed in lower PAS levels, it can be fun but also dangerous, so watch your speed when headed into an intersection or when turning. The motor is relatively quiet. There's a bit of whir when riding up a hill, but in general, it's subtle and unobtrusive.
Battery
The Samsung 48v, 14Ah battery is a standard lithium-ion battery. It is integrated into the downtube for a clean look. The battery can be charged on or off the bike and a charger is included. As with most ebike batteries, this Samsung battery is large and rather heavy, but it does the job and I appreciate how it is integrated into the frame for a clean, refined look. A plastic cover on the underside of the tube keeps dirt and debris from disturbing the battery.
Throttle
I love having a throttle on an ebike. A throttle makes a noticeable difference when you have to start pedaling the bike from a dead stop. Usually, I use throttle power on nearly every ride — it adds a bit of kick so I can ease off pedaling. However, the Euphree City Robin is so well powered, I found I didn't need to rely on the throttle much at all. The motor kicks in early so one or two pedal strokes and you are at full speed. The bike isn't super heavy either, so it's not a beast to move from a dead stop. Since the throttle is well-positioned on the left grip, it is easy to reach and didn't make my thumb cramp – which sometimes happens if I have to add a lot of throttle power. Throttle is correlated with PAS level. For example, in level 1 PAS, the throttle will take you to around 11mph, while in level 5 PAS, throttle adds full power to 20mph (or 28mph if you modify it for Class III).
Display
The backlit display has large, digital numbers. I like the 10-bar readout for battery power which provides an overview of battery life in 10% increments rather than 25% with a 5-bar display. The interface is intuitive with just four key metrics displayed at a time: battery power, speed, PAS level, and odometer. To turn on the bike, hold the M button for a few seconds. Toggle through PAS levels using the Up and Down arrows. Walk mode is activated by holding the down arrow. Turn on the integrated lights by holding the up arrow. Display settings can be adjusted by holding both Up and Down arrows at the same time. This will take you to the control menu where you can adjust brightness, change from miles to kilometers, adjust wheel diameter, and change Class settings.
Euphree City Robin Review: Components and Accessories
Another area the City Robin shines is the quality of components. I only had concerns about one or two things (derailleur, brakes), but in general, Euphree has outfitted the City Robin with quality components. You get a Suntour suspension seat post, suspension fork, cushioned Velo gel saddle, stitched leather ergo grips, comfortable alloy frame, Schwalbe Big Ben tires, and reflective Wellgo pedals.
I also appreciate how both front and rear fenders and lights are included standard. There's not a lot you'll have to add to the bike since most accessories are included.
Brakes
The City Robin features Gemma 180mm hydraulic disc brakes. I'm glad Euphree went with hydraulic brakes here, they're certainly a step up from mechanical. But stopping power on this bike is a bit soft. It took me an average of 17 feet 6 inches to come to a full stop on our brake test. To test the brakes, I rode 20mph and then engaged the brakes to see how long it took the bike to stop. We used marked cones to measure the distance. I did this test five times and then averaged the distance from all the tests. 17 feet, six inches is a few feet longer than our average stopping distance for comparable bikes.
One benefit is the brakes aren't so touchy that they're going to throw you over the handlebars; but certainly, these aren't the most powerful hydraulic brakes I've used. For large riders or when carrying extra cargo, I'd recommend stopping sooner than you think to ensure safe riding and stopping.
Frame
The frame is a sturdy 6061 aluminum alloy. Cabling is integrated through the down tube. A few cables are crowded around the handlebars, but Euphree assured me those won't impede adding a front rack or basket. The frame looks sharp with clean junctions and crisp paint. Since we had the bike in both pink and white, we saw the difference in color and appearance. The pink paint has a playful shimmer to it while the white is creamy and elegant. I love the lightweight frame at just 55lbs. While the City Robin will appeal to a wide variety of users, Daniel at Euphree originally designed it based on his sister's needs. Both handling and geometry make it perfect for women and those who want a manageable frame that still packs extra motor power.
Fork
Yes to a front suspension fork! Lockout and preload make it so you can adjust cushioning based on rider weight and anticipated terrain. Since this is a rec/commuter bike, the addition of a suspension fork enhances rider comfort. I don't anticipate jumping off anything more than a low curb on the City Robin, but if you ride on uneven roads, bike trails, or anywhere that has brick or cobblestone streets, that front fork makes it so you won't feel rattled or have a headache when you arrive at work.
Drivetrain / Shifting
The Sunrace 7-gear drivetrain allows the rider to downshift to maximize foot power or ride manually to save battery power. Gears are also nice on hills or steep inclines where it's helpful to reduce torque. However, because the City Robin has so much power anyway, I found the gears to be a bit superfluous. You could easily get along without them, which would save both weight and cost. The gears are a bit clunky and the Sunrace shifter is not my favorite. If it were up to me, I'd eliminate the gears and derailleur and go with a single speed on the City Robin.
Contact Points / Comfort
This is a comfortable bike. Saddle, grips, and pedals are all recognizable brands known for quality and durability. The Velo saddle is one of my favorites. It's wide, and padded sufficiently for comfort, but doesn't cause hot spots. The grips are faux leather similar in color to the saddle and stitched along the edges for aesthetics. The hand size is perfect for me. Wellgo 9/16 pedals are pretty standard for a cruiser and have the reflective strip along the sides for visibility. These pedals will support any type or size of shoe.
Tires
Schwalbe Big Ben tires are 2" wide with light tread for smooth traction. The 27.5" size lifts you high enough to see and be seen, but maintains a manageable step-over height. Here again, Euphree has selected a name-brand option so you know what you're getting. Schwalbe Big Ben tires are well known which makes service and repair easier — mechanics and bike shops will be able to easily service and replace tubes, valves, etc.
Extras / Accessories
The City Robin includes integrated front and rear lights, front and rear fenders, a rear rack, and bosses for the addition of a front rack. You can also request a bell, which is nice to have on city streets and bike paths. My only complaint is the lack of a water bottle cage. You could strap a water bottle to the rear rack, but that's not convenient or safe to access while riding. I found myself wishing I had a water bottle while doing some of our circuit tests mid-day in the heat. The clean downtube makes getting on and off the bike a cinch, and adding a bottle cage could make the step over a bit more challenging, but it would be nice to at least have the option.
Euphree City Robin Review: Summary / Where to Buy
Euphree may be new to the ebike market, but the City Robin performs like a seasoned veteran. This bike is zippy around town, comfortable to ride, and has upgraded components throughout. The inclusion of fenders, lights, and the rear rack makes the City Robin a great option for commuters, college students, and anyone who wants to reduce their carbon footprint.
Based on the quality of the bike, quality components, and standard accessories, the City Robin is well-priced and thoughtfully designed. It's also fun to ride. Ebikes come in a variety of sizes that will cater to different riders based on needs and lifestyle. The City Robin is perfect for petite riders, those who value comfort, and anyone who wants to add a little zip to their trip to the coffee shop.
Euphree is based in Houston and those who live locally may be able to get free assembly. Otherwise, the City Robin is available online at Euphree's website and includes a 14-day risk-free trial and lifetime warranty.
Happy Riding! Make sure to let us know if you have any questions down in our comments section or if you think we left anything out in this review of the Euphree City Robin.
Reader Interactions