Tesla might carry on like electric vehicles never even existed before it came on the scene like an environmental saviour in a very shiny, futuristic suit, but was it experimenting with all-electric cars about 50 years ago?
No, it was not (although don't put it past Elon Musk to invent a time machine to go back and rewrite history somehow). 
BMW, however, was dabbling in EVs when Musk was still in nappies. The German motoring giant had its BMW electric car, the excellently named 1602 Elektro, acting as a support vehicle for the long-distance walkers and marathon runners competing at the 1972 Summer Olympic Games in Munich. The Elektro was carrying a film crew and supplying water while showing off its impressive (for the time, obviously) range of 30km (so, not for the whole marathon, obviously). 
Read more about BMW's electric cars
Fast-forward several decades and BMW had launched the mysterious sounding "Project i" to develop lightweight, eco-friendly, urban, fully electric BMW car concepts for people living in megacities. 
That led to BMW announcing BMW i in 2011, a sub-brand created to design and manufacture EVs and Plug-In Hybrid Electric Vehicles (PHEVs). 
The first two cars unveiled under the BMW i badge were 2013's BMW i3 (we prefer the car's original name, the very Judge Dredd-sounding Mega City Vehicle), and 2014's BMW i8 PHEV super car (although the first PHEV BMW developed came in 2010 in the form of the BMW ActiveHybrid 7 concept).
In 2016, BMW decided to label any of its vehicles with PHEV technology using the "iPerformance" model designation, including the 320e/330e iPerformance, 520e/530e/545e iPerformance, and 745e/745Le iPerformance. 
All BMW EV models come with "eDrive" technology, which consists of three components: an electric motor, a lithium-ion high-performance battery and an intelligent energy-management system that ensures the vehicle is running as efficiently as possible.
BMW EVs available in Australia 
BMW i3
The i3s is light, super strong, and unlike anything else on the road.
Price: From $71,900
The first car built from the ground up around a fully electric drivetrain, the BMW i3 four-door hatch comes with a lithium-ion battery-powered 125kW electric motor, which gives it a range of around 260km. "REx", a range extender option, allows you to add a petrol engine to assist in charging the vehicle's battery, upping the range considerably. If you want one, you better get in quick as BMW has announced it is ceasing i3 production, which simply means it has come up with even better ideas.  
BMW i4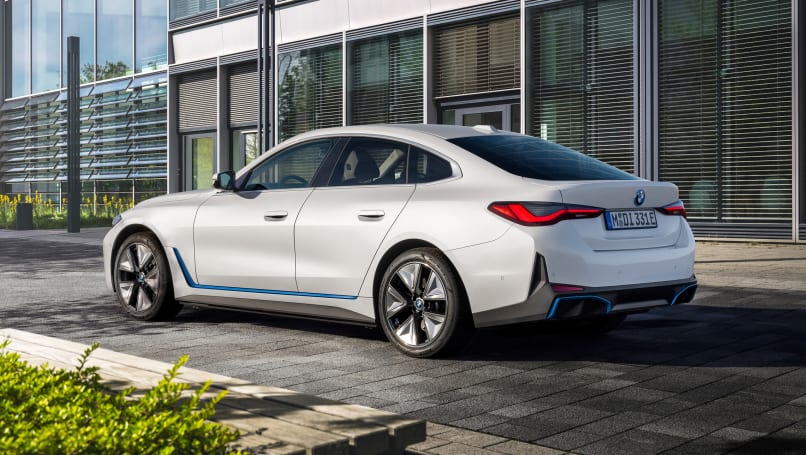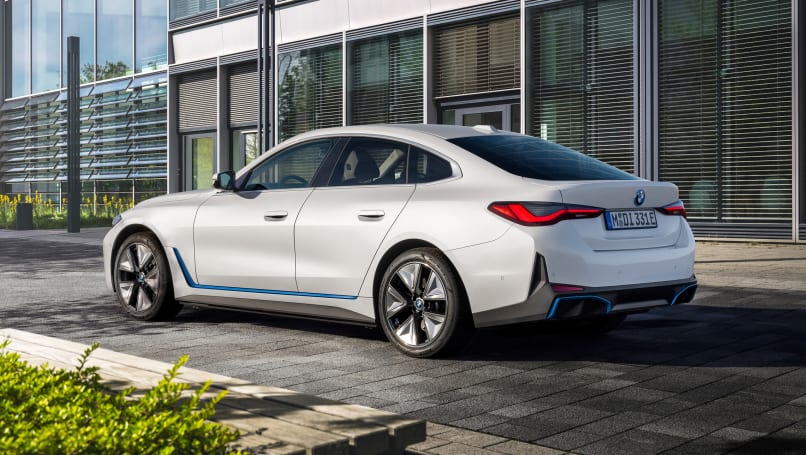 The i4 is locked in for a Q1 2022 arrival.
Price: TBC
BMW will attempt to give the Tesla Model 3 a run for its money with the i4, the brand's first-ever fully-electric Gran Coupé, which is set to land in Australia in the first quarter of 2022. The i4 will come in two variants: the BMW i4 eDrive40 and the BMW i4 M50. The former comes with an impressive range of 590km (a figure not far off the Tesla Model 3 Long Range's 614km claim), while the rather sporty latter comes with a claimed 510km of range and the ability to hot-step it from zero to 100km/h in a spry 3.9 seconds. 
BMW iX
BWW's first all-electric SUV arrives in Australia late-2021.
Price: From $135,900
BWW's first all-electric SUV arrives in Australia late-2021, coming in two variants: xDrive40 (240kW of power, 630Nm of torque and 425km of range) and the xDrive50 (385kW of power, 765Nm of torque and 630km of range). Those who don't fancy waiting around while their car charges will be pleased to know both models are compatible with DC fast charging at a rate of up to 150kW in the xDrive40, or 200kW in the xDrive50. 
BMW iX3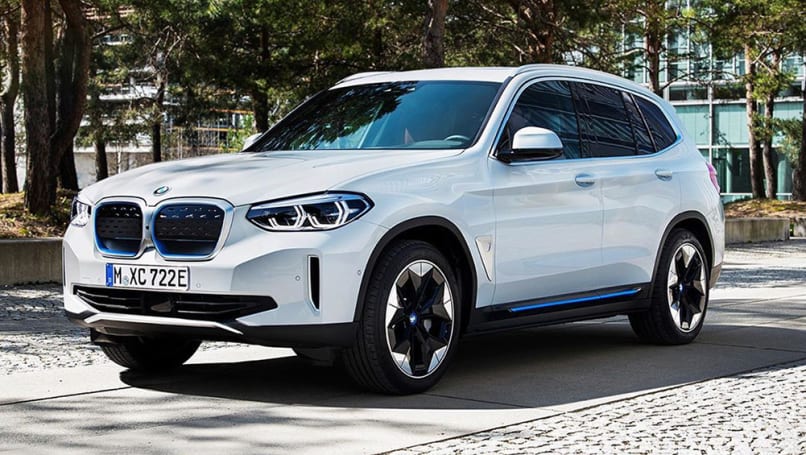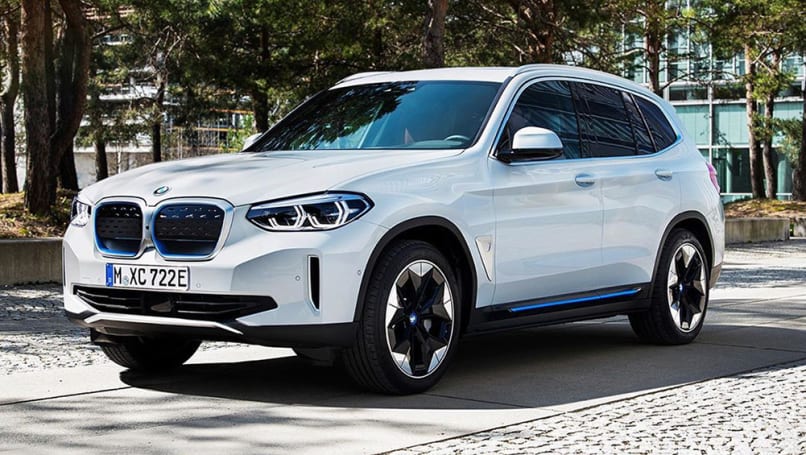 The BMW iX3 is also due in late-2021.
Price: TBC
Also due late-2021, BMW's mid-size iX3 SUV comes with a 210kW/400Nm electric motor on the rear axle and a 74kWh lithium-ion battery for an all-electric range of 460km. 
BMW hybrids available in Australia
Two fuel flaps, two hearts and a sports/luxury mindset: the BMW 330e PHEV is many things in one car.
BMW already has a range of hybrids available in Australia, including the BMW 330e Sedan PHEV, BMW 530e PHEV, BMW 745e PHEV, BMW X5 PHEV and the xDrive45e PHEV. 
The future of BMW EVs 
Having contracted Contemporary Amperex Technology and Samsung SDI in 2019 to deliver lithium-ion cells for a hefty $10 billion over a decade, BMW has made its intentions clear in terms of commitment to the further development of EVs bearing the BMW badge. 
BMW design chief Domagoj Dukec has publicly stated that BMW i models are becoming the most relevant part of the BMW brand, especially in markets like China where there has been a huge uptake in EVs.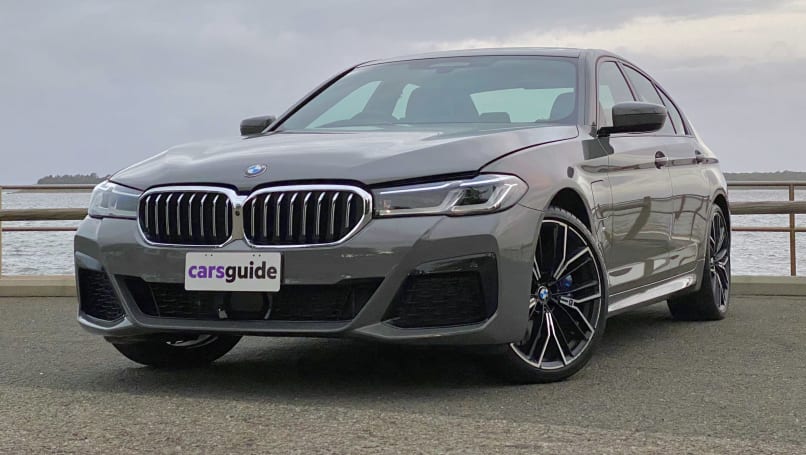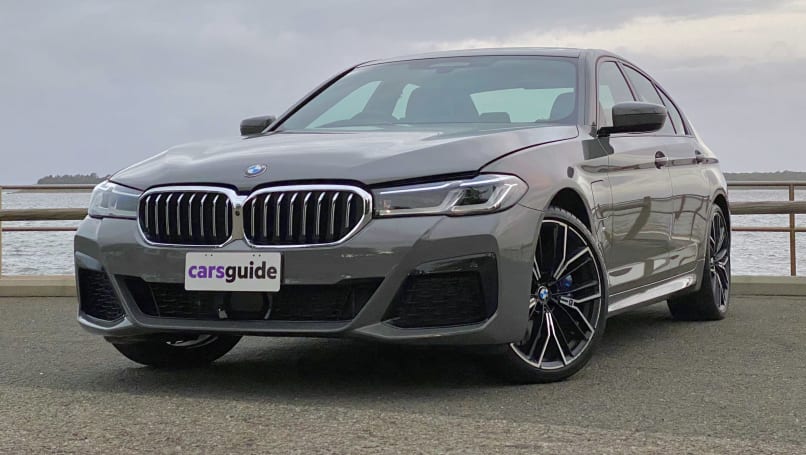 BMW plugs in to a 5 Series future.
Driverless technology is also in BMW's sights with the self-driving iNext concept, a fully electric SUV that BMW hopes will become the basis for fleets of fully autonomous vehicles for highway use, as well as "Robo-Taxis" in cities we'll assume are policed by RoboCops. 
BMW is also looking into hydrogen-powered vehicles with the BMW i Hydrogen Next SUV, a hydrogen fuel cell-powered concept (BMW has also been testing fuel-cell tech in a road test fleet of 5 series GTs). 
BMW has also said it plans for half of its total sales to be fully electric by 2030, while also stating it expects to have delivered about 2 million BMW full-electric vehicles to customers by 2025, with that figuring leaping to a sizeable 10 million by 2030, making up at least half of its total global deliveries by that stage.


Read More: BMW Electric Car: Price, Release Dates & Upcoming BMW EV Models in Australia