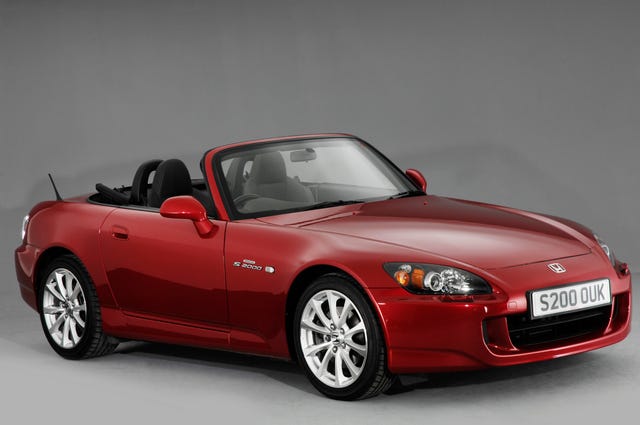 Heritage ImagesGetty Images
One of the most famous models in Honda lineage is the S2000. This automobile is a chic, performance-based model that is also defined by economy and efficiency. Upgrading it by installing aftermarket modification amplifies its already impressive features, transforming it into something more powerful, sleek, and stylish.
Debuting in 1999, the Honda S2000 is a two-seat convertible sports car. The Honda S2000 is named for its 2-liter engine displacement, carrying on in the tradition of the S800, S600, and S500 S Roadsters of the '60s. The S2000 has been notably popular among car enthusiasts for its undeniably modern, sleek design.
Performance parts such as suspensions and pads greatly improve your Honda's operation, while interior upgrades like sunshades and floor mats protect and beautify your vehicle's interior features. Lucky for you, we've prepared a comprehensive list of recommendations of mods for your Honda S2000.
Types of Honda S2000 Mods
Cold Air Intake System
AEM D.C. S2000 00-05 M/T Only, Gun Metal
As exciting as it is to drive the Honda S2000, there's still some more horsepower you can gouge out of your existing setup. This can be achieved by upgrading your S2000's cold air intake system. Whether you're running a naturally aspirated engine or slowly progressing to forced induction, intake system upgrades serve as an excellent way to ramp up the torque and power without burning a hole in your pocket. You'll even notice some improvements in your engine filtration and better fuel economy. Well-known for its superb sound and performance advantages, this intake system by AEM is a favored option among many S2000 owners.
Key Features:
Increased throttle response and engine sound.
Maximizes torque and horsepower.
Runs up to 100,000 miles before service is required.
Washable and reusable lifetime air filter.
Tuned dual-chambered intake tube.
Exhaust System
Skunk2 Racing 413-05-2025 MegaPower Exhaust System for 2000-2009 Honda S2000
Compared to OEM, aftermarket exhaust systems have lighter overall construction, fewer bends, and simpler pipe routing. This allows for a straighter, freer pathway for exhaust gases to escape. Include a test pipe into the equation, and you're in for a noticeable change in power.
There's a lot of weight to be shaved as the stock exhaust weighs about 50 pounds. A good titanium exhaust weighs just 16 pounds. Stainless steel exhausts systems weigh approximately 25 pounds, which is still lighter than the stock S2000 exhaust. Admittedly, most automotive enthusiasts go for aftermarket exhaust systems because of the way they sound. Better-looking Dyno charts and performance numbers are just additional benefits.
If you want a powerful sound more than anything else, this MegaPower exhaust system is designed for naturally aspirated engines that require more exhaust flow than what OEM systems offer.
Key Features:
Bolt-on system; no welding required.
60mm inch piping, 110mm polished tip.
Includes detachable silencer and hardware.
CNC Mandrel-bent, Robotically TIG-welded T-304 stainless steel.
Brake Kit
Power Stop K200 Front & Rear Brake Kit with Drilled/Slotted Brake Rotors and Z23 Evolution Ceramic Brake Pads
Going fast can be dangerous, especially if your vehicle is still using worn-out brakes. The Honda S2000's OEM brakes are satisfactory but not outstanding. This can easily be solved with a quality brake kit such as the Power Stop K200 Front and Rear Brake Kit, which gives the Honda S2000 exceptional brake performance. This kit comes with slotted rotors and ceramic brake pads with extremely impressive stopping power and effectively dissipates heat.
Key Features:
Low dust braking validated with an average of 30% less dust compared to OE.
Carbon-fiber ceramic pads significantly improve braking performance as opposed to conventional brake pads.
Includes high-temperature ceramic brake lubricant and stainless-steel installation hardware.
Rotors are zinc plated for protection against corrosion.
Floor Mat
Honda S2000 Heavy Duty Trim-to-Fit Floor Mat
Every automobile, regardless of its brand name or make, needs a floor mat. You might not think about car mats all that much, but having a good set can be the difference between a worn-out floor and a showroom-condition car. Car floor mats can keep the vehicle clean by safeguarding the flooring from the usual daily wear, such as dirty shoe soles and spills.
Not only do car floor mats protect the carpet beneath your feet, but they also help protect your feet from slipping. You need your feet to remain on solid ground and not slip under the pedal when you're driving. A quality set of mats will stay in place and have a good rubber backing. If you've got the budget, get this set of Honda S2000 Heavy Duty Trim-to-Fit Floor Mat.
Key Features:
Genuine Honda Floor Mat Set.
Direct fit.
Color: black.
Position: front.
Stereo System
Alpine UTE-73BT Advanced Bluetooth Mech-Less Digital Media Receiver (Does not Play CDs)
You've got an interior that looks dazzling. You've got your 18-inch chrome wheels. You've got an excellent paint job. But all that would be pointless if you don't have a good stereo head unit in your car. The perfect Honda S2000 stereo is affordable and doesn't only improve aesthetics but also elevates entertainment. If you want to upgrade your Honda S2000's stereo system, the Alpine UTE-73BT is your best bet.
Key Features:
Made for iPhone and iPod.
Flak/MP3/WMA audio file compatibility through USB.
Android AOA 2.0 compatible.
AM/FM tuner with RBDS information.
Works with Pandora music for Android and IOS devices.
This content is created and maintained by a third party, and imported onto this page to help users provide their email addresses. You may be able to find more information about this and similar content at piano.io