Electric vehicle (EV) stocks traded on a weak note for the most part of 2021. However, there has been a sharp rally over the last month, led by Tesla, whose market cap has surpassed $1 trillion.
The electric vehicle ecosystem, which includes EV companies, component companies, charging companies, and battery companies, is among the most promising investing themes for the next decade. Here are the five best EV stocks that you can buy in November 2021.
Fisker (NYSE: FSR)
Fisker is a pre-revenue electric vehicle startup company that went public through a SPAC reverse merger. The stock trades at a premium of almost 100% to the SPAC IPO price of $10. If you are looking at a startup EV company, FSR looks among the best bets.
Unlike Tesla, which sets up its own Gigafactories to produce cars, FSR has gone for third-party tie-ups. The company expects to begin production of its first vehicle, the Ocean SUV in Europe next year. It has partnered with Magna to produce the vehicle.
Fisker is among the best plays in start-up electric vehicle companies
For its second vehicle named Project Pear, Fisker has partnered with Foxconn to produce the vehicle. Foxconn is also betting on the EV transformation and has also acquired the Lordstown facility from Lordstown Motors. Under the agreement, Foxconn would produce cars for Lordstown, beginning the first pickup Endurance.
Fisker has priced its vehicles competitively and can give a tough fight to other electric vehicle companies. Fisker has a clean state unlike some of the other startup EV companies like Lordstown and Nikola which makes it a good bet to play the start-up EV space.
68% of all retail investor accounts lose money when trading CFDs with this provider
Volta (NYSE: VLTA)
Volta stock rose sharply yesterday after the House passed the $1 trillion infrastructure bill. The bill has proposed billions of dollars towards electric vehicle charging infrastructure which bodes well for companies like Volta.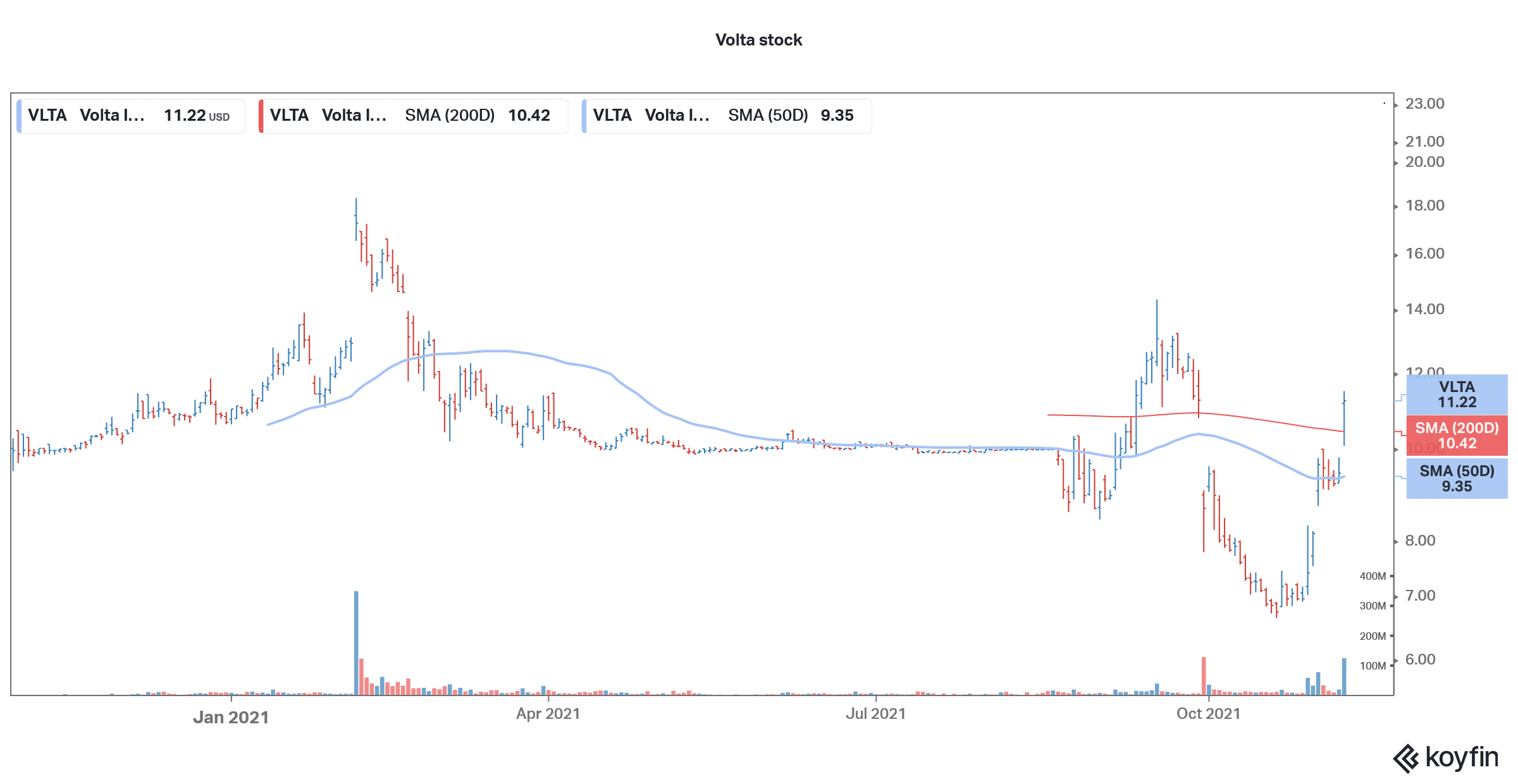 According to Volta, its EV charging network is the most utilized network in the US. Its charging stations also act as an ad platform that helps it better monetize real estate assets. The company has delivered over 100 miles of electric vehicle charging. It sets up its stations at the locations where drivers need charging the most.
Volta is among the best stocks in the electric vehicle ecosystem. As the world transitions towards electric cars, charging networks would be in high demand.
68% of all retail investor accounts lose money when trading CFDs with this provider
BYD (OTC: BYDDY)
When we think of Chinese electric vehicle stocks, NIO might probably come to mind first followed by Xpeng Motors and Li Auto. However, BYD Motors is often overlooked even as it outsells these three EV companies. BYD is a diversified play and is the fourth largest EV producer globally. It is also the second-largest producer of electric busses. The company is vertically integrated and produces lithium-ion batteries.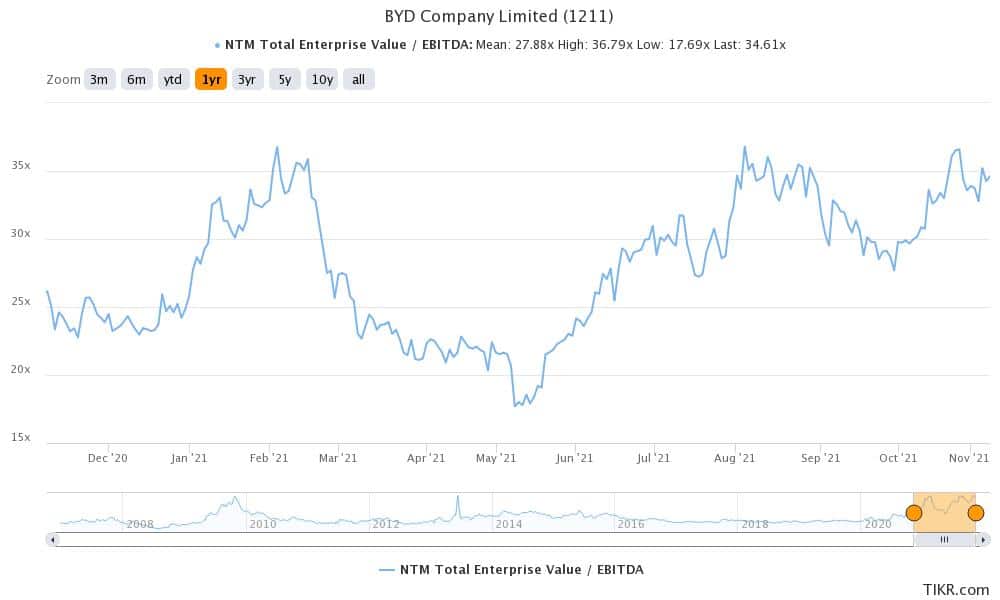 Notably, even Warren Buffett, who is known for his value investing credentials, has invested in the company. BYD is a profitable company, unlike other Chinese EV companies that are posting losses.
BYD does not trade on the normal US exchanges buy you can buy it on the OTC markets. While liquidity can be a concern for OTC stocks, there is sufficient liquidity in BYD stock.
BYD is a reasonably valued electric vehicle stock
While valuations of some of the EV stocks might appear stretched, BYD looks reasonably valued with an NTM EV-to-EBITDA multiple of just about 36x. If you are looking at a reasonably valued electric vehicle stock that even Buffett likes, BYD would fit the bill.
68% of all retail investor accounts lose money when trading CFDs with this provider
Tesla (NYSE: TSLA)
Tesla stock has risen sharply over the last month and its market cap has swelled above $1 trillion. The stock sold off in yesterday's trade after Musk floated the idea of selling a 10% stake in the company. However, the company is at the forefront in the EV transition which makes it an attractive play in the electric vehicle industry.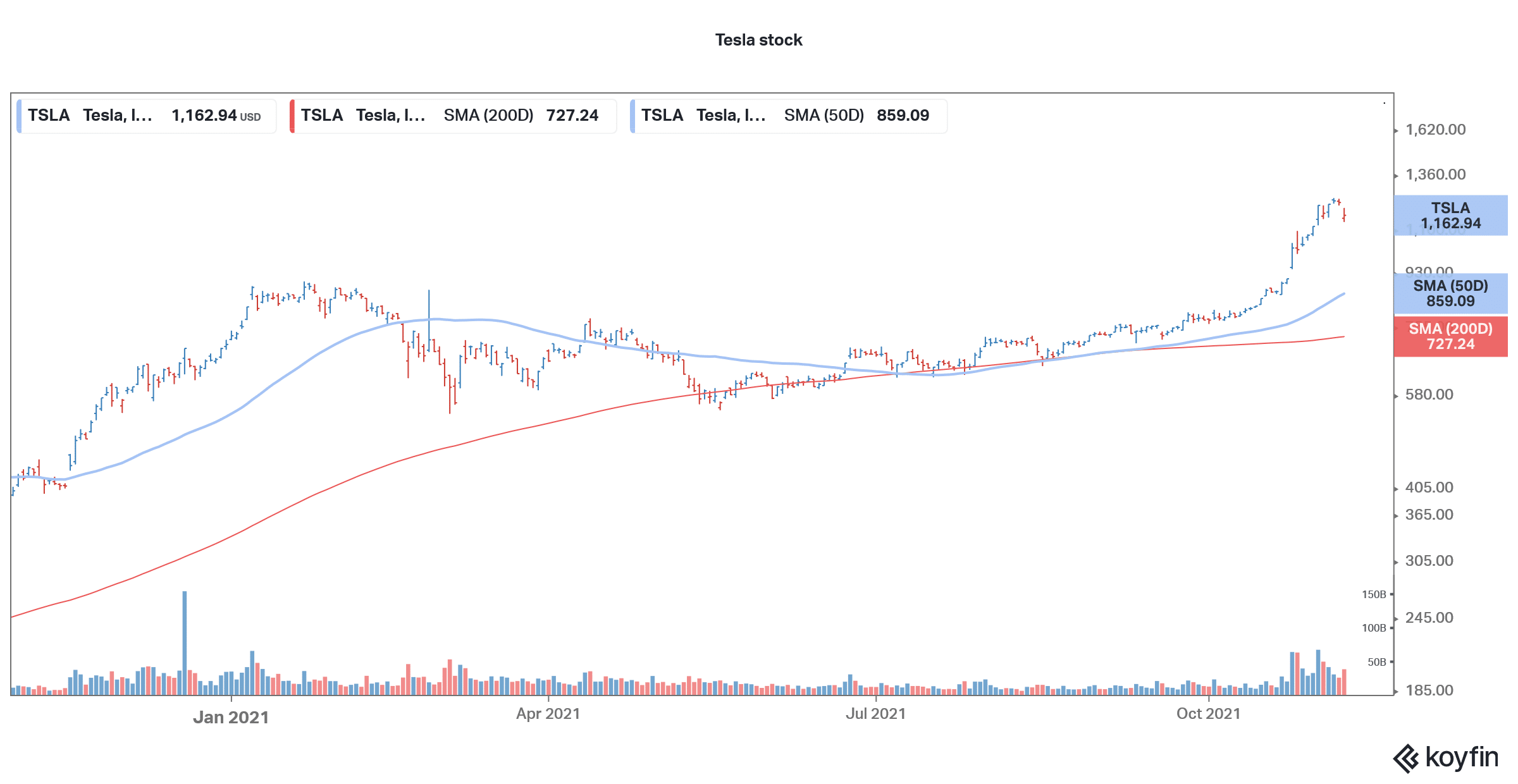 Tesla is the biggest electric vehicle company by market cap
Currently, Tesla gets most of its revenues from the core automotive business. It is also scaling up the energy business. However, the real value for Tesla investors would come from the software part of the business. Tesla currently charges $10,000 for the FSD (full-self driving) option and Musk expects the service to cost $100,000 eventually. The company has been gradually raising the price for the FSD.
Here it is worth noting that the name FSD can be misleading as autonomous driving is not fully equipped yet and even Tesla advises car drivers to keep their hands on the steering all the time even if the car is on autonomous mode.
It is a long-term growth story and expects its sales to increase at a CAGR of over 50% for the next many years. The company is setting up two new plants in Berlin and Texas. Recently Musk also talked about setting up a plant in Russia.
Wall Street on Tesla stock
While Wall Street analysts have been divided on TSLA stock, they have been getting bullish in general. Adam Jonas of Morgan Stanley, who is among the notable Tesla bulls reiterated his overweight rating and increased Tesla's target price from $900 to $1,200 after the third-quarter earnings release.
"The combination of better than expected growth and margins under difficult industrial circumstances gives us an opportunity to narrow the gap in our forecasts to management's long term targets," he said in his note.
Jonas is particularly impressed with Tesla's manufacturing prowess. While a lot of electric vehicle companies went for third-party tie-ups, Tesla makes the cars at its Gigafactories. Jonas said, "We believe that the market is underestimating Tesla's ability to bring to market breakthrough innovations in vehicle design and manufacturing." He added, "We believe Tesla is uniquely positioned to push the boundaries at the epicenter of a manufacturing change in auto making."
If you are looking to add electric vehicle stocks to your portfolio, Tesla should definitely be on your radar.
68% of all retail investor accounts lose money when trading CFDs with this provider
Ford (NYSE: F)
Ford stock has risen 130% in 2021 and could run even higher looking at its pivot towards electric vehicles. The stock has seen a rerating as markets have started to appreciate its EV plans and more rerating looks on the cards.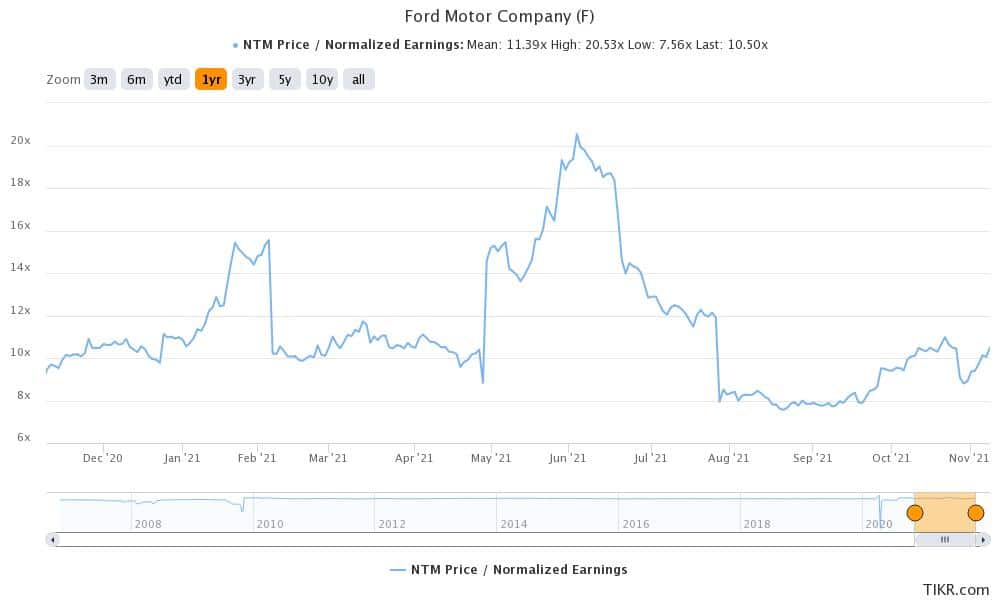 In September, Ford said that along with SK Innovation, it will invest $11.4 billion towards EV and battery plants. Notably, the battery is the most important hardware element of an electric car. A higher battery range helps increase the range and also acts as a competitive advantage.
Ford is a dividend-paying electric vehicle stock
Ford has also initiated its dividend which was suspended in 2020 amid the COVID-19 pandemic. The company is coming up with the all-electric version of its best-selling F-150 pickup model which would be a key catalyst for the stock. The model has been attractively priced and would give good competition to other electric pickup trucks including those from Rivian and Tesla.
Ford might not be the first stock that comes to your mind when thinking about electric vehicle stocks. However, the company's tepid valuations and strong product portfolio make it an EV stock worth considering.
Buy F Stock at eToro from just $50 Now!


Read More:5 Best Electric Vehicle (EV) Stocks to Buy in November 2021 – Economy Watch