Some links may be affiliate links. We may get paid if you buy something or take an action after clicking one of these.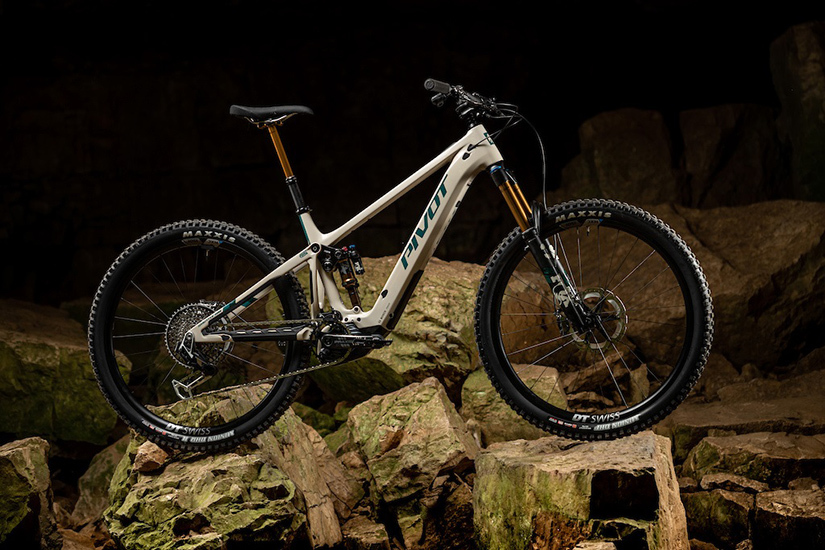 Variety is the spice of life as the old saying goes and this week we have plenty of it for you. City e-bikers might take interest in a couple of high quality offerings from Canada's Devinci whilst those seeking the ultimate off-road thrills, price-no-object machine need look no further than Pivot's new e-mtb. Small folding fans will be curious to see if the Boost Brompton kit makes it to market (as it is scheduled to do in autumn of this year) whilst those wanting a truly different self-supporting adventure might see themselves sleeping out by e-bike with the remarkable looking Hupi Trailer.
In this week's e-bike news:
Devinci Cartier and Griffin – powered by Shimano

Viribus brings $889 e-trike to the US

Pivot Shuttle AM – the ultimate e-mtb?

Boost Brompton conversion kit – a rear hub motor for the classic UK folder

Have Van Moof finally found a buyer?

Has the Veemo electric three-wheeler been rescued from oblivion?

Hupi Trailer – the ultimate DIY project for one Finnish e-biker
Devinci's New Shimano Mid-drive City E-bikes Look a Solid High Quality Choice
Canadian-based Devinci recently launched two new city e-bike models. Both share the same components and both are driven by the Shimano EP801 mid-drive system, Shimano's most powerful mid-drive and it's complemented by a 540Wh or 725 Wh battery using 21700 cells. They are also specced for all weather use with hydraulic disc brakes, a 100 mm front suspension fork and even a dropper post plus hardwired LED light and full length fenders and rear rack.
The main difference in the models is the more relaxed riding design of the Griffin frame (which has stepover and step-thru options) whilst the Cartier has a sportier design.
Depending on model variant you get a nine or ten speed derailleur drivetrain with prices for both models ranging from $3,799 to $4,399 USD.
Viribus E-trikes Enter the US Market at $889
Viribus have priced their latest e-powered tricycle extremely attractively and are sure to get plenty of attention for that fact alone. The likes of Rad Power and Lectric are already in the e-trike market and both their offerings are competitively priced at $1899 and $$1499 but can't compete with the $899 price tag of the Viribus.
Naturally at that price you'd expect to see some compromises in spec and quality and that's evident in the front rim brakes and the relatively modest combo of a 250W rated front hub motor (500W peak) along with a 360Wh battery. Stated weight is 32 kg / 70.55lbs and the Viribus comes complete with LED lights, fenders and a choice of 24" or 26 " wheels.
Need a High End E-mtb in the $8,999-$13,999 Range? Pivot Has You Covered
MTB specialist Pivot have pulled all the stops out to bring you what they describe as their 'all-mountain masterpiece that dominates the realm of e-mountain performance….delivering an unmatched blend of lightweight agility and long-travel prowess' – otherwise known as the Shuttle AM.
Most notably the Shuttle AM uses Bosch's Limited Edition Performance CX Race motor. This mid-drive delivers up to 400 percent pedal assistance with a maximum torque of 85 Nm. Battery-wise there are 625 Wh and 750 Wh variants and you can add another 250 Wh with the Bosch PowerMore Range Extender.
All models feature Pivot's ultra-light hollow core carbon frame with internally routed cables and componentry varies depending on the model with prices ranging from $8,999 to $13,999 USD.
Brompton Boost – A Rear Wheel Conversion Kit from the UK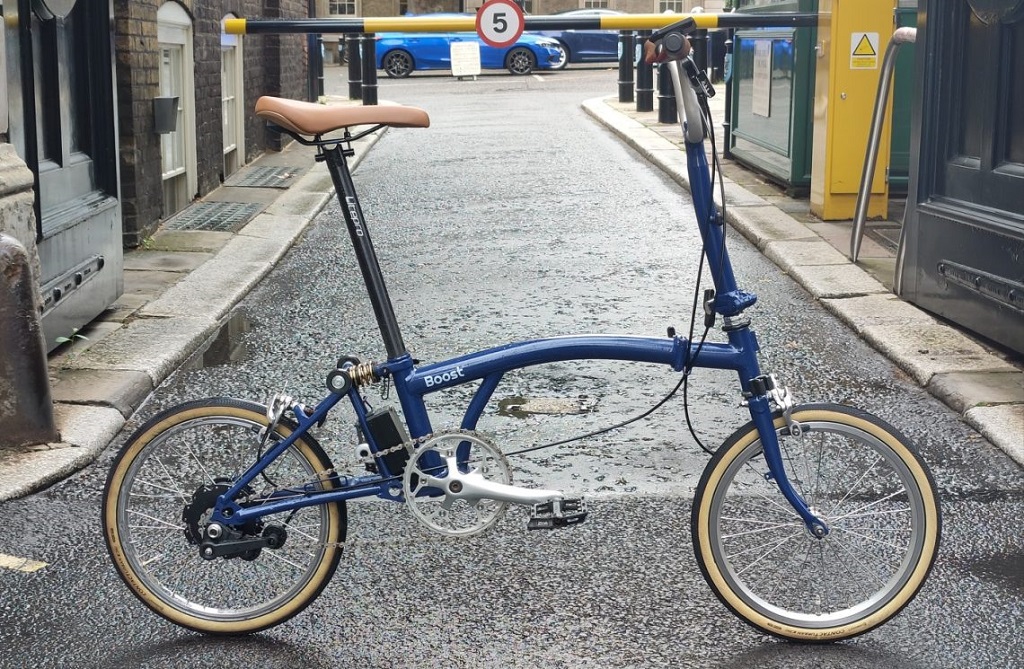 The UK's Cycling Electric report that 'Brompton owners have a new e-bike conversion kit option, courtesy of Brit specialist Boost..' Actually it's not available to buy yet but is currently being prototyped around London with Boost seeking funds to produce the bespoke battery that fits within the space at the rear of the Brompton frame. You can register your interest here.
Cycling Electric add 'Despite the reduced down size of the battery, all in the Brompton conversion kit will tip the scales at around 3kg all in'. There will be a small capacity battery and a rear hub motor rated at 45Nm torque.
Micromobility.com Wants to Buy Van Moof
Bicycle Retailer and Industry News (BRAIN) tell us that ' E-mobility rental and sales company micromobility.com submitted a non-binding bid to acquire e-bike brand VanMoof, which was declared bankrupt by the court of Amsterdam on July 17.
It's interesting to see Micromobility's interest in Van Moof who were a global e-bike player with a high media profile. Micromobility.com's business activities cover a range of bases as BRAIN note 'Beginning as a shared e-scooter company known as Helbiz in Italy in 2018, micromobility.com now specializes in short- and long-term rentals of e-bikes, e-scooters, and e-mopeds in addition to retail sales globally. It also acquires and distributes media content, including live sports events and food delivery services.'
Their range includes the funky looking WheelsOne seated scooter style machine as pictured above.
Will Veemo's E-trike See the Light of Day?
BRAIN again – this time reporting that:
'Envo Drive Systems, the maker of various electric vehicles including e-bikes, has acquired VeloMetro Mobility, a fellow Vancouver-based company, which went bankrupt last winter. Envo says it will bring VeloMetro's principal product, the Veemo electric vehicle, to market by next summer.
The Veemo is a semi-enclosed, three-wheeled, pedal-powered vehicle with an electric assist. VeloMetro announced the Veemo in 2016 and the company accepted orders but never delivered the product. According to Canadian news reports, customers who had placed a Veemo order with VeloMetro had their reservations canceled and refunded before the bankruptcy filing.
The Veemo was originally marketed at $4,999 but the price was later increased to $12,000.'
The Hupi Camper – It is Solar Powered, You Can Sleep in it and You Tow Behind Your E-bike…..
According to Startupselfie 'the Hupi trailer towers 59 inches (150 cm) above the ebike saddle, thus carving out an interior space more generous than your average bike camper. Inside, it boasts a bedroom and a tiny dinette, while on the roof, the solar kit offered converts sunlight into energy to power various internal accessories and also keep the eBike charged for the next ride.'
The article adds 'Distinctive from many other bike campers, which either unfold at the campsite or offer only minimal space to sit and lie down, Merranmaa's design incorporates a lofty, fixed roof, sturdy walls, and a step-through door.'
It's the brainchild of Laplander and DIYer Urpo "Upi" Merranmaa and according to Elektrek prices start at around €5,990 (approximately $6,700 USD) though we couldn't actually find a sales webpage for the Hupi Camper.
Reader Interactions