Some links may be affiliate links. We may get paid if you buy something or take an action after clicking one of these.
E-bike safety is much in the news this week. We look at the possibility of licensing e-bikers in California as a reaction against recent fatalities in the area and also at the latest recommendations from a UK charity for clamping down on the poor quality batteries and chargers that cause e-bike fires.
This is all about making e-biking safer, obviously a good thing – but that is not to say it is inherently unsafe. Quite the opposite. Many millions of miles are safely travelled on e-bikes every year but it's the isolated incidents that make the headlines. Buy a good quality e-bike in the first place, look after it and charge it properly and ride safely – and you are highly unlikely to have any problems, just enjoyment…
In this week's e-bike news:
The 42lb Envo Stax is a slimline speedster

Bill to require e-bike licences for those with without full driving licences arrives in California state legislature

Forthcoming Quietkat Lynx will have a two speed motor

Cowboy reduce price with new Core model

UK charity make battery safety recommendations

Battery tech roundup

Lyft may sell e-bike and e-scooter division
Envo Stax – a Lightweight 26mph Machine Made in Canada
The Envo Stax is unusual for an e-bike in combining high speed with light weight; it has a quoted weight of 19 kg (42 lb) and a top speed of 26mph.
Spec includes a 500-watt rear hub motor, removable seatpost-integrated, UL-certified 460Wh lithium-ion battery, Shimano Altus 1 x 8 drivetrain, integrated 40-LUX headlight, Shimano BR-MT200 hydraulic disc brakes and a smartphone connectable bar-mounted display.
It's available to order now for $2479 on Envo's website.
California's E-bike License Law Starts its Journey through State Legislature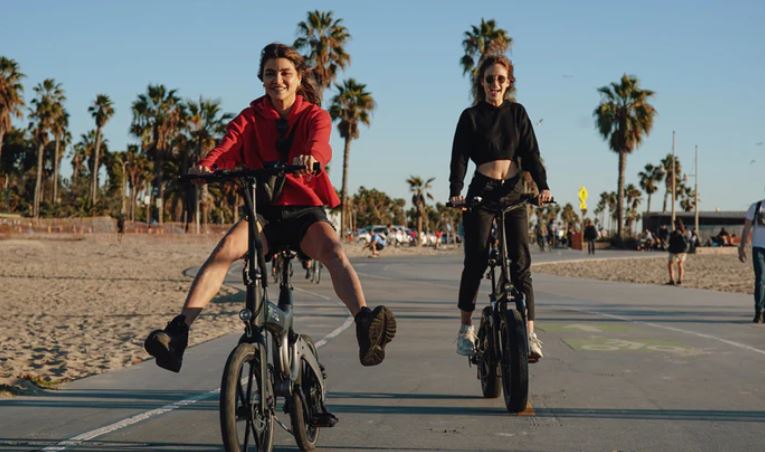 California State Assembly member Tasha Boerner has drafted Assembly Bill 530 and it has began it's journey through the state's government and into law. It will require e-bike riders without an active driver's license to obtain an 'e-bike license' and so is clearly targeting younger -bike riders in the main. Its introduction follows a number of recent fatalities on e-bikes that achieved a high profile in the US media.
Key features of the proposed law are:
E-bike riders without a valid driver's license will need to take an online written test and have a state-issued photo identification
Under 12s would be prohibited from riding e-bikes (for context, it's illegal in the UK to ride e-bikes under the age of 14)
Creation of a stakeholders working group that includes the DMV (the Californian Department of Motor Vehicles), California Highway Patrol, the Transportation Agency, bike groups, and more to establish an e-bike training program and license, including more specifics on the classes and types of e-bikes.
One of the most recent incidents that appears to have precipitated the proposed law involved the death of 15 year old Brodee Champlain-Kingman on June 22nd this year after the e-bike he was riding crashed into a van in the beach city of Encinitas in southern California.
Quietkat's New Lynx Model has a Two-speed Hub Motor
GearJunkie reports on Quietkat's announcement that the end of summer 2023 should see a high speed cafe-moto style e-bike for sale. Unusually the new Lynx model will feature a 1000 watt rated rear hub hub motor that is 2-speed which promises efficiency and performance gains over traditional geared hub motors which only have one internal transmission ratio.
In terms of hard spec there aren't too many other details; there are 24 x 4.5 inch tyres, rear storage rack, lights and mechanical coil shocks with 203 mm of travel up front and 100 mm in the back. Projected RRP is 'around $4,000.'
Cowboy Reveals Lower Cost Slick Urban E-bike
The UK's ebiketips reports on how lightweight urban e-bike specialists Cowboy have come up with a 'software-light' and lower priced line of e-bikes called Core and rebranded their more electronically sophisticated offerings as Connect. Previously Belgium's Cowboy have focused on increasingly sophisticated software and smartphone connectivity. As ebiketips say, the Connect range will include software features such as AdaptivePower technology, Crash Detection, Apple Watch integration as well as newer features Google Maps Platform: Share My Ride, Hazard Alerts, and Clean Air Routes.
By dropping these advanced features on the Core range Cowboy deliver a lightweight, smooth riding single speed e-bike for £2190 (note Cowboy e-bikes are not widely available in the US at present).
UK Charity Makes Practical Recommendations for E-bike Electrical Safety
The UK's BBC reports that 'Batteries for e-bikes should be regulated in the same way as fireworks, heavy machinery or medical devices because of the fire risk they pose, a charity has said.'
The 72 page Electrical Safety First report made numerous recommendations for electrical e-bike safety in the UK including:
Banning universal chargers altogether, as this is a cause of overcharging – which can cause fires
Introducing a standard for so-called conversion kits – which can be used to turn regular bikes into e-bikes
Requiring the Home Office to report e-bike and e-scooter fires
A nationwide campaign on e-bike and e-scooter safety, backed by the government, to include how to charge devices safely
Regulating online marketplaces, where it says "many sub-standard and dangerous e-bike and e-scooters are purchased"
Battery Roundup
If there was one thing that revolutionised the modern e-bike it was the introduction of the rechargeable lithium-ion battery. First introduced onto the market in the early 90s, early models were plagued by reliability and safety issues but the early 2000s saw them become the battery of choice for e-bikes as safety and reliability issues were largely conquered (though the emergence of cut price batteries and chargers has seen the problem reappear). E-bike range and weight worries were banished and the e-bike hasn't looked back since.
But could we be seeing the early stages of the next quantum leap forward in battery technology that might, in time, produce a new breed of ultra-light e-bikes?
A couple of reports on Electrive indicate that batteries with higher energy density and therefore longer range may be in the manufacturing pipeline.
Firstly it tells us that Panasonic – whose batteries are widely used in e-bikes and electric cars – will start to use silicone based anodes: 'With the purchase of the anode material from Nexeon (a UK-based company), Panasonic says it wants to increase the performance of electric car batteries. It will be used in lithium-ion batteries, which Panasonic will produce in its new plant in De Soto in the US state of Kansas from 2025. The two companies do not provide concrete details on the purchase quantity or duration of the agreement.'
Whilst Panasonic's goal in using silicone is to 'increase volumetric energy density by five per cent by 2025 and 25 per cent by 2030' a far greater increase in energy density will be achieved if effective solid-state batteries can be brought to market. These use electrolyte that is solid rather than gel.
Electrive report that 'The European project SUBLIME aims to create solid-state battery cells based on sulphide solid-state electrolytes usable for widespread use in electric vehicles. The project not only focuses on the development of such cells but also their production and material procurement.'
Solid state batteries are clearly a much more long term project as the article is fairly vague on any possibility of commercial production, stating only 'The project will also create a roadmap for 2030….'
Lyft Exploring Sale of E-bike and E-scooter Business
According to Bicycle Retailer and Industry News 'Lyft is listening to purchase and investor offers for its e-bike and e-scooter bikeshare division, according to a blog post on its website on Monday.'
It operates bikeshare operations in eight U.S. cities, including New York, Chicago, San Francisco, and Denver. Lyft says its Citi Bike bikeshare system is the 30th largest transit provider in the U.S.
Reader Interactions