Some links may be affiliate links. We may get paid if you buy something or take an action after clicking one of these.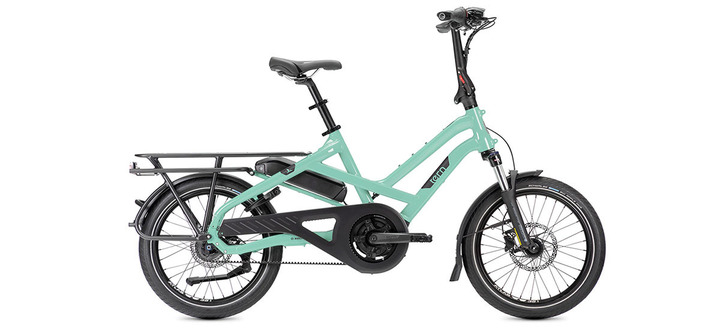 What price e-bike safety? That's a question that has been coming up again and again in recent news. This week the safety spotlight highlights those companies 'doing it right' – namely Brooklyn's Upway – who will soon only be selling UL certified e-bikes from their new New York base – and Tern, whose new, stronger and heavily safety-certified HSD compact cargo model is announced. A race to the bottom in price will have serious consequences – as also revealed this week by New York Fire Department and by a UK report laying at least some of the blame for e-mobility fires at the door of Ebay and Amazon resellers.
In this week's e-bike news:
Tern's new HSD cargo compact is stronger than ever but just as small

Upway overstocks and refurbs now available to order in the US

Cruise into 2024 in comfort on HP Velotchnik's new e-trike

A new super strong looking auto-rack from the US's 1UP
'Mighty But Mini': Tern Launches the New HSD Compact Cargo Bike
Tern's take on the compact electric cargo bike, the HSD, is now 'completely re-worked and upgraded, and includes the new Bosch Smart System' according to the folding and compact bike specialist.
Josh Hon, Tern Team Captain describes the HSD as 'for people who want the hauling capacity of a cargo bike, in a package that is much easier to ride and easier to handle'.
That's demonstrated by the statistics as the Tern HSD is shorter than a regular city e-bike, yet capable of hauling a max gross vehicle weight of 180 kg (397 lb).
So what are the improved features? Firstly the HSD frame is now 15% stiffer at the head tube and 39% stiffer at the bottom bracket. The rear rack has also been upgraded, and now carries up to 80 kg (176 lb), offering space to comfortably fit a suitably-sized adult passenger – something it couldn't do before.
The HSD also gets a motor upgrade in the form of Bosch's latest Performance Line motor, delivering some 50% more torque compared to previous HSD models as well Bosch's new smartphone and app based Smart System. That means the HSD is now capable of electronic locking and unlocking, tuning motor performance tuning , location tracking and over-the-air firmware updates amongst much else. HSD S-Class models also include the Bosch ConnectModule for enhanced security features like motion sensors, a high decibel alarm, push notifications, and GPS location tracking.
The HSD is designed to exceed the demanding German standard for cargo bikes (DIN 79010:2020-02) and its Bosch motor system has also been tested and certified to the UL 2849 safety standard for protection against potential fire hazards.
The new HSD models start at €4,699/$4,299. Production has already started and bikes will begin to arrive in bike shops in Europe this summer and in North America this fall, with other markets following later in the year.
France's Upways Now Selling Overstock and Refurbished E-bikes in the US – and They Will be UL Certified
Upway began life as a French company offering overstock and used (refurbished) e-bikes at between 20 and 60 percent off retail. And now, according to Time Out, they are in the US – in Brooklyn, New York to be precise, which is the company's third location in addition to their Paris and Berlin warehouses.
A quick scan around the Upway website reveals they only deal in e-bikes with a great reputation. Once the e-bikes have been received they are refurbed (if already used) and once sold will be given a pre-delivery inspection before being delivered to a customer in a matter of days, complete with a one year warranty.
Interestingly, it will also soon be the case that Upway will only be able to sell 'UL-listed' models; in fact a new law will require 'electric mobility devices' containing lithium batteries and sold in NYC to be certified to the UL 2849 safety standard. And that covers not just the battery but also the motor system. This is bound to be a strong selling point for those who can afford Upway's e-bikes as Bicycle Retailer and Industry News reports 'More people in New York City have died so far this year because of lithium-ion battery fires than all of last year, according to recently released Fire Department of New York statistics.'
In other safety related news, this time from the UK, E-biketips reports that 'E-bike chargers that pose a fire risk have been found on sale on Amazon, eBay and Wish.com, a Guardian investigation with charity Electrical Safety First (ESF) has found.'
An alarming snapshot of the charger plug safety in particular was revealed:
'The Guardian said: "A snapshot investigation this month revealed 15 different chargers being offered on Amazon, eBay and Wish.com by British and Chinese sellers that were likely to breach UK safety regulations. Several have clover-shaped plugs that increase the risk of an electric shock. Technicians opened the plugs bought on Amazon and eBay and found they had no fuse."
Meet the 'E-chopper' Designed to Appeal to Young and Old Alike

HP Velotechnik are a German firm specialising in recumbents and at the forthcoming Eurobike they will launch the very interesting-looking Delta tx;
'With the Delta tx, we are once again presenting a completely new concept at the Eurobike: A lightweight and very versatile electric chopper with plenty of space for loads or luggage between the rear wheels, but with its high seat and easy entry, it appeals not only to the comfort generation' say HP Velotechnik.
HP Velotechnik say that whilst the Delta tx was developed specifically for people who want a lot of support and comfort when cycling and therefore need a stable, tip-resistant vehicle with a low entry height, but it's also great fun to ride as it gives a fast yet very stable ride, especially in corners. So the company clearly feel it has appeal for older and younger riders alike.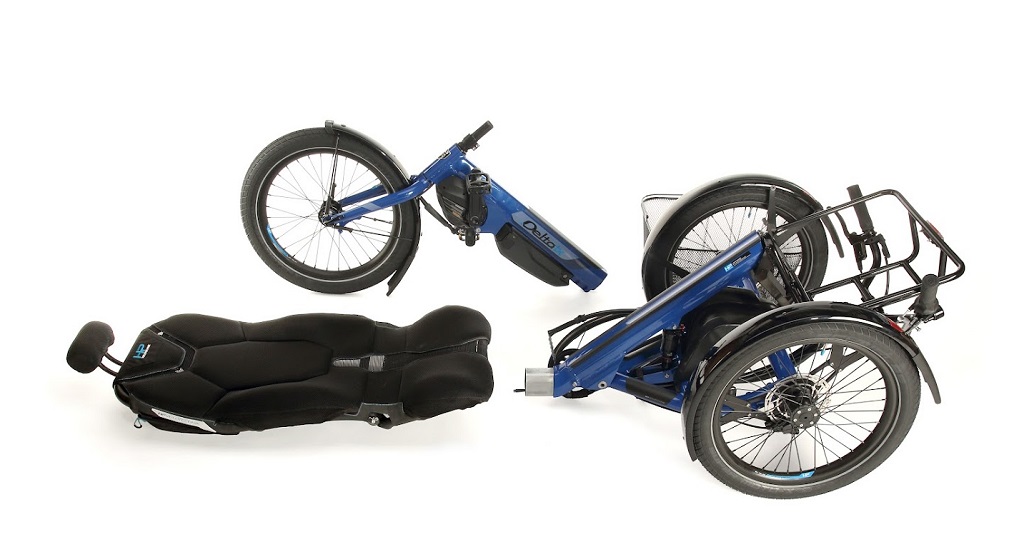 The Delta tx weighs from 32 kg/70 lbs – not unreasonable for a recumbent trike and apparently 'can be disassembled into three parts in a matter of minutes to save space'. The rear rack is rated for 25 kg (55 lbs). Options include one of three Shimano mid-drives and also one from Bafang.
There is also the choice of automatically changing gearing, bicycle turn indicators that meet German road traffic regulations and two different size mesh seats.
It will be available from bicycle dealers from 5990 Euros from the beginning of 2024.
1UP Announces 'burliest bike rack in the biz'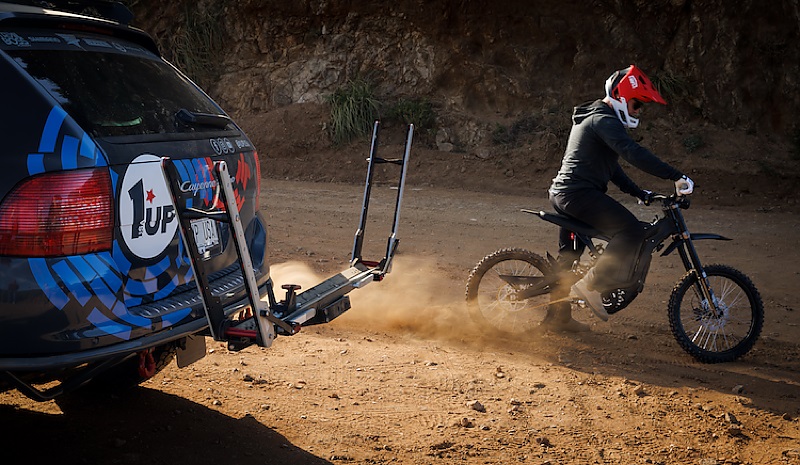 According to Bicycle Retailer and Industry News:
'1UP USA claims its new Xtreme Duty (XD) hitch rack is "the burliest bike rack in the biz." Designed for e-bikes, electric motorcycles and other two-wheelers, the new rack fits 2-inch receivers and can carry up to three bikes weighing up to 150 pounds per tray.'
The XD features 'upgraded ratcheting glide bar system….and like its predecessors, the SD and the HD, the XD's modular design is compatible with any 1UP Quik Rack Add-On, so users can add on extra bike trays or a cargo carrier…..1Up also offers a new V Style Ramp accessory to load heavy bikes on to its racks.'
Reader Interactions