New Tesla Cybertruck interior photos reveal an improved yoke steering wheel and other new tiny details to the all-electric pickup truck. 
The interior photos revealed an improved yoke steering wheel that's closed up, similar to a traditional round steering wheel.
The yoke steering wheel received mixed reviews when it was launched as standard with Tesla's flagship vehicles, the Model X and Model S. At the time of the yoke's launch, Elon Musk was confident that drivers would grow to accept the new steering wheel design. Later on, however, Tesla rolled out a round steering wheel option for the Tesla Model S and Model X. Eventually, customers could choose between a yoke or a round steering wheel on Tesla's configuration page. 
Given the popularity of the round steering wheel retrofit for the Model S and Model X, it looks like Tesla has modified its yoke steering wheel to fit customer needs. The company maintained the yoke's general shape but has closed the top and bottom tips of the steering wheel for drivers who feel more comfortable with the round design. Only time will tell if the improved yoke will be a hit or miss with drivers.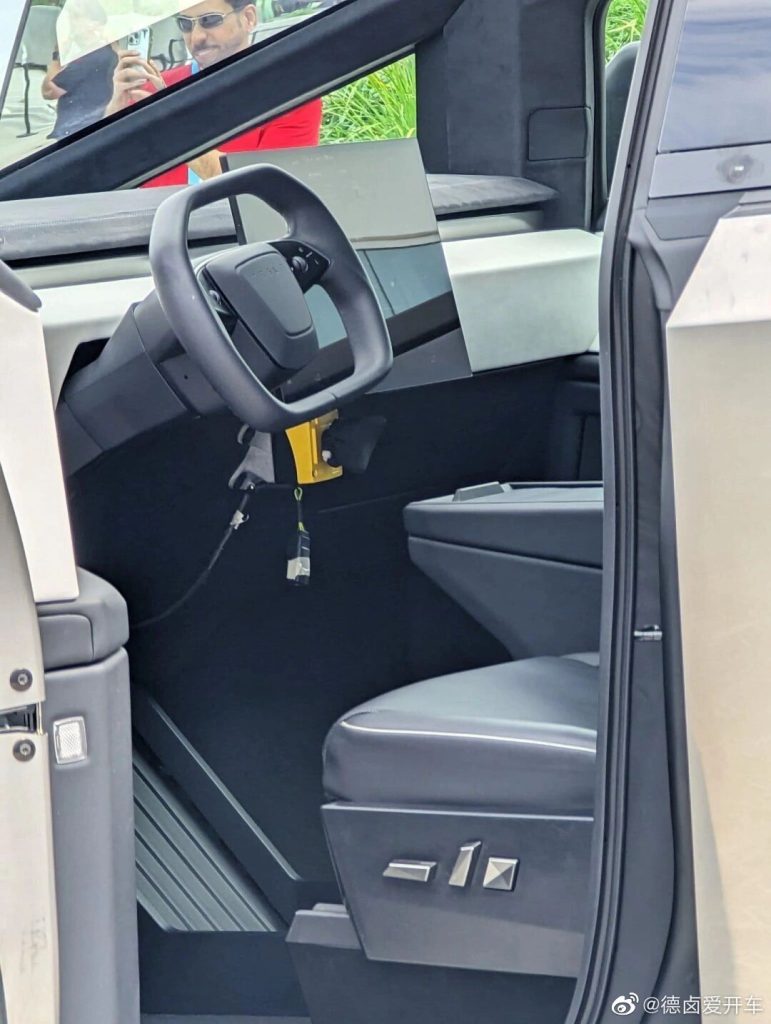 Tesla also paid attention to detail in the Cybertruck's interior cabin. The seat controls of the Tesla Cybertruck seem to have the same finish as the vehicle's exoskeleton exterior. Plus, the center console has a sliding cover that looks similar to the Cybertruck's tonneau cover at the back. 
Members of The Cybertruck Owners Club forum observed other details as well. For instance, one member noted that the Cybertruck's interior cabin appeared narrow. Another member chimed in, commenting that the format of the leaked picture might have distorted the cabin's size. Others joined in on the conversation, speculating that the Cybertruck might not be a true six-seater pickup truck. 
Some members also discussed the Cybertruck's instrument cluster or, rather the lack of one, behind the apparent next-generation yoke. On one side, there were drivers who supported the lack of instrument cluster, arguing that it was distracting and should not be behind the steering wheel. Others hoped that Tesla would place the instrument cluster in its traditional position. 
The little details on the Cybertruck sort of reflect where society is in terms of new car designs and features. From the very beginning, the Cybertruck was unlike any other vehicle on the market. Even several years after its launch, the Cybertruck remains a one-of-a-kind uniquely-designed pickup truck. The recent photo of the Cybertruck's cabin reveals that the electric truck's exterior isn't its only divisive feature.
The Cybertruck's origami-like exterior, its improved steering wheel, and its lack of center console all challenge people's perception of a vehicle today.  
The Teslarati team would appreciate hearing from you. If you have any tips, contact me at maria@teslarati.com or via Twitter @Writer_01001101.
Tesla Cybertruck interior photo shows improved yoke steering, baby center console tonneau