Some links may be affiliate links. We may get paid if you buy something or take an action after clicking one of these.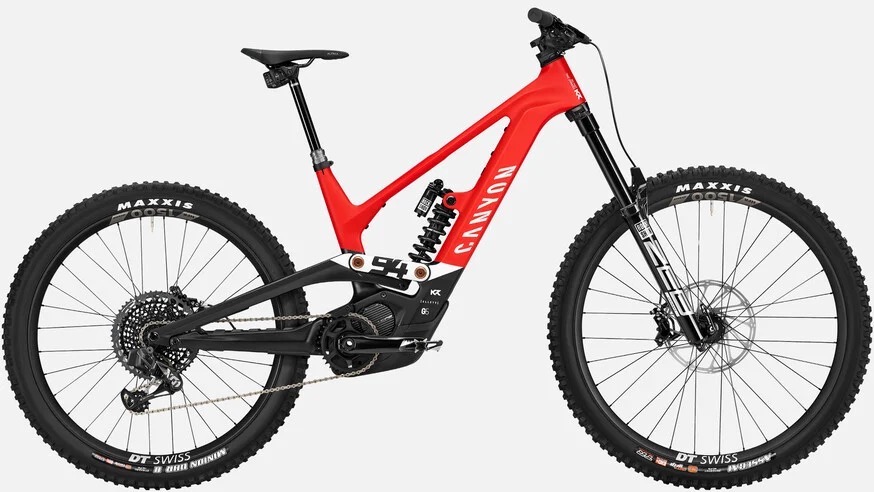 What has a 250W motor, the ability to go for five hours (or more) and can handle drops that would make elevators cower? That would be the new Torque:ON, a new model from the German company Canyon that bridges the gap between e-bikes and full downhill bikes.
With 170mm of travel in the rear and a 180mm travel fork, the Torque:ON has the pedigree of a serious downhill bike combined with the climbing ability of an e-bike. Who saw this coming? Not us.
Canyon is a German company that led the bike industry in developing direct-to-consumer sales. From including the tools a rider needs to assemble their e-bike to videos detailing assembly, few companies can claim to match Canyon's efforts to make it possible to shop for an e-bike from the comfort of home.
With the Canyon Torque:ON, shuttle runs become a thing of the past, as does the need for a chair lift at a ski area. What that will do for the fitness of downhill racers may surprise us all. Downhill courses for e-bike racing will need to be longer than current downhill courses.
Let's take a deeper look at what jumped out to the Electric Bike Report team with this remarkable e-bike.
Canyon Torque:ON Bike Overview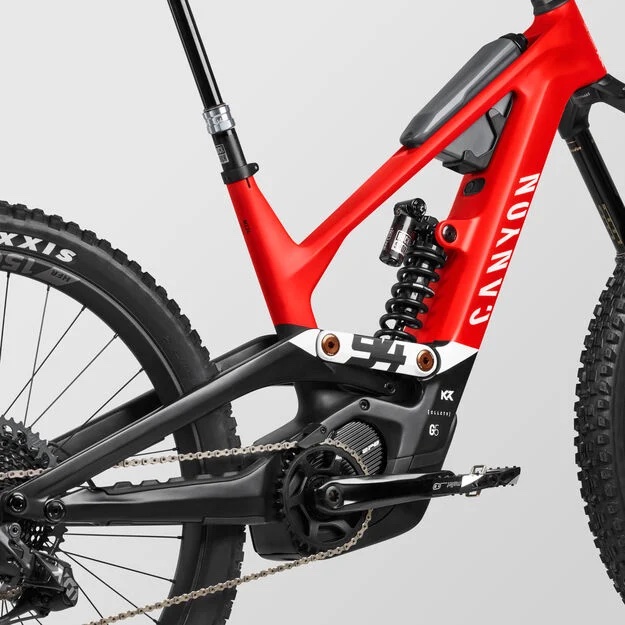 Let's be clear about just what the Canyon Torque:ON is meant to do: It's aimed at riders who think nothing of gap jumps of 20 ft. or more and of drops greater than the height of an NBA player. This isn't an e-bike for a casual or even avid rider. It's aimed at riders with a skill set few of us have the nerve to consider.
Traditionally, downhill bikes have been some of the worst-pedaling bikes on the market because of the amount of travel they provide. The rear travel of 170mm (6.7 in.) and the 180mm (7 in.) travel fork means that the Torque:ON has the ability to soak up small chatter while still absorbing big impacts that would break other bikes.
Canyon makes the Torque:ON in four variants. Two are available now, while two more will be released in the coming weeks. They will start at $5399 and will top out at $8199.
But into a beast of a bike Canyon has inserted a Shimano EP8 mid-drive motor that provides 250W of power and a whopping 85Nm of torque that when combined with its 12-speed drivetrain gives the e-bike remarkable climbing ability.
As with an increasing number of freeride and downhill-focused e-bikes, the Canyon Torque:ON is designed around a mullet set-up of a 29-in. wheel in front and a 27.5-in. wheel in the rear. The idea is that this allows the e-bike to better attack obstacles while retaining of the maneuverability that comes with a smaller 27.5-in. wheel in the rear.
Canyon Torque:ON – Specs & Features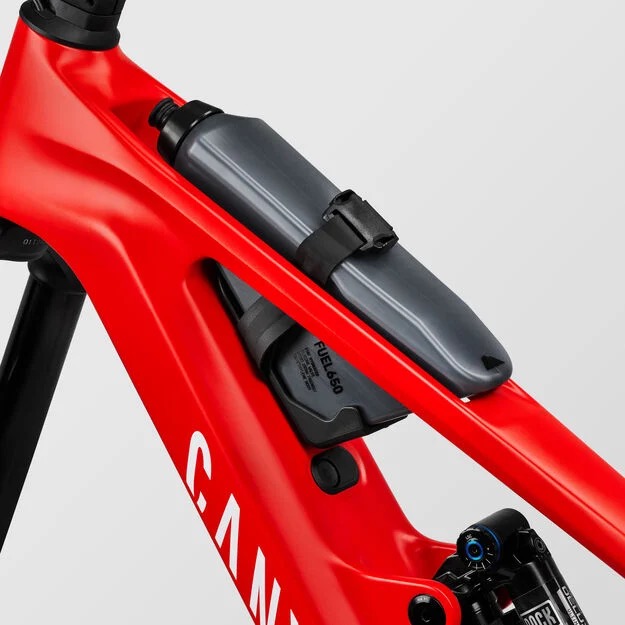 Frame and fork
Canyon produces the Torque:ON with two different frames, both an aluminum version for maximum durability and a full carbon fiber frame to reduce weight and improve ride quality. The 170mm travel suspension is governed by either RockShox or Fox shocks, depending on which of the four sub-models the rider chooses. The top-shelf Torque:ON CF Roczen receives a combination air/coil spring shock for both high and low-speed compression damping, giving riders the ability to fine-tune the shock for their terrain and riding style.
With the Roczen, Canyon selects size-specific springs for each frame and they include both a firmer and softer spring for added adjustability.
The Torque:ON is spec'd with either the RockShox Zeb Ultimate RC2 or Fox 38 which are downhill-specific forks that grant riders the sort of small-bump sensitivity that allows them to float through rock gardens, but also the progressive spring rate necessary to handle landings more common to motocross motorcycles.
Motor and battery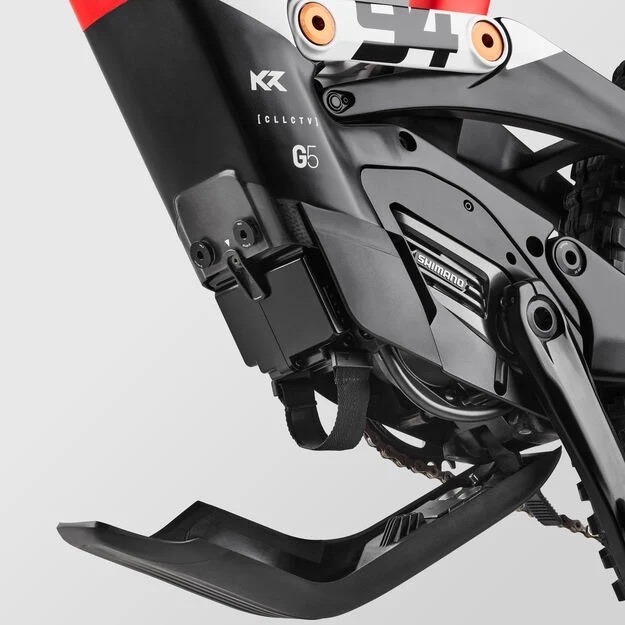 With its magnesium housing, the Shimano EP8 motor weighs just 2.6kg (5.7 lbs.), making it one of the lighter mid-drive motors around. Rather than tout its 250W nominal power, Shimano prefers to frame the motor's production in terms of giving the rider four times what they can produce on their own. And with 85Nm of torque on tap, those steep pitches that force other riders to walk become possible.
Canyon offers four versions of the Torque:ON. Three of those come with their 720Wh battery, while the top-of-the-line model receives a 900Wh battery which could make for all-day rides.
Components
The Canyon Torque:ON comes with a 12-speed drivetrain a rider selects, they will see Shimano Deore. SLX or Deore XT parts, or on the top-of-the-line Roczen variant they will find a SRAM X01 Eagle drivetrain with electronic shifting.
The Canyon Torque:ON ships with hydraulic disc brakes, naturally, and they are paired with 203mm rotors, which are favored by freeride and downhill riders for their extra stopping power.
Also common across each of the Torque:ON variants is a 180mm travel dropper post to increase maneuverability for the rider.
Finding room for a water bottle and cage can be difficult on e-bikes, so Canyon took a different approach by opening a space in the top tube through which a proprietary water bottle fits. The 650ml (22 oz.) water bottle fits securely and the cage includes a Velcro strap to prevent the bottle from flying when the rider does.
EBR's Canyon Torque:ON First Look Review: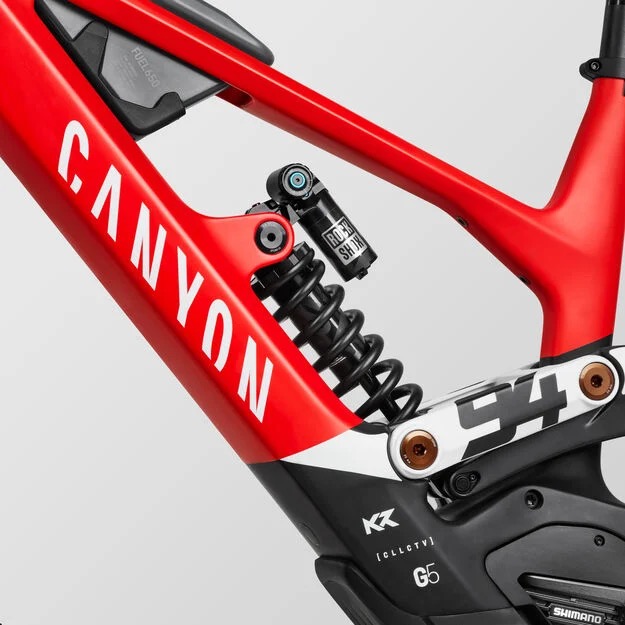 Until now, the eMTB market has been dominated by designs that would be characterized as either bigger trail e-bikes or freeride designs. The Canyon Torque:ON is one of a handful of designs to hit the market with the ability to sustain the sort of aggro downhill riding we see at events like the RedBull Rampage.
The significance of the Torque:ON isn't that this will be a market-dominating design. The market for non-motorized downhill bikes isn't big, so they are unlikely to sell thousands of these, even though the pricing is impressive. In a way, what makes the Torque:ON noteworthy is what Canyon has accomplished design-wise. Canyon gives their top strength and durability rating for carbon fiber frames—Category 5—to the Torque:ON, meaning it can be crashed with little fear for damaging the carbon fiber frame. Also, depending on which version, the weight comes in between 51 and 53 lbs. (23-24kg), which will make picking up the front wheel easier.
For serious downhillers, the Canyon Torque:ON will change the game. As e-bike racing grows, e-bikes like this will cause event promoters to be more creative, giving athletes new outlets. So, despite the fact that most of us will never ride this e-bike, its creation is exciting.
Reader Interactions