Some links may be affiliate links. We may get paid if you buy something or take an action after clicking one of these.
Not that long ago electric cargo bikes were seen as something of a niche, but this week's news confirms they are much centre stage in the current e-bike world – both in the US and Europe. Based in one the US's leading cycle cities, Portland, Oregon, Vvolt have chosen to launch a range of small-wheeled e-bikes that can carry pretty large loads – as their mission statement webpage says, they are 'all about making daily transportation better for everyone.'
Meanwhile, over in Europe, Cube once had a reputation for making pretty conventional but high quality and good value e-bikes and have chosen to approach the cargo e-bike market from a much more niche angle with an e-trike. Trikes and e-trikes are rare machines indeed but if anyone can make their appeal more mainstream it is Cube. Both approaches are very welcome as load carrying is still a much-under appreciated forte of e-bikes.
In this week's e-bike news:
Volt's new Utility Series announced for second half of 2023

Canyon revamps e-mtb range

Yamaha wants to make European inroads with its moped style Booster models

Cube's e-trike heading for production
Vvolt announces new Utility Series of electric bikes
Back in January of this year we tried the hybrid / commuting style Proxima (now renamed the Centauri) from Vvolt and rated it really highly. The company will be expanding into the e-bike load carrying space in the second half of 2023 and has released details of the three e-bikes that will be known as the Utility Series and all are available now for preorder. Here's more detail:
The Slice Lite is described as 'a super-simple singlespeed drive system powered by a rear hub motor.' It's pedal-assist mode or twist throttle with assist up to 20mph making it a class 2 e-bike. It is rated for 40lbs of cargo in the Cargo Module, there's a 500wh frame-integrated, removable battery plus torque, speed and cadence sensors. Other features include large volume 3″ tires front, hydraulic disc brakes and powerful hardwired lighting. Preorders for Slice Lite are open at $2049, with deliveries beginning in July. Each preorder includes a free front cargo module (a $200 value.)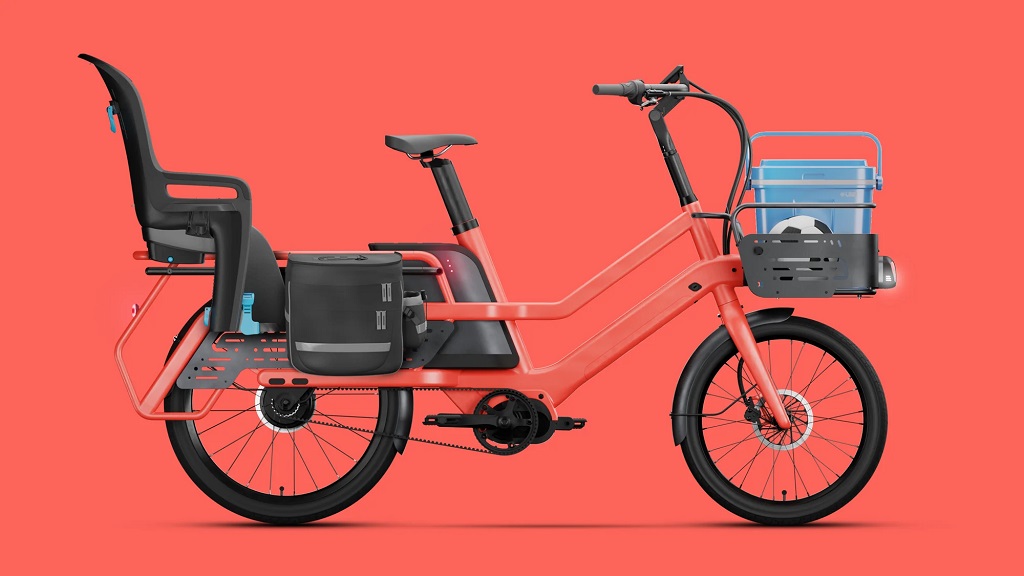 Stepping up in carrying capacity we come to the Vvolt Pie which boasts 100nm of mid-drive torque and 440 lb load hauling capacity. A dual-battery system provides means 1000+wh capacity assisting you up 28mph (class 3). The Pie is also GPS+4G connected for theft deterrence and OTA updates. Quad-piston hydraulic discs give tons of stopping power. Pie reservations are open, with a refundable $200 reservation locking in the early bird launch price of $4499 for the premium dual-battery edition. Deliveries will begin in late 2023.
Vvolt say of the Slice DLX 'We put the powertrain from Pie in a more compact package, offering more torque, power and range than you probably need, then topped it off with sleek integrated rear dropout lighting, premium wheels and powerful quad-piston brakes. Slice DLX will also feature premium finish options including paint-matched fenders and front cargo module. It's a class 3, 28mph ebike with a boost button for easy starts, 600+Wh battery capacity and GPS+4G connectivity. Slice DLX will be available in late 2023, with a target price of $3999.
Canyon's New Strive:ON e-mtb arrives in Europe, due in US
Canyon's new carbon framed Strive:ON full suspension e-mtb had an impressive 160mm of rear-suspension with a choice of 625Wh and 750Wh batteries alongside Bosch's Performance Line CX mid-drive. Prices start at £5,499 for the CFR Underdog edition and the CFR model costs £6,699. The Strive:ON is available now to order in Europe, with bikes arriving in the US later in the summer.
Canyon designers have updated the 'ON' (ie electric) versions of the Grand Canyon hardtail and Torque full-suspension mtbs. Both bikes now use the very latest versions mid-drive and battery iterations. The Grand Canyon e-mtb can double as a commuter as it features various mountain points for luggage carrying whilst the new Torque:ON has a reshaped rear-suspension linkage, lower shock position, and full carbon frame, reducing overall bike weight by 1.5kg. It uses a Shimano EP8 mid-drive with either a 900Wh or 720Wh battery.
Yamaha Rolls Out Moped Syle Ebike and Speed Pedelec In Europe
Spring will see Yamaha's all-new Booster Easy e-bike and the 28mph electric assist Booster speed pedelec arrive on the European market. It's part of their Switch On strategy which claims to be rolling out the next generation of electric mobility vehicles.
In Japan and the US Yamaha have already been selling own-brand models for a number of years whilst late 2022 saw the announcement of three new own-brand models, the CrossCore RC hybrid, the MORO 07 eMTB and the Wabash RT e-gravel bike onto the European market.
The Booster and Booster Easy moped-inspired models will share the same diecast aluminium, spaceframe-inspired chassis and both models will use Yamaha's lightweight high-torque mid-drive, the PW-S2 plus a removable 630Wh battery and 20" x 4" tyres.
There is also front suspension, Supernova headlight, chain cover and a rear carrier that Yamaha say provides plenty of carrying space. Both models feature a height-adjustable Royal Orbis seat and Integrated Koso LED taillight. The Booster Easy features a 1.7″ LCD digital display screen and the Booster a 2.8″ colour TFT display. Yamaha say the Booster Easy will go on sale shortly with the Booster s-pedelec following on in June. You can keep an eye on Yamaha's sales page here. Note both Booster models were designed completely in Europe, and conform to European legislation so Yamaha clearly see this as the key market for them, but we have no word on US availability, one way or the other.
Cube's E-trike is Heading to Market
The UK's Cycling Electric reports that 'the concept trike co-developed by automotive giant BMW and Cube Bikes will finally make its way to market in two formats under the Trike Hybrid banner.'
CE add 'Set to be released in both a 'Family' and 'Cargo' version, the trike brings forward a new and patented Titling technology that sees a front main frame lean into corners independently of the rear section. This promotes safe and stable cornering characteristics and a natural ride fell up front, in part down to the load remaining separated in a sense and thus not moving with the momentum of cornering.'
It will use a Bosch Cargo Line mid-drive and will have a total weight rating of 220 kg (around 485 lbs). UK prices will start at £6499.
Reader Interactions