Some links may be affiliate links. We may get paid if you buy something or take an action after clicking one of these.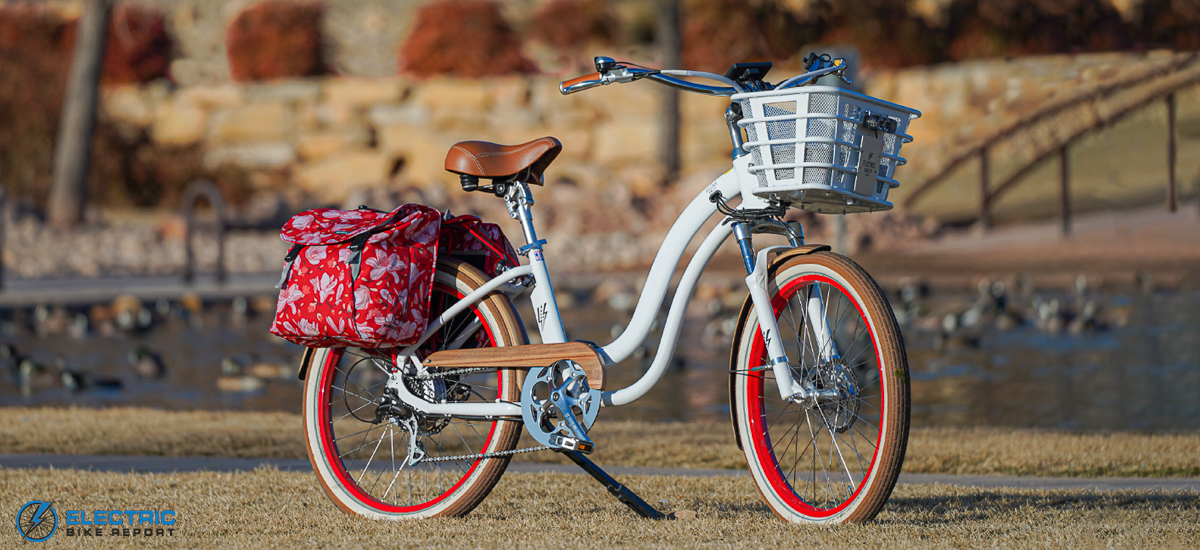 Intro to Best Beach Cruiser Electric Bikes, 2023
*Electric Bike Report aims to help consumers find the right electric bike for their needs. When you buy a product we recommend, we may earn a commission.
If there was a Dictionary Americana full of descriptions and definitions of U.S. cultural icons, there would be a picture of a beach cruiser next to the entry for "bicycle."
Like apple pie, baseball and the moon landings, the swept-back handlebars and retro, low-slung styling of the classic beach cruiser bicycle is synonymous with American culture. The style's roots can be traced at least back to the mid-1950's, but it really burst into mainstream popularity thanks to the California surf scene in the 1970's. The popularity of beach cruisers has waxed and waned through the decades, but thanks to the rise of the electric bikes the low-slung and easy rolling bicycles are surging in popularity.
Loved for their looks and comfort, beach cruiser electric bikes are now one of the most popular categories of e-bike. Nearly every e-bike brand has their electrified take on the classic design, so it can be tough to figure out which electric cruiser is right for you. That's why Electric Bike Report's team of expert testers put together this list.
And if you're looking for a little more bike style variety, you can always check out our page dedicated to the best electric bikes of any style.
Our Best Beach Cruiser Electric Bikes – 2023
How we picked these electric cruiser bikes
You can technically cruise on any e-bike, but only some fit squarely into the "cruiser" category. Those are the bikes this best beach cruiser e-bike list focuses on (barring a few exceptions). This list is not exhaustive, but it does include the best electric cruiser bikes reviewed by the EBR staff this year plus a few bikes we've included because our readers love them or because their reputation precedes them.
We evaluated the best beach cruiser e-bikes based on a few key criteria, mainly:
Comfort and style: An electric beach cruiser bike that isn't comfortable just doesn't make sense. Comfort is central to what a cruiser is, so the geometry needs to be upright, the seat cushy and the riding position laid-back. Beach cruiser electric bikes also have a very particular style, so does the bike fit that mold?
Ease of use: Cruiser bikes need to be approachable by anyone, which is why you'll see many bikes on this list in a step-thru frame design. They also need to be easy to stop and start, so we look for bikes with a geometry that allows riders to touch their feet to the ground when seated.
Components and extras: Does the bike have baskets and bags? Racks and fenders? What about optional customizations you can order with the bike?
What does the manufacturer say it was built for?: E-bikes of all types can be used for just about anything, but we take into account what the manufacturers say their bikes were built for. We do sometimes deviate from their definition, but more often than not, they built the bike and know it best.
Electric Bike Company Model Y
Check Best Price | Read Full Review | Watch Our Video Review
Designed and built in Newport Beach, Calif., there's few e-bikes that capture the beach cruiser ethos like the Electric Bike Company Model Y.
The Model Y is a low-step frame design that's easy to get on and off of and the bike comes stock with a powerful 500W rear hub motor, battery options that range from large to extra large and a very classic beach cruiser styling. Electric Bike Company boasts one of the most complete customization setups in the e-bike industry, allowing customers to pick frame and fork colors, battery size, drivetrain type fork type and even the color of the spokes laced into the wheels — it's an impressive amount of options.
But despite their beach cruiser looks, this e-bike is extremely capable. The version of the Model Y we tested in early 2021 boasts extremely good battery life, climbs well and has enough power to easily cruise at Class 3 speeds. It also sports a torque sensor, making the motor extremely sensitive and responsive to rider input. If the low-step frame design isn't your thing Electric Bike Company also makes the Model X, which is an extremely similar sibling of the Model Y with a high-step frame design and some other small differences.
The Electric Bike Company Model Y is a stellar beach cruiser electric bike that not only looks the part, but has the added benefit of a powerful motor and big batteries — more than enough to get you to the beach or the boardwalk and back with ease.

Pro's
Classic cruiser styling with limitless customization options
Dual battery system allows for extended range
Bikes are assembled and painted in Newport Beach, CA (not shipped directly from China)
Class 2 or Class 3 compatible
Affordable starting price with many optional upgrades
60Nm of torque
Front basket comes standard

Con's
Wide turn radius – a tradeoff that comes with any beach cruiser e-bike
Battery is difficult to remove so best charged on the bike
Trek Townie Go! 8D EQ Step-thru
Check Best Price | Full Review Coming Soon
With beach cruiser styling and a sporty heart, Trek's Townie Go! 8D Equipped step-thru model balances performance with beach cruiser comfort.
The Townie Go! 8D's smooth lines, gently swept handlebars and relaxed geometry fits the bike squarely into the beach cruiser category. But tucked into the bottom bracket is a 250W Bosch Active Line motor, one of the best e-bike motors on the market today. That motor is powered by the Bosch PowerPack 400 battery, which gives thi e-bike 400Wh of available energy. This combination, plus the e-bike's relatively affordable price point, makes it a formidable contender in the best electric cruiser bike category.
The drivetrain is a mix of the Shimano Acera and Tourney 8-speed groupsets and the braking is handled by a pair of Tektro mechanical disk brakes front and rear. It's got a Bosch Purion display, integrated LED lights front and rear and weighs in just under 50 lbs.
At just a little over $2,000 retail, Trek's Townie Go! 8D equipped (both the step-thru and high-step versions are great options for the person looking for high-performance pep combined with laid-back looks.

Pro's
The Bosch Active Line motor and battery are top-of-the-line, making this a uniquely capable electric beach cruiser bike
Solid Shimano 8-speed drivetrain.
Color matched fenders, integrated lights and mounting points for racks and other accessories

Con's
This e-bike is limited to Class 1 capabilities, which may leave some riders looking for a little more speed
Check Best Price | Full Review Coming Soon
With a little bit of cruiser comfort mixed with light-duty commuter styling and functionality, Aventon's Pace 350 is one of the most popular e-bikes sold by the budding American e-bike company.
And for good reason.
At the entry level price point of just over $1,200, the Pace 350's 350W motor, 417.6Wh battery and Shimano 7-speed drivetrain make it an awesome value buy. It shares an extremely similar design to its bigger sibling, the Pace 500, but at a slightly cheaper price. This e-bike comes in a step-over and step-thru design, but we're particular fans of the step-thru variation of the e-bike.
By blurring the line between electric cruiser and commuter bikes, Aventon has built an extremely comfortable and capable e-bike that's just as good at commuting to the office as it is making a run to the beach on a Saturday afternoon. It's an inviting and accessible e-bike that won't break the bank.

Pro's
At a claimed weight of 46 lbs, the Pace 350 is very lightweight for an e-bike
The 417.6Wh battery is a solid size for the bike's 350W motor
The design is very appealing and looks very nice. Aventon did a good job of making the bike simple but good looking

Con's
The step-thru version of the bike only comes in small and medium frame sizes
Check Best Price | Read Full Review | Watch Our Video Review
Comfort, legitimate 'plus one' carrying capabilities, and a styling that makes you feel like you should put on your bomber jacket – the Ride1UP Cafe Cruiser is certainly a unique model amongst our list of the top cruiser e-bikes.
This isn't your grandfather's beach cruiser. Unless we're counting your grandfather's James Deen phase, in which case it very much is his beach cruiser. The Ride1UP Cafe Cruiser has a throw-back motorcycle look that stands out from what we typically think of in overall cruiser design, and it offers a similar free-spirited joyride feel where one could envision riding with the wind whipping through your hair.
Its 750W motor provides exhilarating speeds on flats, while doing decently well on hills. What we really liked was the decision to include a welded-on rear rack that could support an additional rider (with the proper added accessories) so you can take leisure rides with a friend.
On top of the aesthetics and utility it's also a super comfortable ride. The included suspension fork, and the plushest Ride1UP saddle we've seen yet keep the rider feeling good at all times.
The total package makes a striking first impression, and it'll leave a lingering imprint on you after your first ride too.

Pro's
Battery range exceeded expectations.
We don't like to lead off pros with looks, but this thing is a stunning choice for a cruiser e-bike
Not many cruisers include a rack capable of carrying 150 lbs.
Ride1UP balanced comfort and sportiness well with this one. It's a pleasant ride that can feel speedy if you want
Overall, there's lots of bang for your buck: Good components, good motor and good looks for more than a fair price.

Con's
The throttle has a ton of speed on flats, but it isn't the fastest up the hills without some rider help
Check Best Price | Read Full Review | Watch Our Video Review
Hot from the drafting table, the Blix Sol Eclipse is a brand-spanking-new iteration of the Santa Cruz, California-based company's electric beach cruiser that bore a similar name.
The new version of the Sol sports a larger 750W rear hub motor, wider tires and a new LED front headlight for nighttime rides. Aside from those changes, the Sol has retained its classic shape and comfortable ride qualities the previous version of the e-bike was well known for. The Sol is equipped with a Shimano 7-speed drivetrain and Tektro mechanical disk brakes front and rear.
The Sol is also compatible with Blix's proprietary modular rack system that easily allows you to add or subtract carrying capacity on the front and rear of the bike (you can even set it up to accommodate a child seat). Capping off the Sol's build is a pair of very swept back handlebars and a wide cushioned seat that supports your back.
The Sol is a solid option for anyone looking for an beach cruiser electric bike that's well spec'd, thoughtfully built and affordable.

Pro's
The Sol looks great and the low-step frame design makes it easy to get on and off
The modular rack system is really cool and super functional, making the bike more versatile than just a pure beach cruiser
The 614Wh battery is plenty big for most trips, with a little left over so you don't need to worry about battery life

Con's
One size fits all. We typically like to see different frame sizes so riders of different body shapes can get a good fit
SixThreeZero Around The Block 500W
Check Best Price | Full Review Coming Soon
With a frame design harkening back to the mid-century Schwinn cruiser bikes, the SixThreeZero Around the Block 500 appears to be an electrified clone of an iconic American bicycle.
This is SixThreeZero's new version of the Around the Block 500 that features new colorways, a 500W rear hub motor, a 500Wh battery, disc brakes and pedal assistance up to 28 mph. Like many other beach cruiser electric bikes it's a one-size-fits-all frame designed to fit riders from 5-foot to 6-foot tall.
The battery is mounted on a rear rack and the bike has a claimed range of 20 to 40 miles, depending on how hard you tax the motor. It also comes with a throttle that is limited to 20 mph, wide tires, a broad cruiser-style seat and swept-back handlebars.
If you're on the hunt for an electric remake of an American classic, the SixThreeZero Around the Block 500 is worth a look.

Pro's
The SixThreeZero Around the Block 500W looks fantastic. They did a great job capturing that classic mid-century styling
The spec level is well done for the price. The 500W motor and 7-speed Shimano drivetrain work well
SixThreeZero went with a very simple, no frills design. We really like this

Con's
The rack-mounted battery isn't our favorite setup, but shouldn't impact handling too much
Check Best Price | Full Review Coming Soon
As if adding a larger-than-average motor and fat tires wasn't enough, Biktrix doesn't just make their Stunner LT cruiser bike in different frame sizes — you can also order it in three different wheel sizes.
The Stunner LT comes in three frame sizes from small to large, not a terribly uncommon thing among e-bikes, but where this bike stands out is that each frame size comes with a different wheel size. The small bike comes with 20-inch wheels, the medium comes with 24-inch wheels and the large with 26-inch wheels. The bikes are also ultra-customizable, with customers getting to pick everything from battery size to seatpost type and brakes.
The bike comes with a 750W rear hub motor and a 48V, 17.5Ah (840Wh) battery that can be upgraded, a torque sensor and a Shimano Acera 8-speed drivetrain. The tires across all three wheel sizes are 4-inches wide and the bikes come with upgradeable hydraulic disc brakes.
To put it short, the Biktrix Stunner LT is a feature-rich electric cruiser bike that's ultra-customizable and available in a number of unique configurations. That amount of options makes it worth for consideration on any best beach cruiser electric bike list.

Pro's
A unique take on the cruiser from Biktrix that combines fat biking with beach cruising
The 750W motor is larger than average for the beach cruiser electric bike category
The wheel size options are a really neat touch. Not only does it make the bike more accessible to different sized people, it basically gives you three different bikes
The Stunner LT is ultra customizable

Con's
The varying wheel sizes are cool but it does mean that each frame size will handle uniquely. Not necessarily a bad thing, but something that should be kept in mind when choosing your size
Check Best Price | Full Review Coming Soon
The low-step version of Magnum's popular cruiser bike, the Lowrider Cruiser is a nicely designed beach cruiser e-bike built for urban cruising.
The Lowrider comes with a 500W rear hub motor powered by a 48V, 13Ah (624Wh) battery that's partially integrated into the frame. It's spec'd with Tektro hydraulic disc brakes, a Shimano Acera 8-speed drivetrain and an RST front suspension fork. It's a Class 3 e-bike, meaning the motor will give pedal assistance up to 25 mph. It also has a throttle that's limited to 20 mph.
Magnum gave the Lowrider very gently swept bars and a very wide, cushioned seat for comfort. It also comes with a rear rack and lights front and rear. Magnum bikes also boast a one year comprehensive warranty.
The Magnum Lowrider Cruiser is a great bike for anyone on the hunt for a good looking beach cruiser electric bike.

Pro's
The hydraulic disk brakes, RST suspension fork and Shimano Acera 8-speed drivetrain
The Magnum's unique copper accents and frame design make it stand out from other beach cruisers in its category
The 624Wh battery has good range when paired with the 500W motor

Con's
The front headlight and rear taillight are "independent" meaning they operate on internal batteries rather than draw energy from the bike's main battery
Specialized Turbo Como SL 5.0
Check Best Price | Full Review Coming Soon
One of the sharpest looking beach cruiser electric bikes released this year, the new Specialized Turbo Como SL is built around a proprietary motor and battery that make it lightweight, stealthy and very nice to pedal.
The Turbo Como SL is the second non-performance e-bike in the Specialized lineup to get the company's "Super Light System" motor and battery. Not only is this a lighter powerplant than you'd traditionally find on an e-bike, but it's been carefully tuned to replicate a rider's natural pedaling. While the motor on many e-bikes can outright overpower a rider, this one is designed to give a much gentler assist.
Aside from the SL system, the new Turbo Como SL is thoughtfully designed with an integrated front rack, lights and fenders front and rear. The overall design of the bike is downright cool, and the mid-step build makes it easier to get on and off the bike. It comes with a Shimano Nexus internally geared hub, a Gates Carbon belt drive and TRP hydraulic disk brakes. At 47 lbs, it's also lighter than average for a cruiser-style e-bike. The premium parts and construction make it a worthy entrant on our best electric cruiser bike list.
If you're looking for a cruiser with a gentler oomph or if you're sold on e-bikes built by one of the global leaders in bicycling, the Specialized Turbo Como SL 5.0 is worth a look.

Pro's
The Specialized Super Light System is one of the best designed e-bike drive systems on the market
The Nexus internally geared rear hub requires far less maintenance than a traditional bike drivetrain
47 lbs is extremely lightweight for a cruiser bike
This is a cruiser that could easily double as a commuter or city bike. It's built to be very versatile

Con's
The SL drive system's power delivery is much lighter than some of the other motors on this list. For experienced cyclists this works well, but it may not work best for those looking for more oomph
Check Best Price | Read Full Review | Watch Our Video Review
Built around a 500W motor and 24-inch wheels, the Evelo Galaxy 500 is a compact cruiser electric bike that packs a considerable punch.
The Galaxy 500 is built with smaller riders in mind, with a maximum recommended height of 5-foot-10-inches and a minimum height of 4-foot-10-inches. But despite its small stature, the bike's 500W mid-drive motor is powerful, especially when you consider that most mid-drives on the market today only clock about 250W of power. It also boasts the very cool Enviolo AutomatIQ shifting system, which changes gears automatically — you never have to worry about what gear you're in.
The Galaxy 500 comes in a low-step frame design, and to ensure the frame was as low-slung as possible Evelo opted to mount the battery on a rack over the rear wheel instead of inside the front triangle of the frame. It also has a Gates Carbon belt drive, which is cleaner, a little quieter and requires less maintenance than a traditional chain.
We tested the Galaxy 500 in 2020 and were thoroughly impressed by its performance, and we think you would be too.

Pro's
Enviolo Automatic transmission system takes the guess-work out of shifting. The bike will shift for you as you ride.
The low-step frame is easy to get on and off.
The small frame size makes this a cinch to ride around town. It is very navigable and easy to maneuver around corners or alleyways.
Upright frame and swept back handlebars allow riders to sit up rather than hunch over.
Easy to manage the power; this is a great bike for older or smaller riders

Con's
The Evelo Galaxy 500 only comes in a small frame size, so it is best suited for riders under 5'10". Evelo also offers the Aurora Limited which has the same transmission system with a larger frame and 750W motor for larger riders.
Bottom line: Gone are the days of slow beach cruisers
While loved for their looks, comfort and their embodiment of California beach culture, traditional beach cruisers have long had one thing working against them: They're a little slow and inefficient.
Their upright body position and low-slung geometry is a double-edged sword; it's forgiving and comfortable, but can make them tough to pedal for long distances or uphill. E-bike motors have helped solve this problem, giving them the extra boost needed to make them capable as well as comfortable.
But how do you choose the best electric cruiser bike for you? This is a very tough and very subjective question to answer. The bike salesman in me wants to point you toward your local bike shop and tell you to test ride as many as possible until you've got a good feel for what you want. But nowadays, with more brands going to a direct-to-consumer business model, test riding a bike in person is not always an option. That's where the team of experts at Electric Bike Report comes in.
We spend days testing the bikes we review, putting them through a gauntlet designed to demonstrate their braking ability, hill climbing prowess and how far they'll go on a single charge, among a few other things. Our goal is to demonstrate how the bikes perform in the real world so that if you have to make a buying decision without seeing the bike in person, you can at least have a good idea of what to expect when it finally shows up at your door.
If you're on the hunt for the best beach cruiser electric bike, you've come to the right place.
Reader Interactions