Some links may be affiliate links. We may get paid if you buy something or take an action after clicking one of these.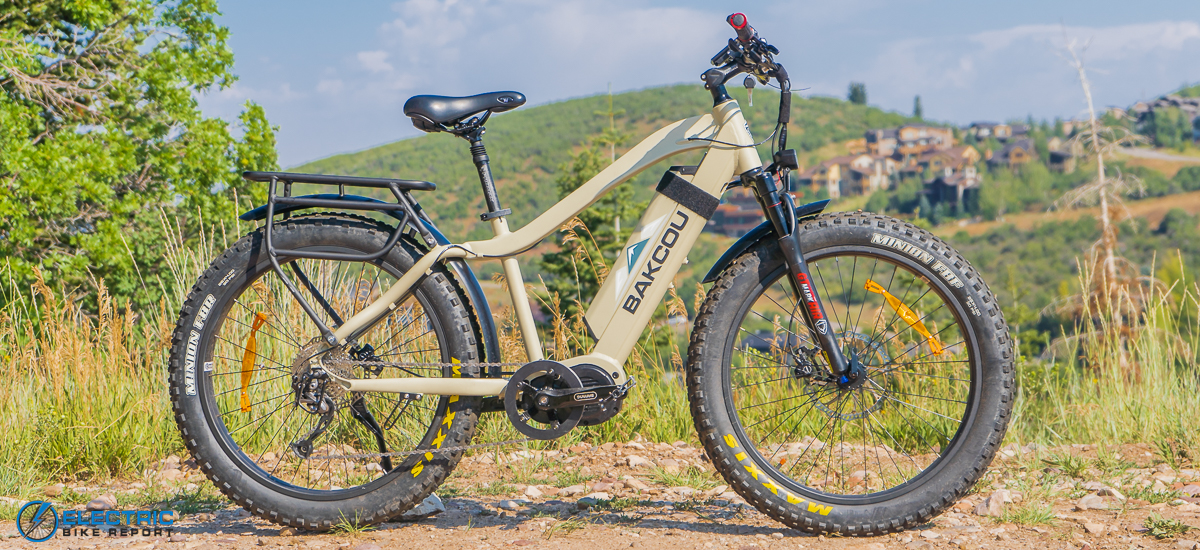 Their best-selling electric bike, the Bakcou Mule is an electric fat bike equipped with an ultra-powerful mid-drive motor designed to take you and some gear into backcoutry areas discreetly and efficiently.
Bakcou loaned Electric Bike Report a Mule to test ride during the Big Gear Show in Park City, Utah this August. We were limited by time and little access to e-bike friendly off-road terrain, but I was thoroughly impressed with the Mule's super powerful motor, stable handling and thoughtful component package.
Bakcou is one of several e-bike companies with roots in hunting. Though they're building on those roots and are now designing their bikes as sort of an all-terrain electric utility vehicle, the first Bakcou bikes were built to replace the noisy and foul-smelling ATVs or side-by-sides hunters previously used to access backcountry locations. Those motorize vehicles disturbed the wildlife, so e-bikes became a great substitute. Now, Bakcou's e-bikes are built for anyone trying to access difficult to reach terrain.
Bakcou Mule Review: Performance and Handling
Speed and handling
Bakcou built the Mule around the incredibly powerful Bafang ultra mid-drive motor, capable of producing 1,000W of power and 160Nm of torque.
That's a serious amount of power that's actually above what's considered legal for street use in most U.S. states and on some public land. Bakcou addresses this issue by giving riders the power to tune the power down to 750W, which makes the bike compliant with the three class legal framework that makes up e-bike law in most parts of the U.S.
So why does Bakcou even make super powerful unclassified e-bikes? The answer is simple: Because on private land or in areas that allow OHVs like ATVs and side-by-sides — often the same areas hunters and outdoorsmen frequent — you're allowed to use the motor's full 1,000W output without running afoul of the law. And that power isn't just to make the bike go really fast, the Mule is built to tote gear-laden trailers far into areas typical e-bikes would struggle to access.
The Mule handles really nicely. It's a hardtail and sports a front fork with slightly less travel than Bakcou's flagship full-suspension electric fat bike, the Storm, but that lack of squish makes this bike climb very efficiently and feel like it would handle being loaded down with gear very well. The big motor gobbles up climbs and those knobby fat tires feel good in dirt, though I didn't get to ride them on a true mountain bike trail/
Bakcou Storm Review: Components
Motor and battery: A 1,000W Bafang mid-drive and large battery options
The Mule packs a Bafang mid-drive motor packing 160Nm of torque and a nominal power rating up to 1,000W. Powering that motor is one of three semi-integrated battery options ranging from the stock 48V, 17.5Ah, a 48V, 19.2ah mid-level option and a 48V, 21Ah long range battery.
It's spec'd with a relatively standard-issue Bafang display that lets you choose between a sport mode and an eco mode, plus five pedal assist settings per mode. The bike also has a throttle, which, in a street-legal classified setting is limited to 20 mph.
Drivetrain: Shimano Alivio 9-speed
The Mule we rode in Park City was spec'd with a 9-speed Shimano Alivio drivetrain.
This is a reliable and cost-efficient entry level drivetrain from Shimano that'll work well in most situations. It has fewer gears and isn't as high-tech as some of the drivetrains we see on modern eMTBs, but it does have one great advantage: Spare parts are very affordable. Considering the amount of torque that Bafang motor makes, its likely you'll wear out your drivetrain quick.
The Bafang motor does have a shift sensor that momentarily cuts power to the motor when you change gears, which should help protect the drivetrain from bending cogs or unexpectedly breaking chains while shifting under heavy load. But regardless, chains and gears will likely have a shorter lifespan with this much power.
Brakes: Tektro hydraulic disc brakes
Bakcou spec'd the Mule with Tektro Auriga e-comp e-bike specific four piston hydraulic disc brakes with a 203mm rotor in the front and a 180mm rotor in the rear.
These brakes feature a motor kill switch that cuts the motor as soon as you tap the brakes and are plenty powerful for a bike this size. They stood up well to the bigger descents in Park City with no noticable overheating or brake fade.
Other notes: A big carrying capacity and lots of special-made accessories
The Mule has a 300 lb carrying capacity and comes with a few extras, like an integrated front light, a kickstand and a bolt-on pannier rack in the back.
It's also compatible with Bakcou's extensive lineup of accessories that includes special-made trailers, racks and bags designed to help you load the bike up with your gear of choice.
Bakcou Mule Review: Final Word
It make sense the Mule has been Bakcou's best selling e-bike over the past several years — it's efficient, capable and does exactly what it was designed to do.
There's no denying it's a rugged bike, but it's a slightly less aggressive option than Bakcou's full suspension Storm electric fat bike. As the name suggests, the Mule is more of a pack mule than aggressive trail bike. It's built to be loaded down and worked in areas that other bikes would struggle.
The handling was impressive and the power from the mid-drive motor was astounding. It's tough to not look at this bike through a more traditional mountain bike lens, but I'm starting to think companies like Bakcou are forging their own new category of e-bike. I'm calling it the "all-terrain" category, a class of off-road utility e-bikes that'll go where few others can.
Bakcou is a direct-to-consumer company so you can buy the Mule on their website and have it shipped direct to your door.
Reader Interactions