TWO VERY DIFFERENT LIGHTWEIGHT E-FOLDERS
Now crowdfunding, the ADO Air e-folder has a claimed weight of 16kg / 35.3lbs and features a carbon-fiber frame. The Early Bird offer of 1199 Euros certainly looks attractive given the bike also features torque sensing power delivery and a belt drive. There are Euro and US spec versions.
Meanwhile over in the UK, the highly-regarded Cytronex retrofit kit is now available in a form specially adapted for the titanium-framed Brompton T-Line and the first (extremely complimentary) review has already appeared, commenting 'the Cytronex for Brompton T-Line could well be the lightest multi-geared electric folder out there at 11.65kg.' The downside is a £5810 / $6897 price tag.
Perhaps of most interest are the choices of frame material and relative weights of the bikes; ADO have gone with carbon-fiber and Brompton with titanium. With carbon-fiber being the lighter material, volume for volume, it's perhaps surprising to see the Brompton option come out so much lighter. That's not to say that carbon-fiber can't produce a very lightweight e-bike, as the 22.7lbs / 10.3kg / Hummingbird Electric Gen2 demonstrates. Even with conventional aluminium, it's possible to produce a very light e-folder, as the UK's FLIT say their forthcoming M2 will weigh around 14kg / 30. lbs.
CANYON – NEW MODEL DETAILS
Well-known German bike and e-bike manufacturer Canyon have announced four updated versions of popular e-bike models. The new pedelecs use drives from Bosch and Fazua. In addition some models feature ABS braking, anti-theft warning with tracking function and light carbon frames. Details are:
Canyon Roadlite:ON CF 9 LTD from £4,799
Combining speed and comfort for city and touring use, with carbon frame, wireless electronic gear shifting and the new, lightweight Fazua 60 mid-drive. Claimed weight is 14.85kg / 32.7lbs.
Canyon Commuter:ON 7 from £3,199
This fully-equipped commuting model also uses the Fazua Ride 60 drive system and has a claimed weight of 17kg (37.5lb).
Canyon Pathlite:ON 9 LTD SUV From £5,249
Marketed as a superbly-equipped trekking/touring/adventure e-bike with a super powerful Bosch Performance Line CX Smart System. Notably it includes Bosch ABS braking.
Canyon Precede:ON AL From £3,349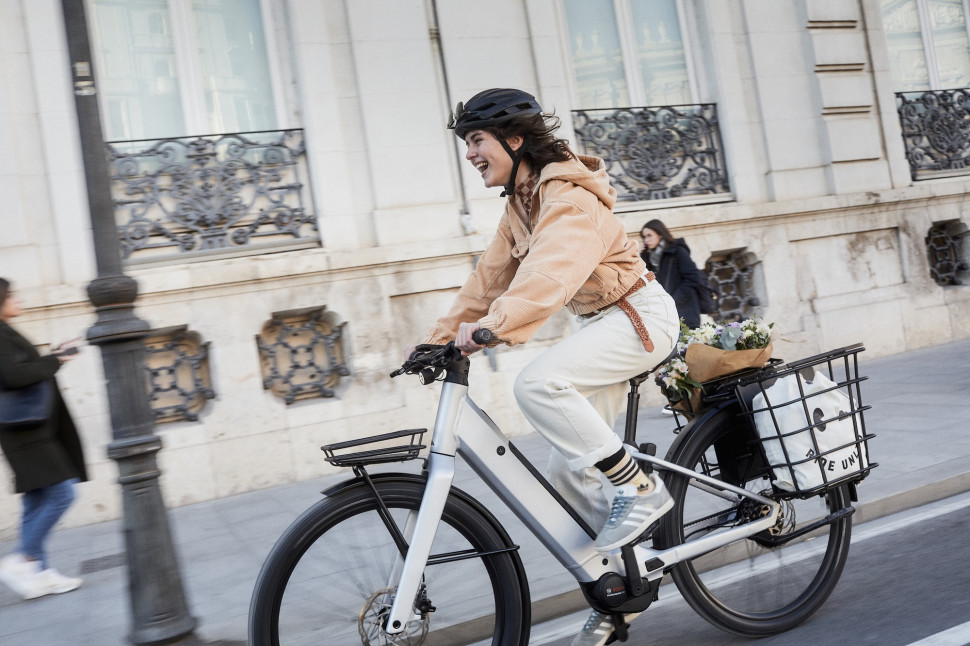 An urban commuter with the accent on load-carrying and using the Bosch Performance Line or the Active Line Plus drive with a carbon-framed version using the Bosch Performance Line CX. Gearing low-maintenance, heavy duty in the form of an Enviolo stepless hub and Gates carbon belt drive.