Some links may be affiliate links. We may get paid if you buy something or take an action after clicking one of these.
This week's news has a very cosmopolitan flavour; whilst the fat-tired, keenly-priced new offerings from Ride1Up and Aventon are pretty much meat and drink for this website, we only occasionally cover e-bikes not available in the US or UK. So this issue feels like a mini-departure with news of what might be the start of trend originating in Germany in the shape of a wave of step-thru, (relatively) light, fully equipped e-mtbs and also an insight into how Japan's Honda are taking aim at China's unique domestic e-bike market. Finally, if you you want to know what the Dutch have been up to recently in their quest to provide the country's bike riders with incredible infrastructure, check out the latest 'invisible' bike parking right in front of the country's main train station.
In this week's e-bike news:
Ride1Up launch moped-style REVV1

Aventon Aventure 2 – one of the best e-fat bikes out there gets torque sensing

Will full-sus, fully equipped, step-thru e-mtbs catch on? The Germans think so…

Honda target China with historically named e-bikes

280 mile Bonneville Shoreline Trail takes a legal step forward

Subaquatic bike parking in the middle of Amsterdam
RIDE1UP LAUNCH MOPED-STYLE E-BIKE, THE REVV1
The new Ride1UP Revv1 is described by Ride1Up thus; 'a classic moto-inspired design and enough charge for a week full of city commutes and errands, this exciting new model will be available for pre-order now, with bikes shipping in February.' There will be hardtail and full-sus options retailing at $1895 and $2395 respectively.
Despite its motorbike-inspired looks it comes pre-programmed in the Class-2 e-bike mode, which allows for throttle operation and pedal-assist riding up to 20mph but apparently it also has an 'off-road' allowing what's described as '28mph+' speeds .
Other spec details include a 750W rated rear hub motor, a whopping 1040Wh battery, four piston hydraulic disc brakes, 20" x 4" fat tires and front and rear lights. Optional accessories include 'storage cage, foot pegs, rear handle and rear rack.'
AVENTON UPGRADE AVENTURE WITH TORQUE SENSOR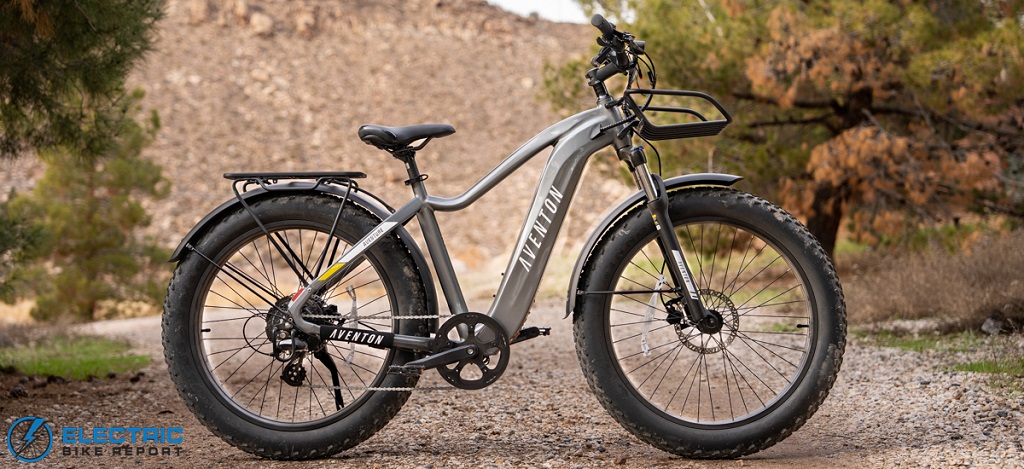 Aventon's Aventure – a strong, feature-packed but well-priced e-fat bike – is now the new Aventon Aventure 2, a Class 3 bike with fat tires and 750W rear hub motor that, unlike its predecessor, now features a torque sensor.
EBR has already taken a closer look at this exciting new off-roader here.
A STEP THRU, FULL-SUS E-MTB? NO….FOUR
There aren't that many full-suspension, step-thru e-bikes out there. Probably a bit of a surprise given that older riders make up a very sizeable chunk of the e-bike market and they will value all the comfort of full suspension along with an 'easy access' frame. Those that are out there tend towards fat tires and often moped styling with very large batteries, making them heavy and relatively inefficient, despite their undoubted comfort attributes.
If one of the latest German e-bike trends makes it over to the US that might just change, as highlighted by this E-mountainbike article looking at four step-thru models that really can claim to be full-sus, step-thru e-mtbs.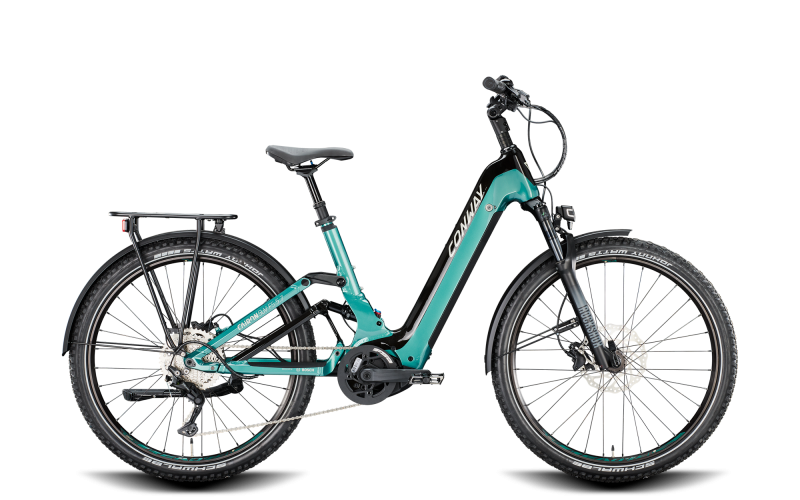 All use Bosch mid-drives and feature rear rack, mudguards, kickstand and hardwired lights along with high quality, fully adjustable air-suspension systems. The bikes in question are the Conway Cairon SUV FS 5.7, Malaguti Collina FW6.0, Victoria Parcours 5 and the ZEMO SU-E FS11. Prices range from €4599 to €6999. Weights hover around the 30kg / 66lb mark – whilst that might seem heavy it's lighter than many typical US full-sus options. Currently these models appear to be only available in continental Europe but no doubt there are many UK and US riders who would love a chance to buy a true full-sus, fully-equipped e-mtb….
HONDA SHOWS US WHAT E-BIKES FOR THE CHINESE MARKET LOOK LIKE
The UK's Move Electric reports that 'Honda has unveiled electric versions of its Cub, Dax and Zoomer motorbikes, but with a twist: the three new machines are all electric bikes built specially for China.'
The e-bike scene there is somewhat different to that in the west it seems – these three models look like mopeds but are in fact 15.5mph e-bikes – Chinese law specifies this maximum speed for e-bikes even if they don't have pedals and are throttle only.
The article also notes '….the bikes are significant because they are part of Honda's massive ramp-up of its electric two-wheeler line-up (which carries the e: branding), which will include the launch of five EB and Electric Moped (EM) models by 2024.'
Honda are also clearly capitalising on names from their history that still resonate with many today – for example 'the Honda Cub is generally regarded as the best-selling motorised vehicle ever, with more than 100 million sold since production began in 1958' the article adds.
280 MILE BONNEVILLE SHORELINE TRAIL NOW POSSIBLE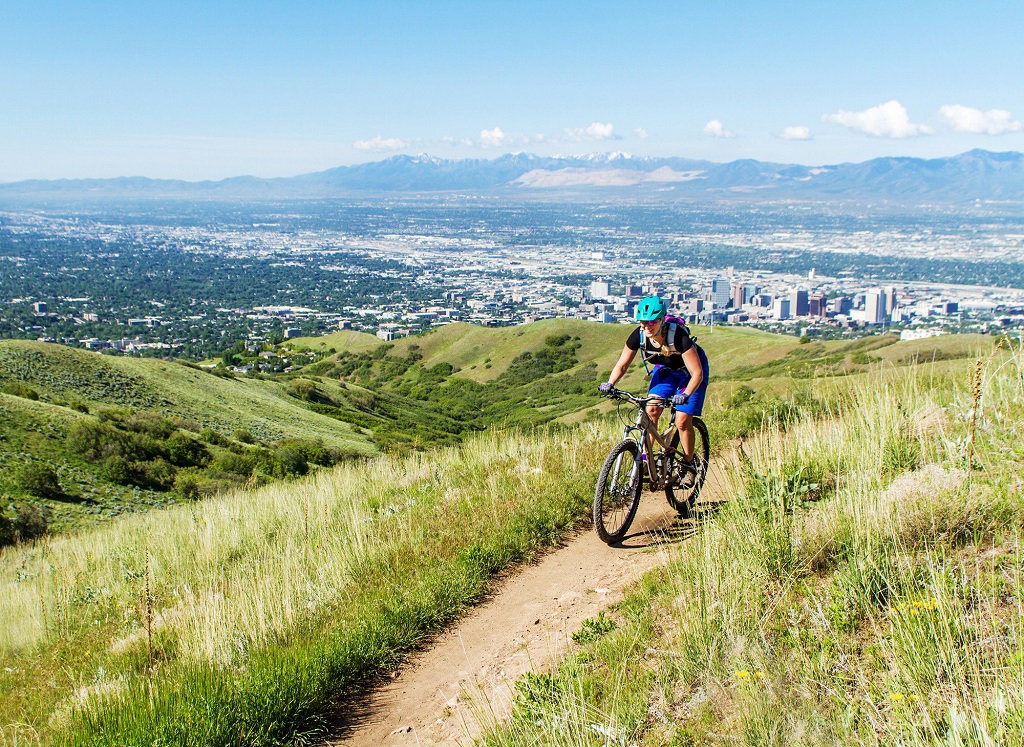 Bicycle and Retailer Industry News (BRAIN) reports that 'President Joe Biden signed the Bonneville Shoreline Trail Advancement Act into law on Dec. 29 as part of the year-end omnibus federal spending legislation. The Act will swap some federal Wilderness land boundaries to allow access to trailheads for the proposed trail, which has been in plans for more than two decades.'
David Wiens, the executive director of the International Mountain Bicycling Association, commented 'This will help complete the long-awaited Bonneville Shoreline Trail and bring both long-distance opportunities and more trails close to home to residents of the Salt Lake Valley'.
AMSTERDAM LOOKS TO SOLVE BIKE PARKING CONGESTION BY GOING UNDERWATER
The Guardian reports that 'Beneath the clear waters and pleasure boats by Amsterdam central station is a remarkable feat of engineering: an underwater garage for 7,000 bicycles.
The garage, which opens on 26 January, is the result of a four-year, €60m (£53m) project to clear heaps of rusty bikes left by hasty commuters and install rows of clean, safe parking spaces underground, where bikes can be left free for 24 hours and then at a cost of €1.35 per 24 hours.'
Those who have cycled in the Netherlands will be aware of the massive popularity of cycling as a daily mode of transport – the writer recalls going to a local supermarket in a provincial town there and wondering what the huge room next to the supermarket was, only to discover it was secure indoor bike parking provided for customers! That's good service.
Check out this awesome video that shows the water being drained and the parking constructed before it disappears back under the water.
Reader Interactions