Some links may be affiliate links. We may get paid if you buy something or take an action after clicking one of these.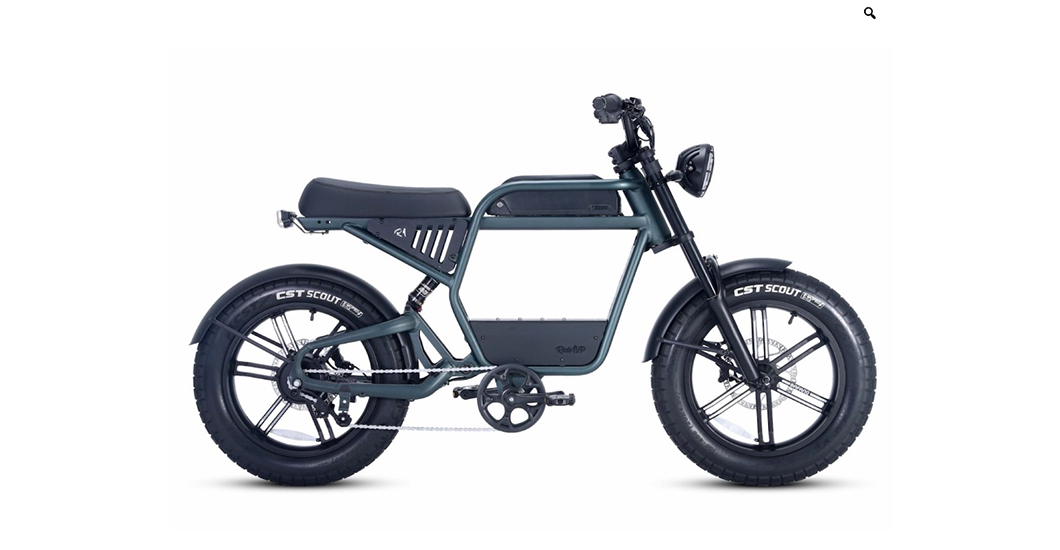 Ride1Up, the maker of some excellent e-bikes like the Cafe Cruiser and the Prodigy, has introduced a new e-bike called the Revv 1. That's rev as in revving an engine. The Revv 1 is an example of the growing segment of e-bikes styled after motorcycles and mopeds.
E-bikes styled after motorcycles and mopeds are growing in popularity. Part of the appeal is the look—they look super stylish. In the '70s we would have called one "boss." Part of the appeal is that they tend to have big—750W hub motors—and a battery big enough to give them some range.
Part of the appeal is comes from being what we'll call "motorcycle adjacent." They can get a person around on two wheels without requiring all of the downsides to motorcycle ownership: the expense, the license and the insurance. And considering that they can go a maximum of 20 mph on throttle, they have quite an appeal for parents who want their kids to be able to get around, but don't want them doing 120 mph on two wheels. So, safety.
These won't be purchased exclusively by teens or for teens, but they might be the biggest target market. For someone looking for an affordable alternative to a car, the Revv 1 ticks a lot of boxes.
Let's go over the basics, shall we? It has a powerful motor and ginormous battery. The drivetrain is pretty simple—just one gear—but the brakes could stop a runaway train.
Plenty 'o Power
This e-bike is spec'd with a 750W brushless, geared hub motor. It's going to be pretty quick pulling away from a dead stop because the motor produces a very firm 90Nm of torque, which will also help it climb hills with ease. It comes with a throttle and ships restricted to 20 mph, making it a Class 2 e-bike out of the box, but the controller can be "unlocked" so that riders can enjoy pedal assist all the way up to 28 mph.
The battery is sizable: It ships with either a 1040Wh battery or a 780Wh, depending on whether the buyer orders the full suspension version (1040Wh) or the hard tail version (780Wh). The battery's configuration is a bit different from what we usually see spec'd; it features a 52V, 20Ah design. What that does is unleash more power in the moment, which is handy as this e-bike is a bit of a beast; it weighs 93 lbs., making it one of the heaviest e-bikes we've encountered.
Considering its weight, we appreciate how Ride1UP chose 4-piston hydraulic disc brakes paired with 180mm rotors. This is a much more powerful setup than we typically see on e-bikes around this price point.
With its twist throttle we see yet another echo of motorcycles and mopeds. Twist and go, so to speak.
Universal comfort
We review lots of e-bikes that come in a single size that the manufacturer claims will fit everyone from Munchkins to NBA forwards. That's as likely as trying to find a pair of jeans to fit the same range of people—not gonna happen. What the motorcycle styling of the Ride1UP Revv 1 does is sidestep the issue of sizing.
Because most riders won't be pedaling and will instead use the throttle, finding a comfortable saddle height in order to pedal with ease isn't a thing. And reach from the saddle to the handlebar is easilly accommodated by simply scooting forward or backward on the long bench seat
E-bikes of this sort recall mopeds less for their styling than how they are used. They are like mopeds because most people who buy them have little to no intent to pedal them. The pedals are more insurance than Plan A—they are ready to use at any time, but they aren't the go-to move. Another plus? The Ride1UP Revv 1 pedals more more easily than a moped, so it's got that advantage, as well.
How soft do you want it?
While the Ride1UP Revv 1 is meant to emulate the look of something motorized, as we've pointed out, the design isn't just show; it offers real benefits for the right rider. For instance, they produce this e-bike in two versions (much like the motorcycles it seeks to emulate): There's a full-suspension version, as well as a hardtail version. Both versions feature a suspension fork; on the hardtail, the fork travel is 100mm, while the full suspension version swaps for a fork with 120mm of travel, to better balance the action of the rear suspension.
The double triple-crown fork features an air spring, not a coiled steel spring, which makes it much more sensitive and tunable, ultimately giving it a smoother, more comfortable ride. The difference in action and feel between a coil spring fork and an air spring fork is like the difference between a dirt road and fresh pavement.
The rest of the package
The Ride1UP Revv 1 rolls on 20-in. wheels shod with 4-in.-wide tires. The effect this has is to give the Revv 1 terrific maneuverability thanks to the small wheels, while also offering a very stable ride thanks to the weight of the cast aluminum wheels and big tires. Ride1UP says the Revv 1 can handle off-road riding, but we would caution anyone purchasing it to consider how much riding they want to do on unpaved surfaces. Yes, the tires have some tread, but it's not as much as we would expect to see an on all-terrain e-bike or an eMTB.
While the Ride1UP Revv 1 comes with front and rear fenders as well as a very bright headlight and a rear tail light, it doesn't come with a rear rack as we often see with commuters and city bikes, nor does Ride1UP offer one as an accessory. Any load the rider carries will likely need to fit into a backpack. Also, while that bench seat may look long enough to fit two riders, should someone try to fit a second person on the Revv 1, there is no place for that person on the rear to put their feet. This is not meant to serve as a cargo or utility e-bike that can ferry kids.
We mentioned earlier in the review how the Ride1UP Revv 1 can be unlocked so that it can achieve Class 3 cruising speeds, and potentially even go 28 mph on pedal assist. With the Ride1UP Revv 1, 28 mph is more a theoretical speed than an actual, reachable speed. The issue is that as a single speed e-bike, pedaling fast enough in that one gear to go 28 will require the rider to pedal like, well, like an electric motor. The cadence necessary to reach Class 3 speeds is well above 100 rpm.
Anyone considering purchasing the Ride1UP Revv 1 would do well to be satisfied with going 20 mph on throttle-assist, which, we believe, is probably how most people buying this e-bike will use it. And with a hub motor that produces 90Nm of torque, it will have enough pick-up that riders using the twist-grip throttle will be thrilled with its zoom.
The e-bike market sees an ever-growing number of specialty models from creative manufacturers. It's not surprising that we are seeing models that have reimagined the e-bike from having a throttle "just in case" to seeing the pedals as "just in case." What is a bit more surprising is how that shift in design has opened up the design palette to result in so many interesting and fun e-bikes. The Revv 1 may be the coolest of the e-bikes styled to look like a motorcycle that we have seen so far.
Reader Interactions