Since Elon Musk's turbulent takeover of Twitter, sentiments among Tesla supporters and critics suggested that the EV maker's brand had suffered greatly in the past year. As per the results of Brand Finance's 2023 World's Most Valuable Brands rankings, however, such sentiments may not exactly be accurate. 
Headquartered in the City of London, Brand Finance is an independent brand valuation and strategy consultancy, and it has helped clients quantify the financial value of their respective brands since 1996. As per the firm's most recent rankings, Tesla is currently ranked 9th among the World's Top 25 Most Valuable Brands. For comparison, Tesla was ranked 28th place in last year's rankings.
"In the automotive sector, the American brand Tesla (brand value up 44% to US$66.2 billion) sold the most electric cars globally in 2022, which contributed to its status as one of the ranking's fastest growing brands. Observers of Tesla's share price over the last few months may be surprised by its result in our table this year, however, it remains one of the lowest brand values in proportion to overall business value, at only 16.8%, in comparison to Mercedes-Benz at 32.1% at time of publication. 
"Other brands may be getting into gear to compete with the pre-eminent EV producer, but the public still sees Tesla as significantly more innovative and sustainable in Brand Finance's Global Brand Equity Monitor study, a fact that outweighs the latest headlines about Tesla's mercurial CEO," Brand Finance noted in its report.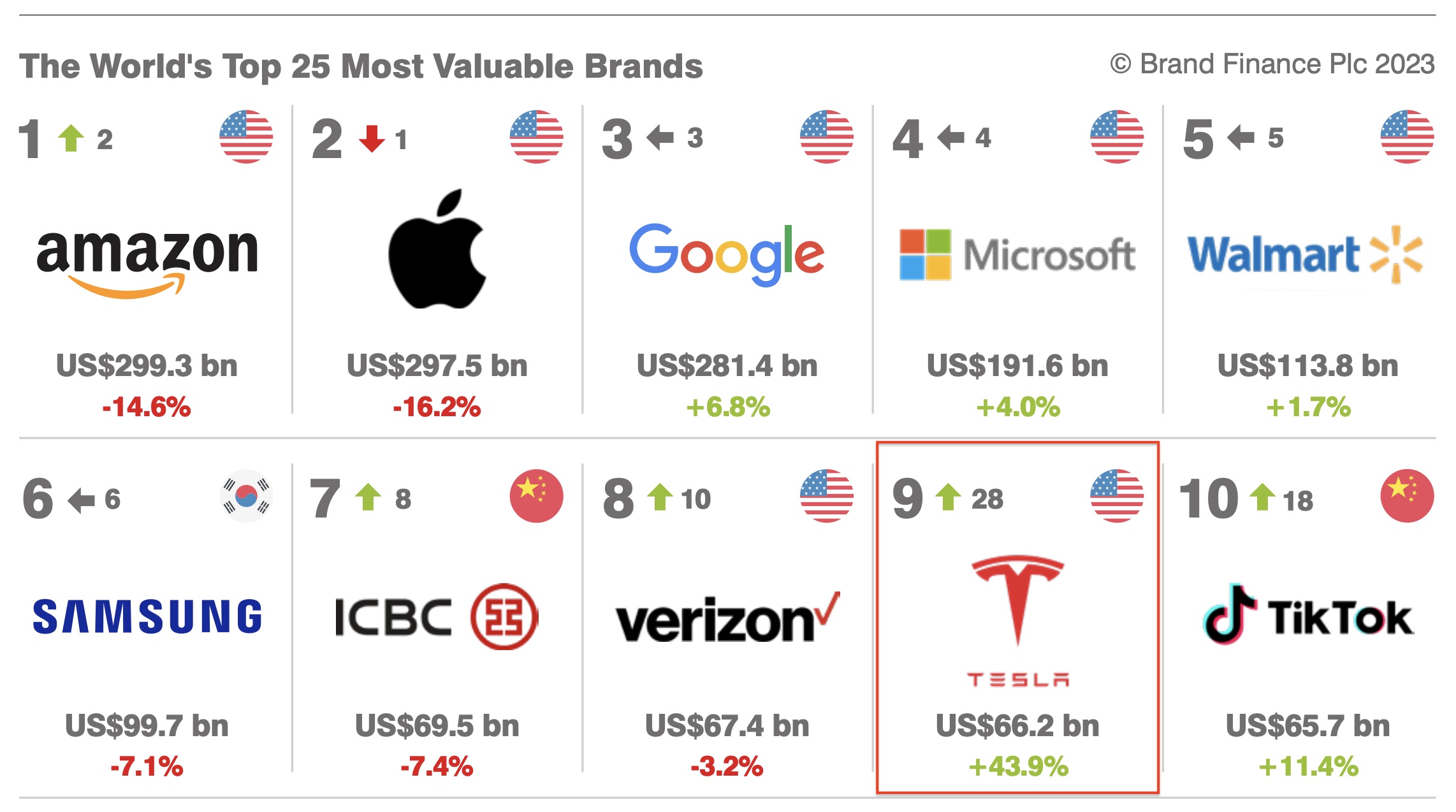 A closer look at Brand Finance's report shows that Tesla actually saw an increase of 433% in brand value over the past three years. With this in mind, it would appear that Elon Musk's antics on Twitter, even during his turbulent takeover of the social media platform last year, appears to have not "killed" Tesla's brand and reputation at all — or at least not to the degree that critics would suggest. 
Brand Finance's 2023 World's Most Valuable Brands rankings report can be viewed here. 
The Teslarati team would appreciate hearing from you. If you have any tips, contact me at maria@teslarati.com or via Twitter @Writer_01001101.
Tesla up 19 spots in 2023 World's Top 25 Most Valuable Brands rankings