Some links may be affiliate links. We may get paid if you buy something or take an action after clicking one of these.
What has three wheels, big range, a powerful motor, serious carrying capacity and a great price? No fair, you peeked at the title of this piece. Rad Power Bikes has finally announced their long-hoped-for trike, the very marketably named RadTrike. In this brief Rad Power Bikes RadTrike review, we will look at what we've learned so far about this new product.
Rad Power Bikes has what is one of the broadest product line in the e-bike space with eight models in production. The product line now numbers nine with the addition of the RadTrike, which fills what might have been the only hole in their lineup.
Rad Power Bikes RadTrike Review: The Basics
The RadTrike bears much in common with some of Rad Power Bikes' other models. It uses a 48V, 750W brushless, geared hub motor. It includes a half-twist throttle, making it a Class 2 e-bike, like other models in Rad Power Bikes' lineup. The battery, at just 480Wh is smaller than we typically see on their e-bikes, but there's a reason for that we will discuss in a moment.
The frame and fork are crafted from steel, an uncommon choice today, but one that will give the RadTrike a forgiving ride quality. This is a single-speed machine equipped with a front mechanical disc brake and a coaster brake in the rear.
Rad Power Bikes chose to build the RadTrike with 18-in. wheels; this is a pretty unusual choice, but it benefits riders in a couple of ways. First, 18-in. wheels lower the e-trike's center of gravity; it's a full inch lower than it would be with 20-in. wheels, and that will make a positive difference in handling. It also lowers the RadTrike's standover height beyond what would be possible with larger wheels. Standover for the RadTrike is just 13.4 in.—lower than nearly every e-bike we've ever reviewed.
The combination of three wheels and such a low standover height means a rider with limited mobility can use the handlebar to steady themselves as they step over the frame.
The Experience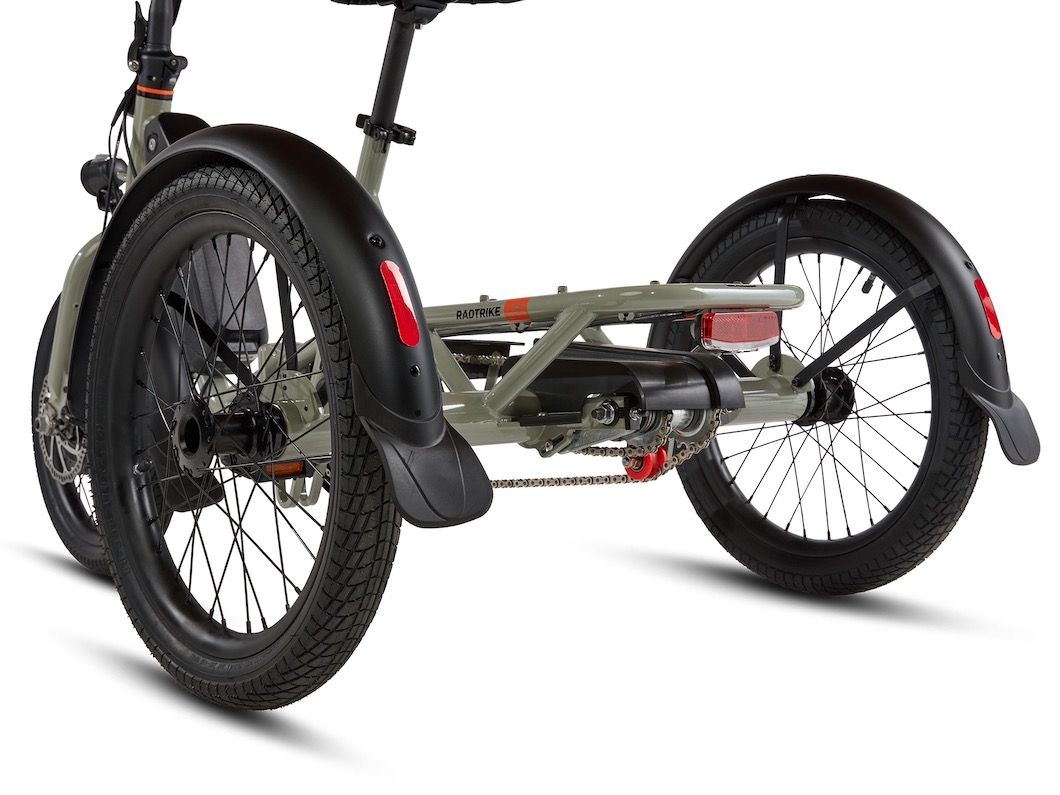 Trikes don't handle like bikes, for obvious reasons; a trike can't lean into a turn and carve because of that third wheel. As a result, it steers. Should someone going at a pretty good clip turn hard, it's possible to get a trike up on two wheels. This is one of the reasons Rad Power Bikes went with the 18-in. wheels. The RadTrike was also given only one gear and limited to a maximum speed of 14 mph and that limitation will keep many riders out of trouble when turning.
With its speed limited and because wind resistance makes a motor work harder the faster a rider goes, the RadTrike's 480Wh battery is projected to give riders a range of up to 55 mi. per charge, giving it noticeably more range than some of Rad Power Bikes' other models manage with a bigger battery.
The rider position on the RadTrike is rather like that of a cruiser. That is, the rider's seat sits closer to the ground and the pedals are shifted forward a bit to achieve adequate leg extension. The seat includes a backrest to support the rider's lower back.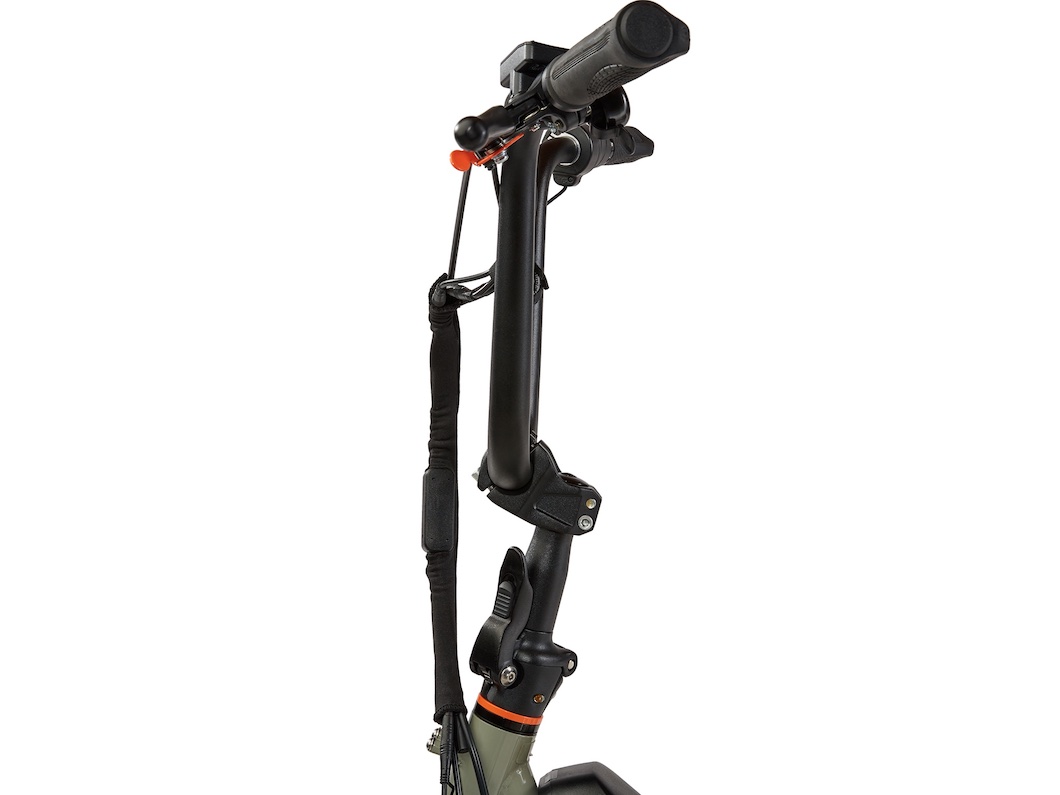 The RadTrike has a total weight capacity of 415 lbs. Of that, the rider can be up to 325 lbs. and the rear rack can carry up to 60 lbs. Rad Power Bikes also offers a front rack that can carry another 30 lbs.
Trikes, whether electric or not, have been notoriously difficult to transport. Rad Power Bikes addressed that with the RadTrike by giving it a folding handlebar mast and long seatpost, both of which can be lowered enough to get it into the back of an SUV.
The Buyer: who is the RadTrike best for?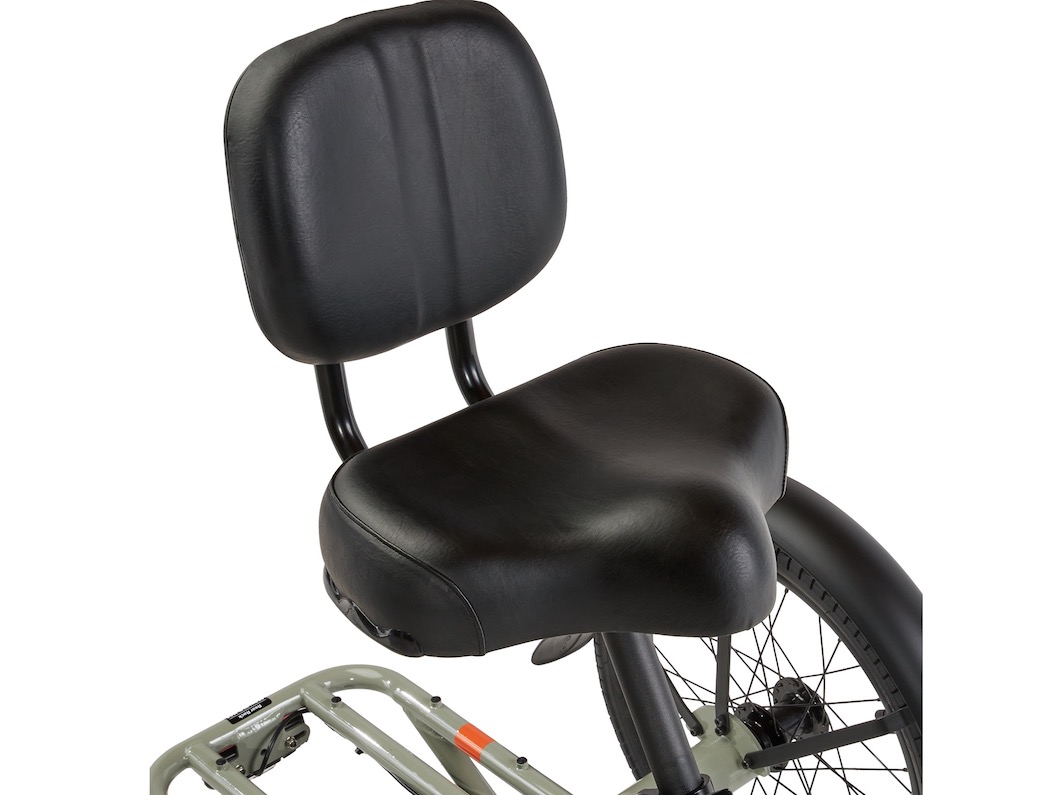 Adult trikes without a motor aren't much fun. They are hard to get moving and require a fair bit of effort to keep them moving. They aren't something we would recommend to someone who has any mobility issues at all. An e-trike is another beast altogether.
With its 750W hub motor and a throttle, getting the RadTrike moving will never be an issue. As a result, anyone who struggles with mobility issues can find a newfound freedom with the RadTrike.
Rad Power Bikes says the RadTrike will fit riders as small as 4 feet 10 inches and as large as 6 feet 4 inches. With its short reach from the saddle to the handlebar and the ability to roll the handlebar back toward the rider, we are confident it will offer a great fit for most riders; tall riders, especially those over 6 feet, may find the quarters a bit tight, though.
So who might the Rad Power Bikes RadTrike be appropriate to? First up, anyone with a limited range of motion in their legs, particularly their knees. Anyone who needs to limit the load placed on any joint—and that includes people who haven't been active but have been advised by their doctor to become more active to regain their health. Anyone with back or neck issues that would prevent them from riding a traditional bike will be able to sit more upright, enjoy some back support and enjoy a better ability to look around because they aren't leaning forward.
People with neurologic issues or balance issues will also find the RadTrike to be a way to be active without having to worry about falls provided they don't travel to fast and get a feel for taking turns on a trike.
Rad Power Bikes generally run between $1599 and $1999. The RadTrike will go for a bit more than that; its pre-order price is $2499. That may look expensive by Rad's standards, but that's not too shabby a price tag considering most other electric trikes we see start at $3000 and go up from there.
Rad expects to begin shipping them 1/17/23.
Reader Interactions