Some links may be affiliate links. We may get paid if you buy something or take an action after clicking one of these.
With a plethora of cheap electric bikes to choose from it can be difficult to know where to start, and sometimes, where to end. So it's natural to feel a little lost when you start your search for the best cheap electric bike.
Electric bikes vary a lot in price and it can be difficult to determine if a specific model is worth your hard earned money. Cost doesn't equal quality, and some e-bikes are better than others that are priced similarly.
Of the many e-bikes that fall in the $1,000 to $2,000 price point, our team at Electric Bike Report has chosen 10 of the best cheap electric bikes to save you the work of researching and comparing dozens of bikes and brands.When we think of "cheap" we don't think of low quality bicycles. We think of bikes that are fairly priced and high quality relative to their price point.
Now, you're probably thinking $1,000 as a baseline cost isn't that cheap. Electric bikes are going to be more expensive than standard bikes because of the additional electrical components, such as the motor and battery. Electric bikes can really get up there in price and when the full spectrum of available electric bikes is taken into consideration these bikes priced between $1000-$2000 seems a little more reasonable. To get a better idea of what goes into the cost of electric bikes check recent write up on why electric bikes are so expensive.
Still too expensive? No worries. We created a list of the Best Electric Bikes Under $1,000.
And finally, if you're less concerned about the $$$ element of an e-bike and just looking for the best e-bike of each category, you can find that here.
What we consider to be a "cheap electric bike"
First off, the word "cheap" tends to be correlated with something being low quality. That isn't the case at all with the bikes we've chosen – we don't want 'best cheap electric bikes' to be an oxymoron.
When reading through our list, rethink your definition of "cheap" to "affordable while still being quality". Now that we've got that out of the way, let's dive into how we chose our Best Cheap Electric Bikes.
How we picked the best cheap e-bikes between $1,000 – $2,000
We have tested every single bike on our list with the exception of the Blix Packa Genie, which we'll be reviewing later this year. We have not included anything that we dont believe in. Our team has discussed and taken into account the price to performance ratio, the companies behind the bikes and the experiences we had when testing the bikes. There are four main criteria points we looked into:
Utility/Usefulness: -Bike manufactures can claim anything they want about their bikes, but we actually put them to the test. If a manufacturer claims a bike can lug 250 lbs or can go 40-plus miles we are going to make sure that's true. All of the bikes on our list have proven themselves useful.
Quality to price ratio:– Simply put, is the bike worth your money? We looked into what you get for what you pay to make sure you aren't getting ripped off. All of the bikes on our list have sensible price points. And as mentioned above, when we say "best cheap electric bikes," we aren't here to show you low-quality options that save you a few hundred up front at the expense of riding on something we wouldn't recommend to our own family and friends.
Longevity of the bike: -Chances are you're going to want your e-bike to last more than a year or two. All of the bikes on our list should stand the test of time and have companies that back their bikes with customer service, warranties and replacement parts.
Ride experience: -Does the bike make you want to ride? Is the thought of pedaling it around exciting or dreadful? We discussed the overall ride experience these bikes provide. Each bike on our list either provides a good amount of fun and/or utility.
By combining all the listed qualifications, we've chosen the best cheap electric bikes. Here is our list:
*Note: As of this writing, the e-bike industry is facing pressures from tariffs, component scarcity due to Covid-19 and other factors that may cause price increases. We will update this list from time to time to best help consumers, but realize that product prices change often. We carefully considered this list and even if prices rise or fall $100, we'd still recommend these bikes. They should all remain in the $1,000-$2,000 ballpark and are worthy of consideration for any rider on a budget.
Aventon Level / Aventon Level Step Through
Best cheap electric bike for the speed hungry commuter
Check Best Price | Read Full Review | Watch Our Video Review
The Aventon Level is a Class 3 e-bike that comes with a 750W peak motor, 48V, 14Ah battery, and 2.2-inch fast rolling Kenda tires. The Level is a high speed commuter that's designed to keep riders comfortable while still having performance-oriented ride handling.
We had the opportunity to review the Aventon Level and the Aventon Level Step Through earlier this year. Between the two models we had plenty of great ride experiences. Not only is the Level a quick e-bike, it's also a long lasting one. We conducted a test to see how long the battery would last when pedaling on the highest assistance level and the lowest assistance level.
The Level reached 29.4 miles before it ran out of charge on maximum pedal assist and it reached 65.8 miles on minimum assist. Between the high average speeds and long lasting battery the Aventon Level is ready for short speedy commutes or long, drawn-out ones. This one felt like a no-brainer decision to make our list of the best cheap electric bikes.
The Aventon Level and Level Step Through are available in small, medium and large frame sizes.

Pro's
The Aventon Level loves to go fast. Between the 750W peak motor and fast rolling tires, you'll be shaving time off of your commutes.
The Level walks the fine line of being comfortable enough to ride for long periods of time while still being performance oriented.
The Levels 48V, 14Ah battery can hold onto a charge for a long period of time.

Con's
There aren't any mounting points for a water bottle cage on the Level. For its commuter background we think it would be a good thing to have.
Ride1UP Core-5
Best cheap electric bike for the tech-geek
Check Best Price | Read Full Review | Watch Our Video Review
One of the stealthiest bikes on our list, the Ride1UP Core-5 is a Class 49 lb fully-rigid commuter e-bike with an integrated battery in the downtube and a 750W rear hub motor. The combination of high average speeds and sporty geometry makes for an efficient ride.
So why did this make our best cheap electric bikes? When I reviewed the Core-5 earlier this year, I found myself taking some extra time testing the bike due to the very large fun factor this bike provided me with. The Core-5 rides and looks similar to a standard bicycle in handling, but not speed. Those looking for an e-bike that doesn't look like an e-bike will find a lot of value in this budget-friendly commuter.
The Ride1UP Core-5 comes with a 7-speed Shimano Altus drivetrain, 5 assist levels, ergonomic grips, and a plush Selle Royal saddle — making for a comfortable commuter that you'll never have to burn yourself out on to keep going. mBetween the 5 levels of pedal assist and 7 gears hills don't seem as steep as they do on a standard bike.
The Core-5 also comes with Kenda Kwick Seven.5 2.2-inch tires which roll fast and are puncture resistant. It's hard to ignore the performance and price point of the Core-5, we see it being a great commuter for anybody looking for one. Especially those who don't want to look like they're riding an electric bike.

Pro's
The Core-5 integrates its electrical components in a way that makes it look more like a standard bike than an electric bike.
The Core-5 is lightweight and rides similar to a standard bike because of it.
The Core-5 is a great bang for your buck. You get a lot of bike for what you pay.

Con's
The Core-5 doesn't have the longest battery life.
Lectric XP 2.0
Best cheap electric bike for the RVer / Camper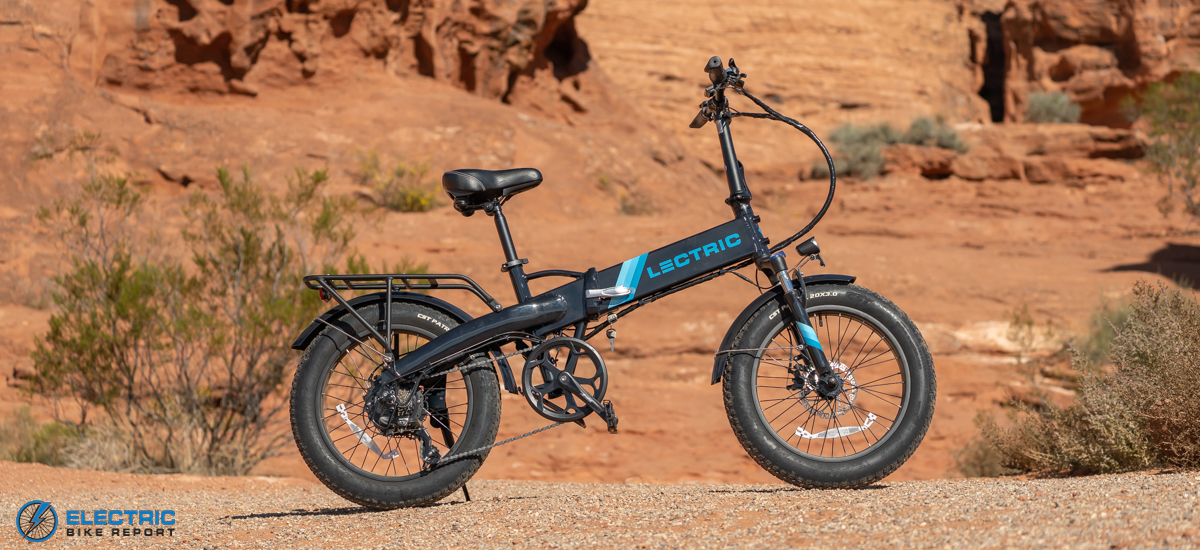 Check Best Price | Read Full Review | Watch Our Video Review
How did Lectric go from a garage startup to selling 100,000 bikes in about two years? By nailing a fun, versatile electric bike, and making it wallet-friendly.
The Lectric XP 2.0 is a natural fit for RVers and Campers thanks to how it folds down and tucks away relatively easily. The 3-inch tires are burly enough to handle some lighter trails, and they really pick up speed well on paved paths. Something that now comes on the 2.0 that was absent on the original is a suspension fork which further smooths out your ride.
The XP 2.0 also sports a 500W motor, included fenders, rear rack, and front and rear lights. You're getting a lot of value all while managing to stay below the $1K line. It's impressive to see a bike with this much to offer at this price point.
What solidifies the XP 2.0's place amongst our best cheap e-bikes list is how it can appeal to people from different walks of life. Starting out at college and needing some wheels for getting around? Want an e-bike that fits into your trunk? Just need something that'll help you keep up with your kids? Or do you need a solid starter bike to see if e-bikes are for you? The Lextric XP 2.0 is great for any of those use cases and more.

Pro's
The XP 2.0 is great for off-road exploration, but it's still a jack of all trades that works well on paved paths.
The XP 2.0 is easily stored away thanks to its foldable design.
The XP 2.0 is more comfortable than a lot of bikes at this low of a price point.

Con's
The original XP had a larger battery than the 2.0 does. (10.4Ah vs 9.6Ah)
Rad Power Bikes RadRunner Plus
Best cheap electric bike for the cargo hauling commuter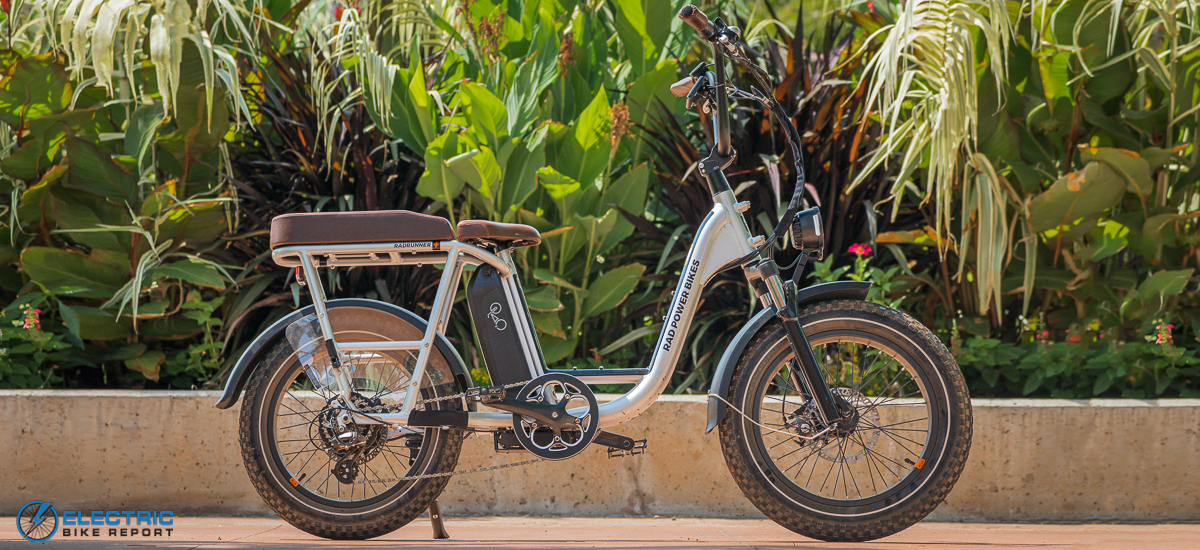 Check Best Price | Read Full Review | Watch Our Video Review
The RadRunner Plus is a Class 2 electric bike from Rad Power Bikes. It comes with a 750W motor, 48V, 14Ah battery and has lots of optional modular accessories that allow riders to set the Runner up to their preference.
There isn't one clear consumer for the RadRunner; it's good for just about everybody. It can be used as a mini-cargo bike, a commuter or a cruiser. The Runner has an 80mm suspension fork, 7-speed Shimano Altus drivetrain and 3.3" wide tires. All of the mentioned components add to the versatility and capability of the RadRunner Plus.
When we reviewed the RadRunner Plus last month we were impressed with how well thought out the design is. From the way the battery is tucked nicely behind the seat to the moped style bench seat with the adjustable saddle, the design was very impressive.
The Runner feels stable and in control when riding around even with a cargo load. I found the handling characteristics to be lively and easy to get the hang of — similar to the RadMini 4 which we reviewed earlier this year.
The design and performance of the RadRunner Plus screams utilitarian. It's not going to be the best in any one category; rather, it's going to be able to get the job done regardless of the category. Given it's capability, adaptability and low price point, it was a welcome addition to our picks for the best cheap e-bike.

Pro's
The RadRunner Plus is an extremely versatile utility bike.
The RadRunner can be set up relative to your lifestyle and Rad Power Bikes offers a lot of modular accessories on their website for this bike
The Runner's 750W motor allows the bike to ride at high average speeds and flatten hills without much issue.
The Runner has a solid battery life according to our range test.

Con's
The bench style seat may be a little uncomfortable for those who prefer to pedal. The moped-style shape is great for using the throttle and quick trips, but it's just not the best for pedaling for long periods of time.
Aventon Aventure / Aventon Aventure Step Through
Best cheap electric bike for the all terrain adventurer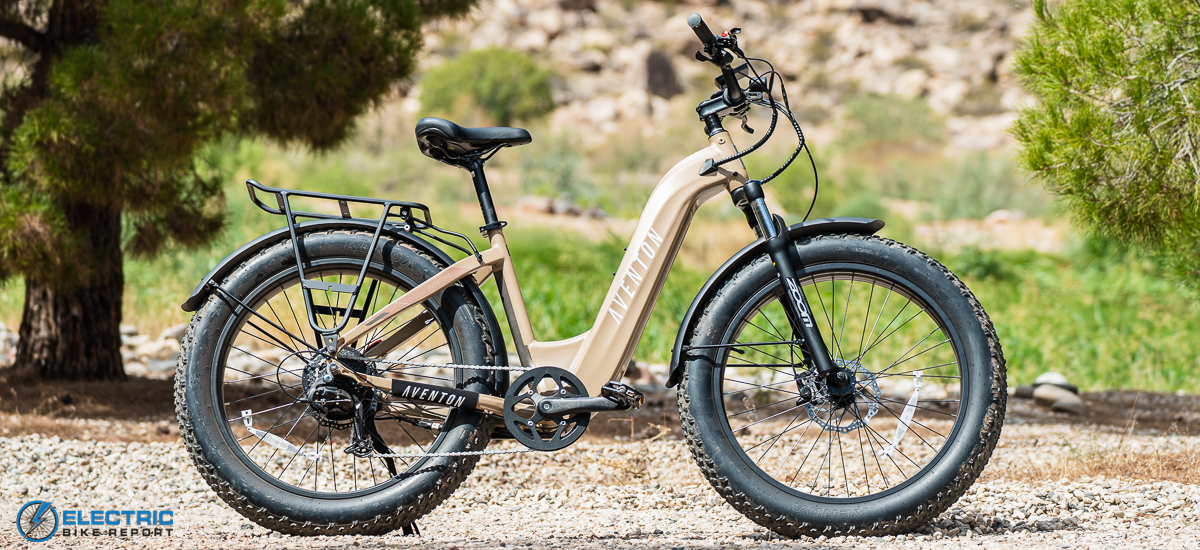 Check Best Price | Read Full Review | Watch Our Video Review
The Aventon Aventure is a Class 3 fat tire e-bike that comes with an internally integrated 48V, 15Ah battery, 750W hub motor and an 80mm suspension fork. Between the componentry, geometry and overall ride experience of the Aventure, this is definitely one of the hottest fat tire e-bikes on the market right now, and with good reason.
We had the opportunity to review both the standard Aventure and the Aventure Step Through. Between the two models a lot of characteristics remained the same. Both bikes are extremely fast and are some of the best "hill flatteners" that we've tested this year. The standard Aventure currently has the fastest time up our test hill which is a quarter mile long, and a 12%-15% grade.
This is a fat tire e-bike that is truly capable off-road. There are lots of bikes with fat tires but very few that match the all terrain capabilities of this one. I enjoyed taking the Aventure on gravel roads, singletrack, paved trail and around town. If you're looking for for a capable and good looking all terrain fat tire e-bike, than the Aventure is going to be a worthy candidate.

Pro's
The Aventure has unmatched power and speed thanks to its 750W motor.
The Aventure is truly an all terrain e-bike. The fat tires mixed with the suspension fork and powerful brakes makes for a rugged and capable electric fat bike.
The battery life of the Aventure is impressive. For how powerful the motor is we are impressed with how long the battery lasted.
The Aventure is comfortable for long periods of time.

Con's
The metal fenders can rattle and vibrate quite a bit.
Rad Power Bikes RadMission 1
Best cheap electric bike for the urban minimalist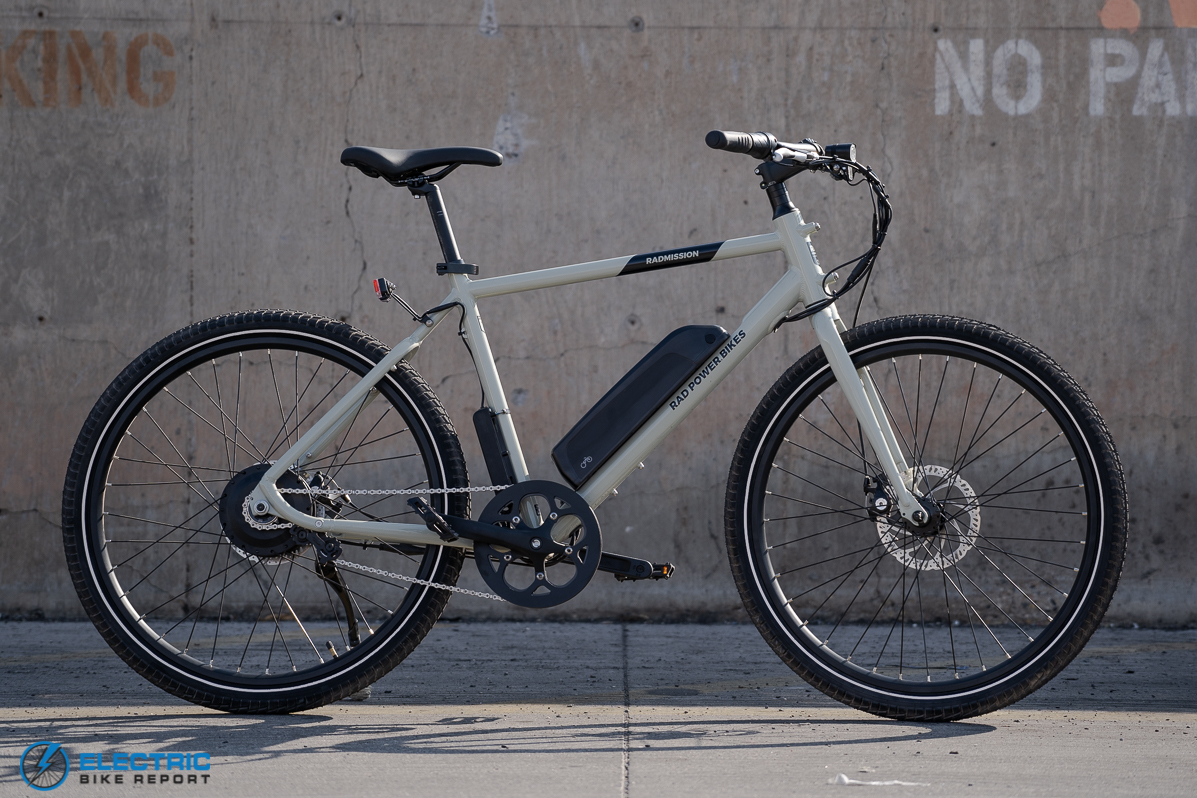 Check Best Price | Read Full Review | Watch Our Video Review
The RadMission 1 is a Class 1 e-bike that comes with a 500W motor, single-speed drivetrain and an overall minimalistic approach. With one gear, no suspension and no LCD display, the RadMission 1 shows how sometimes less can be more sometimes.
Once I hopped on the RadMission 1 for the first time I realized that it didn't need any of those things. It rides like a standard bicycle first and electric bike second. It feels like you're working with your own power until you reach a hill. That's when you feel the 500W motor really kick in.
There is a very prevalent fun factor to this bike — it's easy to forget that you're riding a bike with a motor and battery because of how natural it feels below you. If you're playing with the idea of owning an e-bike or want something that isn't going to damage the bank account, the RadMission 1 is a solid and reliable option.
The RadMission 1 is my go to lunch-ride bike. It gives the best of both worlds when it comes to standard and electric biking.

Pro's
The one gear setup keeps you riding at a high average speed without using too much battery life at once.
The simple design of the RadMission 1 shows how sometimes less can be more.
The RadRunner 1 has a solid battery life as we discovered in our range tests.
The Mission has smooth motor engagement.

Con's
The single gear setup may be a little hard for some riders when trying to climb up hills. The motor makes up for the lack of gears on hill climbs.
KBO Breeze
Best cheap electric bike for the value driven commuter
Check Best Price | Read Full Review | Watch Our Video Review
KBO burst onto the budget-friendly e-bike scene in late 2020 with their first production model the Breeze. The Breeze combines Class 3 speeds with a vibrant paint job, 27.5" wheels and a 80mm suspension fork. Between the high speeds and comfortable riding geometry, the KBO Breeze makes for a great commuter.
When we reviewed the KBO Breeze last year we were impressed with its nimble handling, high capacity 48V, 16Ah battery and overall ride experience. For the Breeze being KBO's first e-bike, they did a very good job fine tuning the smaller details.
The Breeze is going to be an eye-catching ride for those who want to stand out and show the world the bike they're riding. It's hard to ignore its bright orange paint job – it's vibrance matches the Breeze's snappy and fun handling characteristics. The Breeze is also available in black for those who prefer a lower profile when riding.
KBO includes aluminium fenders, a multi-tool, water bottle and rear rack all for free with the purchase of the Breeze. When it comes to bang for your buck the Breeze sits near the top of our list of best cheap electric bikes for its great overall value.

Pro's
The Breeze is comfortable and quick. It flattens hills and rides quickly on flat ground.
The Breezes 27.5-inch wheel size makes for nimble handling.
The Breeze's mechanical disc brakes with 180mm rotors provide good stopping power.

Con's
We would like to see a more tidy cable set up on future models. Cleaner cable routing would make the Breeze look that much cleaner.
Ride1UP 500 Series
Best cheap electric bike for the casual cruiser and commuter
Check Best Price | Read Full Review | Watch Our Video Review
The 500 Series is Ride1UP's lightweight Class 3 commuter/cruiser that, in the simplest of terms, is a very solid and well rounded e-bike. When we reviewed the 500 Series earlier this year we struggled to put it into a category.
There isn't just one key consumer that this bike suits. All of our testers have different preferences on the bikes we ride and review, and we all took away something that we liked about the 500 Series.
After a long round table discussion, we decided that the 500 Series is a commuter e-bike with a laid back, causal geometry that's similar to a cruiser. Between the looks and performance of the bike, it could be either or.
The 500 Series comes with an 8-speed drivetrain connected to an under bar shifter which makes for quick shifting through a wide gear range. When combined with the 500W motor there weren't any hills we couldn't conquer. Similar to the KBO Breeze, the 500 Series is up there for one of the best bangs for your buck on our list of the best cheap e-bikes.
If you're looking for an on-road e-bike that isn't going to cost an arm and a leg, the 500 Series is a great choice. It can be your casual cruiser or your speedy commuter. Ride1UP offers a 30-day trial where if you're not satisfied you can send the bike back for a full refund. We have the feeling this doesn't happen very often, as the 500 Series is a sturdy and well built electric bicycle choice.

Pro's
The 500 Series has a wide gear range thanks to its 8-speed Shimano Acera drivetrain.
The 500 Series impressed us with its power delivery and overall speed. The bike ended up being a lot quicker than we were expecting.
The 500 Series feels like a great balance of comfort and sportiness.
The suspension fork does a great job of smoothing out surfaces.

Con's
The battery readout isn't the most accurate. While the range of the bike was solid we would like to see a little bit more accurate battery readout to have a better idea of how much charge there really is.
Himiway Escape
Best cheap electric bike for the college kid / delivery man
Check Best Price | Read Full Review | Watch Our Video Review
It's cool looking isn't it? The Himiway Escape was a refreshing change of pace for our review team here at Electric Bike Report. This Class 3 pedalable moped-style e-bike comes with a fully integrated 48V, 14Ah battery and 750W motor. The experience this bike provided made for lots of joy rides around town.
A majority of the time we were "gripping and ripping" the throttle instead of pedaling due to the moped style, however it was good to have the pedals for scaling steeper hills and accelerating quickly.
The Escape comes with a unique full suspension design that incorporates two coil springs on the rear end. These springs allow the rear wheel to move up and over bumps while simultaneously allowing the bike to absorb heavier impacts such as jumping off of a curb. When we reviewed the Escape last month its test results aren't what sold us on it, it was the ride experience as a whole
The 750W motor allows the heavy 92 lb weight of this bike to not be an issue. It takes over on hill climbs and allows the bike to hold onto any momentum it's gained. I envision the Escape being the perfect e-bike for a sandwich delivery man or an adventurous college student who wants to explore around campus. Regardless of how you cut it, the Escape is simply fun to ride.

Pro's
The Himiway Escape is simply a fun bike to ride.
The unique full suspension design adds comfort and performance to the Escape.
Himiway nailed the moped-style theme of this bike in its looks and the way it performs.
The Escape has a powerful 750W motor that allows the bike to come alive.

Con's
The Escape is a little bit heavy, coming in at 92 lbs it definitely isn't the lightest bike we have tested.
Aventon Pace 500
Best cheap electric bike for neighborhood cruiser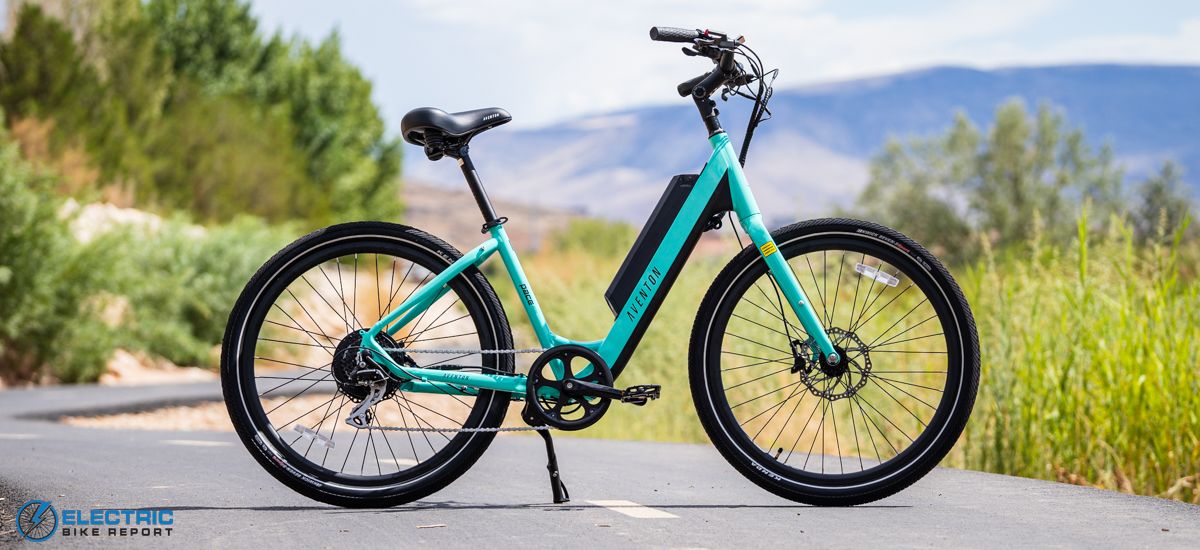 Check Best Price | Read Full Review | Watch Our Video Review
The Aventon Pace 500 is similar to the 500 Series in the sense that it's kind of a cruiser and kind of a commuter. The bike's comfortable riding position and Class 3 speeds allowed me to ride for longer and have more fun while doing so. The Pace 500 uses a 500W motor, 48V 11.6Ah battery and comes in a standard and step-through frame.
The Pace 500 has very distinguishable pedal assist settings; during our review of the Pace 500 we learned the lowest pedal assist level barely helps at all while the highest will make you hold onto your hat as you boost forward. The Pace 500 is equally capable in being a leisure-oriented bike and a speed-hungry commuting machine. The Pace 500 is also one of the lightest bikes on our list. Coming in at 49 lbs, it handles very similar to a standard bicycle, only with more speed behind it.
Aventon has created a very smooth riding and well put together e-bike while keeping the cost low. Despite the low cost, you'll still receive quality components such as the Shimano Acera groupset and Zoom hydraulic disc brakes.
If you're looking for an e-bike to cruise or commute on, the Pace 500 is a good choice. It's also a bike you could definitely share with your significant other as it fits a wide range of rider heights thanks to its adjustable stem, pedaling position and upright geometry in general.
*make sure you don't actually hold onto your hat when accelerating, you should have a helmet on.

Pro's
The Pace 500 is a great bike for commuters and cruisers alike.
The Pace 500 is a quick bike. With its Class 3 speeds you'll be riding at a high average speed.
The 500W motor impressed us with the way it was able to boost the bike up hills.
The Pace 500 is a great bang for your buck.

Con's
The frame sizing may be a little small for riders above 6-feet.
Blix Packa Genie
Best cheap electric bike for the grocery getter
Check Best Price | Full Review Coming Soon
Coming in at just under $2,000, the Packa Genie is an intuitive and unique cargo e-bike from Blix. The Genie uses a 750W hub motor, hydraulic disc brakes and lots of modular parts and accessories that allow you to set up the Genie just the way you like it.
The Packa Genie also comes with the option to purchase a secondary battery which gives the Genie up to an 80-mile range per charge. It is worth mentioning that if you decide to purchase the secondary battery the bike will be over $2,000.
With over 200 potential combinations of the modular racks this bike feels very unique to the person who's riding it. In the wild it's rare to see two of these things set up exactly the same. The low step frame allows a wide range of riders to hop on and ride without the worry of a top tube affecting stand over height. The Packa can pack (no pun intended) over 200 lbs on top of the rider's weight. This only applies to riders below 250 lbs.
The Genie is the perfect cargo e-bike for young families and those wanting an alternative to the car. It comes with an integrated LED brake light, USB charging, a lever throttle and a power cutoff when the brake levers are pulled.
Bottom line, the Packa Genie is safe, fairly priced and ready to mold to your lifestyle. It stakes its claim as the sole dedicated cargo bike on our list of the best cheap e-bikes

Pro's
The Packa Genie is a great cargo bike. From its competitive price point to its available accessories Blix has put a lot of time into creating the Packa Genie.
The Genie can lug heavy loads with ease; perfect for picking up groceries or the kids from school.
There are over 200 potential combinations of accessories possible on the Genie.

Con's
It may take some time to get comfortable with riding the Packa Genie as it's a long and low bike. We would recommend getting comfortable on the bike before adding any cargo or passengers.
Bottom line: There is a cheap electric bike for you, regardless of the life you live.
There are plenty of brands, models and categories for electric bikes. With time we've seen trickle down technology allow companies to give consumers great bikes at great prices. With that being said, not all bikes are worth what you pay.
After reviewing and testing the bikes on our list (aside from the Packa Genie) we can say with confidence that these bikes are worth your hard earned money. We will update this list once we have finishedthe Packa Genie review, but for now it's safe to say that it's got a lot going for it.
We included a wide range of bikes that we believe in to hopefully give you some insight as to which bike is the right one for you. Whether you're looking for a bike to haul some cargo, or a bike to shorten your commute time the bikes on our list best e-bikes list will meet your needs.
Thanks for reading our list of the best cheap electric bikes! We would love to hear which bike(s) caught your eye. Let us know in the comments below and keep riding!
Reader Interactions