BOSCH SMART SYSTEM EXPANDS FOR 2023 E-BIKES
Around a year ago EBR reported on the appearance of Bosch's new Smart system. At the time this consisted of a new 750Wh in-frame battery, a new app, a handful of software updates and a new Bluetooth remote and display, but with promises of more connected features in future.
In the wake of announcements at Eurobike let's take a peak on new aspects of the Smart system that will be appearing on 2023 e-bikes.
On 2022 e-bikes the Smart system was only available with the Performance Line CX motor and only with the 750Wh battery. For 2023 other Bosch hardware options will appear in the Smart pantheon of options too. That means the Performance Line Gen 3, Performance Line Speed and Cargo Line mid-drives will be able to connect to the Flow app and will have the option of the large 750 Wh battery.
It also means frame integrated Powertube 500Wh and 625Wh battery options (for smaller frame designs and lower priced e-bikes, but also with the Smart system – this was not possible before). There are also new larger external battery options too; Powerpack 545 and Powerpack 725. Bosch makes it clear, however, that both are intended for special applications where internal batteries are not an option, such as cargo bikes.
Bosch's ABS anti-lock braking system was already common knowledge but Bosch confirmed it should start appearing on 2023 e-bikes – it certainly looks discreet as it is 77 per cent smaller and 55 per cent lighter than its predecessor. There will be specific versions for different styles of e-bike i.e. cargo, emtb etc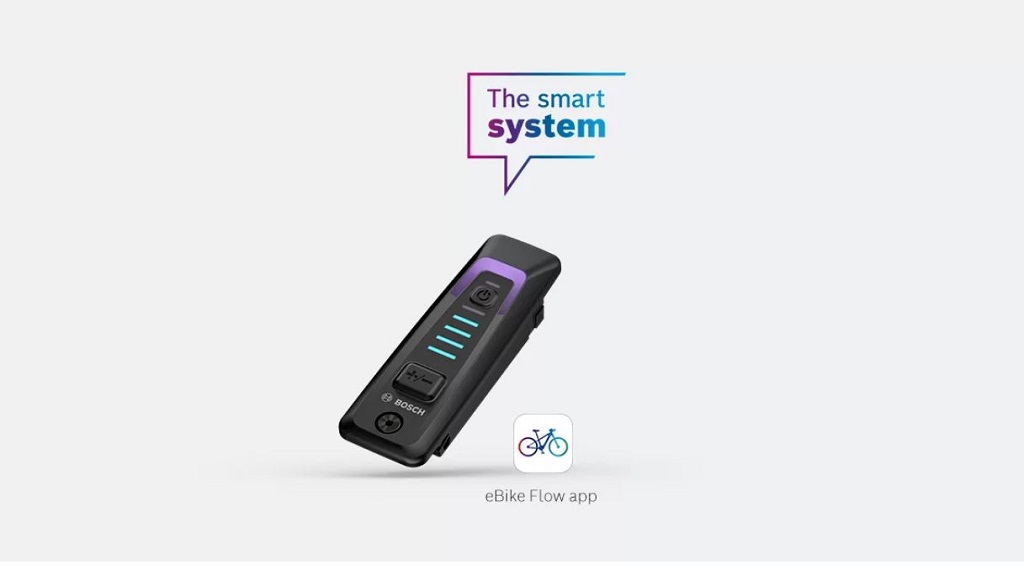 Bosch will also roll out their smallest yet control button and it will be top tube integrated, with the option of a wireless control on the handlebars too. It's just this kind of minimalist layout that features on many top end e-mtbs. It's dubbed the System Controller and Mini Remote and features a bank of LEDs that provide information about the charge level of the battery and the support level. The appearance of the Intuiva display has also been updated as it becomes the Intuiva 100.
Bosch's 2022 Flow app gets new 2023 features. An alarm function – actually announced last year – was detailed at Eurobike and it will appear on 2023 e-bikes. It means the e-bike can be put into an alarm state, with movement triggering a message to the Flow app. Tracking is also activated and a loud physical alarm sounds on the bike itself. The motor drive is also deactivated and can only be brought back to life with the owner's Flow app. Note after initial purchase there will be a subscription fee for aspects of this service.
Small enhancements have been made to the navigation facilities too with the addition of a small map on the Kiox 300 display. Bosch say they are also working on integrating Komoot into the Flow app: Then routes can be planned in Komoot and transferred to the Flow app.
Hill Hold is an added feature to mode Walk Assist; when you take your finger off the Walk Assist button the bike no longer rolls backwards but remains in place whilst you take a rest. It sounds like a minor thing but if you do use Walk Assist regularly up steep and difficult obstacles it could be very welcome.