*Electric Bike Report aims to help consumers find the right electric bike for their needs. When you buy a product we recommend, we may earn a commission.
There's never been more options to choose from in the world of e-bikes, but which are the best electric bikes of 2022?
The team at Electric Bike Report put our heads together and chose 16 e-bikes we've deemed the Best Electric Bikes of 2022. Some of these e-bikes are new for this year, but some are ol' reliables that are tried, tested and still hold true as the best in their class.
As with every list of best e-bikes, ours has some nuance as to why a specific bike was picked — ranging from value and componentry to overall ride feel. We've also leaned heavily on e-bikes we've tested in-house, though there are a few e-bikes here that were picked based on merit and reputation alone.
Whether you're looking for the best e-bike for older riders, the best electric commuter bike or the best electric beach cruiser, this list will point you towards what we think are the best in each category.
Our picks for the Best Electric Bikes of 2022
How we picked the best electric bikes
In a fast-growing sea of products, how did we make our picks for the best e-bikes? The answer to this question varies depending on the bike and category. But in every case, these e-bikes were picked through consensus among our team of expert e-bike testers.
Some bikes, such as the Aventon Aventure electric fat bike, leapt out as obvious frontrunners during testing. While others, like the Blix Aveny Skyline and Ride1UP 700 Series, were sleeper contenders chosen for very specific reasons. But in all cases, we evaluated the bikes based on a few key criteria, mainly:
Value: How much e-bike are you getting for your dollar? The e-bike market has grown flush with overpriced and under-spec'd electric bikes that don't offer much value. Every bike on this list we'd call fairly priced.
Components and extras: What else comes with the e-bike? Does it come with racks, bags, lights and fenders, and do those accessories make sense? Is there anything else that should be included but isn't?
Does it offer something unique?: In a market chock-full of options, what's unique about this bike that sets it apart from the competition? There are many categories of e-bike — particularly at the more affordable end of the spectrum — that are flush with copycat brands and e-bikes that just aren't that special. We're looking for the ones that are.
What does the manufacturer say it was built for?: What was this bike designed to do, and how well does it execute that purpose? Of course you can choose to use your bike however you'd like, but we want to make sure the e-bikes on this list function as advertised.
How does it actually ride?: Last but not least, the most important question: Does the e-bike ride well? Most of these e-bikes we know intimately through rigorous testing.
Aventon Aventure
The Best Fat Tire Electric Bike, 2022
Aventon Aventure: Check Best Price | Read Full Review | Watch Our Video Review
Aventon Aventure Step-Through: Check Best Price | Read Full Review | Watch Our Video Review
One of our favorite e-bikes released from 2021, the all-new Aventon Aventure electric fat bike truly is something to write home about.
It has all the typical accouterments you'd expect from a sub-$2,000 electric fat bike: A 750W motor, a suspension fork and a solid component package — but where the Aventure sets itself apart are in its little details. Details like its full-color LCD display, metal fenders, hydraulic disk brakes and a slightly larger than average battery. Or the fact that this is one of the few e-bikes in this category and at this price point with a fully integrated battery that blends seamlessly into the frame.
All these small things add up into an e-bike that feels much more expensive than it is. It rides stable and inspires confidence in rougher terrain, and did we mention it's really quick? Electric Bike Report has reviewed both the standard Aventure and the Aventure Step-Through and both put up some of the quickest times we've recorded on our test hill and our test circuit.
The Aventure is a holdover from our 2021 best list, and it's continued to be one of our go-to e-bikes on filming days for hauling all gear and camera equipment. Its overall performance and utility has so far stood the test of time.
Aventon may not have reinvented the affordable electric fat bike, but they sure did raise the bar for what we expect from a $2,000 e-bike.

Pro's
The Aventure is a very fast e-bike. It's torquey and powerful, but it lays down power in a way that's friendly to new riders.
The full-color LCD display is easy to read and has a very smart percentage-based battery readout.
The 720Wh battery is slightly larger than the 672Wh standard we often see in this category.
The fenders are metal instead of plastic, which just feel sturdier and don't vibrate as much.
The styling is very unique and we love the sleekly integrated battery.

Con's
The motor has a slight lag when you resume pedaling, which is something we often see on bikes with cadence sensors.
While we like the metal fenders, they can be a little noisy on rough roads or when the tires kick up debris.
Another Electric Fat Bike We Loved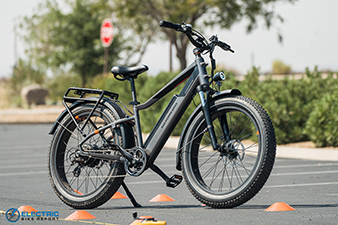 The Rad Power Bikes RadRover 6 Plus
One of the most confidence inspiring affordable e-bikes on the market, with good power, good componentry and the backing of one of the most reputable e-bike brands.
Rad Power Bikes RadCity 5 Plus
The Best Class II Electric Commuter Bike, 2022
Check Best Price | Read Full Review | Watch Our Video Review
Rad Power Bikes really overhauled the latest iteration of their uber-popular commuter. The RadCity 5 Plus came equipped with a host of new parts on top of a freshly redesigned look. We were such fans of how the new RadCity came together that it easily sprang to our minds to be included on our list of best electric bikes.
The aesthetics upgrade is apparent: Rad swapped an exterior battery pack for a semi-integrated, frame-mounted battery. The modern paint job on a classic dutch-styled bike is a marriage that works quite well too. Rad also employed the use of a dual display set-up we rarely see which breaks up the information in a good way.
Powering the bike is a 672Wh battery and a 750W geared rear hub motor. Rad has dialed in the electronics to smoothly engage while riding and keep the rider comfortable and in control.
Not only does it roll well, but it stops well too. We tested both the step-through and high-step versions of the RadCity Plus' frame and in both brake tests the RadCity was among the top performers in bikes we've ever tested. The NUTT hydraulic disk brakes with 180mm rotors perform very well and seem like the right spec choice.
Add in the 59.5 lbs capacity rear rack, 50 mm suspension fork, fenders and front and rear integrated lights and this e-bike will check nearly all the boxes on your commuter wishlist.

Pro's
672Wh is plenty of battery for commutes, and it looks great on the bike.
The handling is stable and predictable.
It's currently in the top-tier of our brake tests.
The 750W motor will get the job done for you day in and day out..
The Rad Power Bikes branded tires also performed well.

Con's
For as much as the looks were upgraded, we feel some tidier cable management would have been nice.
We like the functionality of two displays, but the LEDs on the left-hand display are hard to read in sunlight.
Another Class 2 Electric Commuter Bike We Loved
The Radio Flyer M880
The maker of America's little red wagon now makes e-bikes, and as you'd expect, Radio Flyer's first take on the electric commuter bike is a pretty good one.
Ride1UP 700 Series
The Best Class III Electric Commuter Bike, 2022
Check Best Price | Read Full Review | Watch Our Video Review
So Class 2 speeds aren't your thing? Well, say hello to a top-notch Class 3 commuter that will keep pace with traffic without breaking the bank.
Ride1UP's 700 series found its way to our best electric bikes list because of its sheer value to performance ratio. It's an example of how a brand helmed by bicycle-minded people can leverage their love and knowledge of two-wheeled machines to make something that just works well and doesn't cost an arm and a leg.
Several brand names and features jumped off the spec sheet to us: A 672Wh Samsung battery, a 500W motor with 60Nm of torque, Tektro hydraulic disk brakes, a 100mm suspension fork, Schwalbe SUPER MOTO X 27.5×2.4" tires, and an 8-speed Shimano Acera drivetrain.
Not to mention they toss in all the typical trappings one hopes to find on a commuter with integrated lights, fenders, and a sturdy rear rack for your panniers.
The real kicker though? It costs $200 to $300 less than most affordable full-package commuters and performs better than them, too.